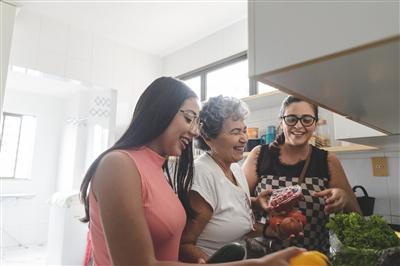 Days ahead of Americans' 2021 New Year's resolutions, the government released the ninth edition of the U.S. Dietary Guidelines for Americans. These guidelines offer helpful direction and advice on what to eat and drink to meet nutrient needs and are updated regularly to reflect new findings about diet, nutrition and wellness.
Main Line Health Community Health Educator Amy Deahl-Greenlaw, RDN answers some common questions and explains what you need to know about the latest nutrition guidelines update.
Why are the nutrition guidelines being updated?
Every 5 years since 1980, the U.S. government has released diet and nutrition guidance for Americans. The new guidance is based on the review of the latest research by an independent scientific advisory committee including public comments to the draft proposal. It provides policy makers guidance for the 15 federal nutrition assistance programs, and is also intended to provide nutrition information to individual Americans.
Updates to these guidelines are necessary because we are constantly learning new things about nutrition and how our diet can impact our health. 
What do the new guidelines suggest?
This set of guidelines are founded on the theme 'Make Every Bite Count.' This theme encourages Americans to:
Follow a healthy dietary pattern at every life stage.
Customize nutrient-dense food and beverage choices to reflect preferences, cultural traditions, and budgets.
Focus on meeting dietary needs from five food groups — vegetables, fruits, grains, dairy and fortified soy alternatives, and proteins — and stay within calorie limits.
Limit foods and beverages that are higher in added sugars, saturated fat, and sodium, and limit alcoholic beverages.


These don't sound too different. What's changed about these recommendations? 
The guidelines continue to recommend Americans limit added sugars and alcohol, however, they did not reduce these limits as suggested by the scientific advisory committee. The American Heart Association (AHA), while praising the new recommendations, raised concern that the added sugar limit of 10% of calories should be lower. AHA recommends added sugar be reduced to less than 6% of calories.
Added sugar is now identified on all food labels. January 1, 2021 marks full enforcement of the food label law which changed the food label format and some of nutrients that are required to be listed. Previously, food labels listed total sugar, including naturally occurring sugars. "Includes ___g(rams) Added Sugar" is now a separate line and required on all food labels. 
Additionally, the 'Make Every Bite Count' guidelines are the first to ever provide recommendations by life stage, from birth through older adulthood, according to the statement from the Secretaries of Health and Human Services and US Department of Agriculture. Providing guidance to pregnant and breastfeeding women and infants from birth to 2 years of age is a new addition to the guidelines.
It's hard to keep up with nutrition guidance when I feel like it is always changing.
We are learning new things about nutrition every day. Trying to keep up with the latest guidance can be overwhelming, but your health care provider is here to help. Your primary care provider or a registered dietitian can help you navigate these guidelines and manage your diet in a way that makes sense for you. 
Learn more about our Comprehensive Weight & Wellness Program, including nutrition support, or find a primary care provider. Main Line Health serves patients at hospitals and health centers throughout the western suburbs of Philadelphia. To schedule an appointment with a specialist at Main Line Health, call 1.866.CALL.MLH (225.5654) or use our secure online appointment request form.