Phillip D. Robinson, FACHE
President, Lankenau Medical Center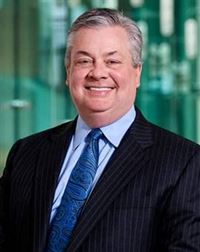 Phillip D. Robinson, FACHE, has been the President of Lankenau Medical Center, part of Main Line Health, since July 2010. He is also the Executive Sponsor for the health system's cardiovascular and cancer service lines, along with clinical research, medical education, and health equity. He has over 40 years of health care experience highlighted by successive executive leadership roles in both the for-profit and non-profit sectors.
Since Robinson's arrival at Lankenau Medical Center, the hospital has undergone numerous major facility transformations including the opening of the $500 million Heart Pavilion – a five-story 281,000-square-foot structure comprised of 96 private inpatient rooms equipped with state-of-the-art technology and a cardiothoracic intensive care unit leading industry approaches in effective hospital quality, safety and outcomes. Under his leadership, additional transformations included the $52.8 million expansion of its emergency department and trauma center, which opened in early 2020. During his tenure at Lankenau, Robinson and his team have raised nearly $75 million for the Lankenau Foundation.
Through Robinson's commitment to building clinical programs, the hospital has advanced many major services, including receiving Level II Trauma Center accreditation. As well, Lankenau consecutively ranks as one of the 5 Top Hospitals in Philadelphia by U.S. News and World Report and is consistently recognized by Truven™ and IBM/Watson as a Top 50 Heart Hospital, the only hospital in Pennsylvania to earn this recognition. Lankenau was recently given a 5-Star Quality Rating by the Centers for Medical and Medicaid Services. Lankenau was also recognized by Healthgrades as one of America's top 50 Hospitals representing the top 1 percent in the U.S. for superior performance.
Prior to joining Lankenau Medical Center, Robinson served as a Managing Director with the consulting firm Hunter Partners, initially joining Lankenau as its Interim President through this consulting firm. His prior executive positions include serving as CEO of St. Joseph Medical Center, a 792-bed physician owned acute care teaching hospital in Houston, Texas, and the COO of Hospital Partners of America. He also served as CEO of two HCA Healthcare hospitals in Texas and in Florida, including HCA's flagship, JFK Medical Center in Palm Beach County Florida. Additionally, he served as the Hospital Director of the Ocshner Foundation Hospital in New Orleans and held numerous senior executive roles at The Methodist Hospital System in Houston (now Houston Methodist), where he began his career.
Robinson holds a master's degree in health administration from the Washington University School of Medicine, and an undergraduate degree from Texas A&M University. The author of the book, Anticipate, Respond, Recover: Healthcare Leadership and Catastrophic Events, published by Health Administration Press, he has extensive experience in developing and executing emergency preparedness protocols in a hospital setting including major hurricanes and the nation's first anthrax patient three weeks after 9/11. He previously served on the adjunct faculty at Washington University in St Louis and Florida Atlantic University in Boca Raton and now serves on the adjunct faculty at the Texas A&M School of Public Health.
The recipient of numerous awards, Robinson received the Modern Healthcare Up and Comer award in 1992 and the Washington University Health Administration Program – Outstanding Alumnus award in 2007. He has been a Fellow in the American College of Healthcare Executives since 1991 and has most recently lectured at the Congress on Healthcare Management, the Iowa Hospital Association, the Centers for Disease Control, the AUPHA, the Texas A&M School of Public Health among many others.