What is music therapy?
Music therapy is the clinical and evidence-based use of music interventions by a credentialed professional who has completed an approved music therapy program. It's successful in addressing physical, emotional, cognitive and social needs of individuals.
Music therapy is individualized for each of our patients, with goals that support the treatment plans of physical therapy, occupational therapy and speech therapy. It benefits patients in rehab programs by lowering blood pressure, improving self-esteem, reducing stress and more.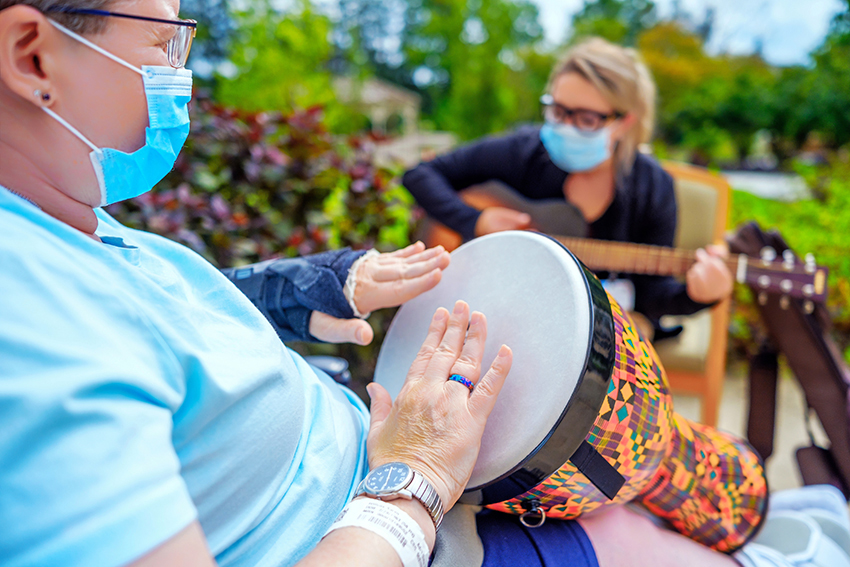 Music therapy can include, but is not limited to:
Listening to music
Composing lyrics and music
Singing
Song discussion
Playing instruments.
Treatments are customized to each person's ability level and musical skill isn't required to benefit from this form of therapy.
Music therapy goals depend on a patient's individual condition, needs and interests. It can help to:
Decrease anxiety and depression
Develop and enhance coping skills
Improve quality of life
Increase motivation
Reduce stress and increase relaxation
Promote physical rehabilitation
Promote self-expression and self-awareness
Normalize the hospital environment
Promote cognitive stimulation, sustained attention and reminiscence
Music therapy interventions can be used during physical, occupational and speech therapy sessions by:
Playing live music as a distraction to help increase endurance with standing/walking
Playing instruments to improve fine/gross motor coordination
Using familiar music or singing to increase facilitation of communication and cognitive stimulation
Using instruments to promote nonverbal self-expression
Who benefits from music therapy?
Patients at Bryn Mawr Rehab Hospital can benefit from music therapy as part of their recovery journey.
For questions or additional information, contact Lucy Watts, MA, MT-BC, by emailing [email protected].