July 2017–June 2018*
The Concussion Program at Bryn Mawr Rehab Hospital provides a full continuum of care for individuals who have suffered a concussion from a variety of mechanisms including sports, accidents and falls. If a concussion is left untreated, recovery can be delayed and a patient is more vulnerable to long term effects following a second concussion. Patients who have a concussion come to us with routine to complex injuries, but leave with reduced symptoms and improved ability to function in their daily activities due in large part to the individualized, creative approach we bring to concussion care. Patients can expect to participate in an assortment of innovative exercises, training in preparation for return to sports, classroom simulation to prepare for return to school, and specialized technology, such as ImPACT® Testing, the SMART Balance Master® and Dynavision D2.
For more information about this report or the Concussion Program, please call 484.596.5000.
Statistics
Sample size

252 patients

Average age

45 years old (range 18–91)

Number of adolescents

26 adolescent patients

Average age of adolescents

15 years old (range 12–17)

Average number of visits by discipline

11 physical therapy
9 occupational therapy
10 speech therapy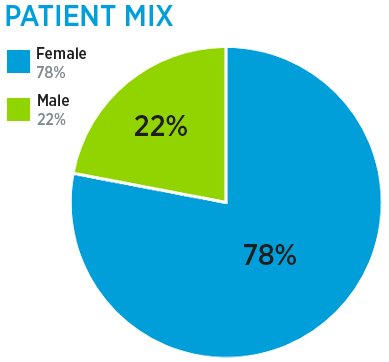 Results
Functional outcomes
Many clients have goals of returning to meaningful, productive and healthy lives. Each client sets goals that he or she wants to achieve in the program. These goals can include, but are not limited to, increased function in the following areas: home, school, work, community or driving.
Result: 99 percent of our clients met the goal of returning to productive activity by discharge.
The Concussion Program focuses on client and family involvement in treatment planning and goal setting. This involvement enables the staff to develop individualized treatment plans to help clients gain independence in everyday tasks.
Result: 99 percent of our clients demonstrate increased independence and autonomy at discharge.
A medical interruption occurs when a patient is unable to complete their prescribed course of outpatient therapy due to a medical issue.
Result: Three percent of patients had their rehabilitation program interrupted by a medical issue.
Patient satisfaction
Patient satisfaction is routinely measured at Bryn Mawr Rehab Hospital for all inpatient and outpatient programs. Results are used to facilitate program improvement and to change our menu of services as needed.
Result: 100 percent of clients would recommend Bryn Mawr Rehab Hospital to others. 100 percent of clients were satisfied with their progress in the Concussion Program.
We work hard to provide fast and easy access to all of our programs. Scheduling a first appointment can be influenced by many things such as patient preference and conflicting appointments.
Result: The time-frame from patient call to first appointment is generally 3.14 days.
* Includes discharges from 7/1/17 through 2/28/18. Discharges from 3/1/18 through 6/30/18 are unable to be included due to a change in data collection resource from Soarian to Epic. Epic data will become available for report starting with discharges 7/1/18 forward.