What is art therapy?
Art therapy is an integrative mental health and human services profession that enriches the lives of individuals, families and communities. Art therapy sessions are led by a professional art therapist to effectively support a person's treatment goals as well as community concerns. It's used to:
Improve cognitive and sensorimotor functions
Foster self-esteem and self-awareness
Cultivate emotional resilience
Promote insight
Enhance social skills
Reduce and resolve conflicts and distress
Advance societal and ecological change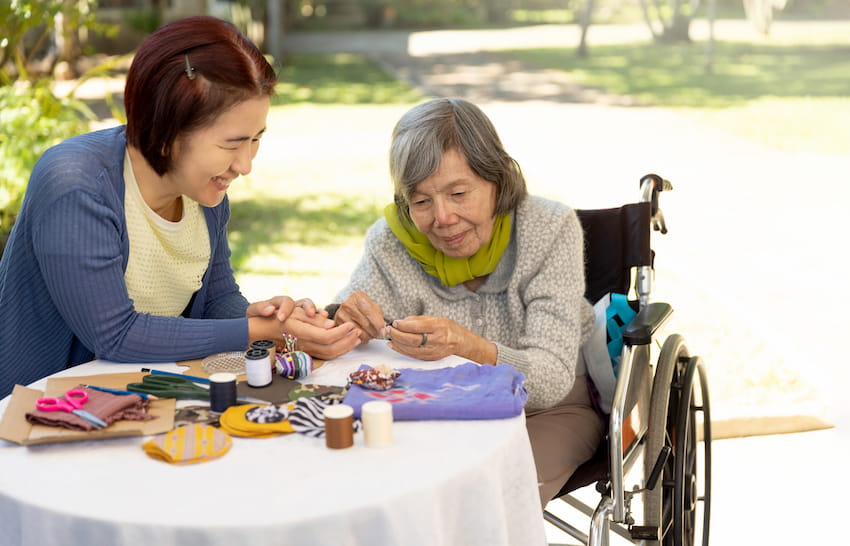 Bryn Mawr Rehab Hospital's art therapy is provided by a qualified art therapist to help patients work through psychological, emotional and functional changes in safe, constructive and creative ways.
Art therapy can include making art, either through specific art crafts and projects or more open-ended art making with a variety of mediums. It can also include observing and discussing art as well as providing talk therapy if patients are not up to art making. Treatment is customized to each person, and art skill is not required to participate in art therapy.
Goals depend on each individual's needs and interests. Art therapy can help with:
Improving cognitive and sensorimotor functions
Increasing motivation for recovery
Promoting of self-esteem, self-awareness and self-expression
Giving a patient autonomy throughout their stay
Exploring and fostering coping skills
Processing trauma and changes in identity
Improving quality of life and normalizing the hospital environment
Who benefits from art therapy?
People who may benefit from music therapy include those who:
Have difficulty coping or adjusting to hospitalization or a diagnoses
Have interest in emotionally processing their injury or disability
Have a history or previous interest in art processes and creative outlets
Have difficulty expressing themselves verbally
Are exhibiting signs of anxiety, depression or frustration
Referrals for art therapy
Art therapy is on an inpatient basis at our Bryn Mawr Rehab Hospital location in Malvern, Pennsylvania, just outside of Philadelphia.
If you're interested in art therapy—either for yourself or a family member— you can reach out to the patient's doctor. Art therapy doesn't interfere with the other rehab therapies and does not cost extra. Once a script is written by the inpatient doctor, the art therapist will be notified to conduct an evaluation with the patient.
For questions or additional information, contact:
Lauren Nicholson, MA
Art Therapist
414 Paoli Pike
Malvern, PA 19355
[email protected]