Art Ability: A benefit celebration for Bryn Mawr Rehab and artists with disabilities
November 5, 2022 – January 30, 2023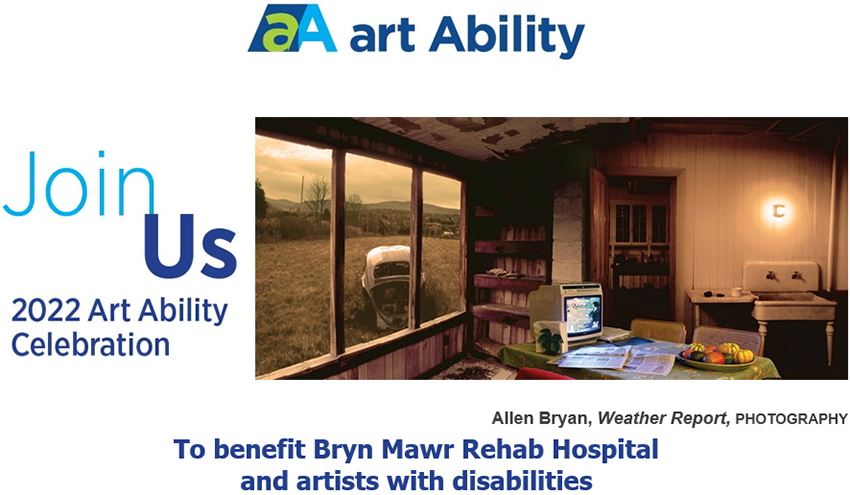 Art Ability 2022 officially opens during our preview weekend on Saturday, November 5th and Sunday, November 6th. Self-guided tours will be available during the preview weekend and can be registered for here. Availability is limited due to space constraints and Covid restrictions in place at the hospital. If all of the preview weekend timeslots are sold out, please email [email protected] to schedule a tour at a later date.
Tickets are also still available for our fundraising dinner at the Phoenixville Foundry on November 10, 2022 from 6:30PM to 10:30PM. The evening includes a plated dinner, a live auction, and call to give. Select artwork will be available to view and purchase this evening. This year, Art Ability will be raising money to purchase a Virtualis Rehabilitation VR Machine for our patients. Virtualis representatives will be at the Foundry to demonstrate their amazing goggles!
Reserve a time for the preview or purchase a ticket for our Art Ability Event
Are you unable to make it in to see the show or wanted to take a second look at the artwork? Our 2022 Art Ability Exhibition Virtual Tour is available again this year. As you browse the artwork along the tour, the numbers on the art correspond with their number on our site where you can purchase the artwork.
Artwork sales are live beginning at 12 noon on Saturday, November 5th.
Art Ability at Bryn Mawr Rehab Hospital is a year-round program which serves as a showcase and marketplace for talented artists. The program educates the community about the remarkable abilities of people with disabilities and inspires artists to reach beyond their limitations and explore their own creativity.
The annual, international juried Art Ability exhibition and sale is twelve-weeks in length and features art and fine crafts by artists with physical, cognitive, hearing, and visual impairments.
Participating artists express their creativity through painting, photography, sculpture, fiber arts, stained glass, jewelry, and fine crafts. Through these creative modes of expression, artists can convey their talent, receive recognition for their work, and often also to further progress in recovering from a life-altering illness or injury.
The exhibit is then open free to the public and enjoyed by more than 3,500 individuals annually, including the hospital's patients, their families and friends, hospital staff and visitors—making it the largest and most comprehensive exhibition of its kind in the nation.
Are you interested in touring the show after the preview weekend? Please email [email protected] or call our Art Ability Coordinator, Erin Panner, at 494.596.5607 to schedule a guided or self-guided tour.
Our process
A stringent, two-step jurying process ensures that Art Ability presents highly professional artwork, demonstrating the strength of artistic talent within the disability community. The first step is led by the Art Ability Curator and jury reviewing the submitted images and choosing artwork for the exhibition. The second step includes esteemed judges who are selected based on their expertise and prominence in the fine arts community. They judge the work, selecting the pieces to receive awards in their respective categories.
2022 Art Ability Award Winners
The planning of the exhibition involves the members of the Art Ability committee and the hospital board, including members who have been disabled by stroke, polio and brain injury. Feedback from local and national past Art Ability artists is solicited through each stage of the project.
To join our mailing list for our events, email [email protected] or call 484.596.5607.
All rights reserved.