Welcoming international patients at Main Line Health hospitals
The quality care provided at Main Line Health hospitals and the expertise of Main Line Health physicians, particularly in the areas of cardiovascular and colorectal diseases, attract patients from around the world. As a member of the Philadelphia International Medicine network, Main Line Health makes it easier for international patients and physicians to navigate the American health care system and access this world-renowned care.
A culture of diversity, respect and inclusion
Main Line Health international patients can expect not only clinical excellence but also a deep commitment to seeing every patient as an individual and valuing people across cultures, religions, races and ethnicities, while appreciating different languages, learning abilities, physical capacities and expressions of gender.
At Main Line Health you will have ready access to:
World-class heart care through smaller incisions with less recovery time
Our cardiovascular specialists are leaders in the cardiac field and are sought after by patients and referring physicians from around the world for their expertise in minimally invasive heart treatment options. Other hallmarks of the cardiovascular program include:
More experience in minimally invasive robotic coronary artery bypass graft (CABG) procedures at Lankenau Medical Center than any hospital in the United States—more than 2,000 procedures performed
At the forefront of advancing transcatheter aortic valve replacement (TAVR) for patients with severe aortic stenosis, recently approved for low-risk surgical candidates
New and advanced transcatheter-based devices and technologies to treat aortic, mitral and tricuspid valve disease
One of only a few programs in the United States performing complex aortic surgery
Peripheral intervention and endovascular options to treat vascular conditions, including peripheral arterial disease (PAD), deep vein thrombosis (DVT), carotid and venous disease
Access to the latest cardiovascular clinical trials
Lankenau Medical Center has earned the following recognitions for cardiac care:
And numerous accreditations and distinctions for excellence in cardiac care.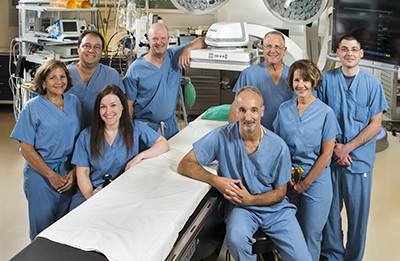 The Lankenau Heart Institute's structural heart team (pictured here) is doing vital work to improve the health and prolong the lives of patients diagnosed with heart disease. In photo, from left to right: Sandra Abramson, MD; Roberto Rodriguez, MD; Paul Coady, MD; Scott Goldman, MD; Lisa Igidbashian, CRNP; and Eric Gnall, DO. Seated: Kate Hawthorne, MD and William Gray, MD.
Francis Sutter, DO, FACS, chief of cardiothoracic surgery at Lankenau Medical Center, has performed thousands of robotic coronary artery bypass graft (CABG) procedures. Learn about Dr. Sutter and the advanced options available to patients at the Lankenau Heart Institute.
Pioneering program in colorectal cancer, treating common to complex colorectal conditions
Our Colorectal Center sees patients from around the globe for disorders of the small intestine, colon, rectum and anus, as well as surgical care for colorectal cancer. The rectal cancer program at Lankenau Medical Center is the first in the Philadelphia region and one of only 12 in the United States to earn accreditation from the National Accreditation Program for Rectal Cancer (NAPRC), designed to improve the care of rectal cancer patients across the country. Lankenau Medical Center is also ranked High Performing for colon cancer surgery by U.S. News & World Report.
As international leaders in the field of colorectal surgery, we have introduced several surgical techniques—such as robotic tata, transanal endoscopic microsurgery and single incision laparoscopic procedures—to spare colon and sphincter function with little to no scarring, resulting in thousands of patients who go on to lead normal lives after a diagnosis of colon and rectal cancer as well as diverticulitis and inflammatory bowel disease. Main Line Health colorectal patients further benefit from having access to the latest colorectal clinical trials.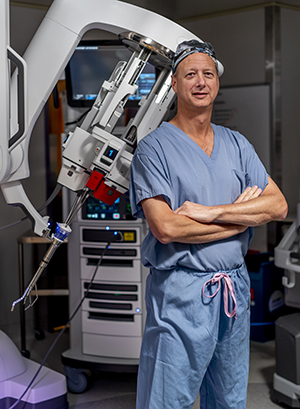 John Marks, MD, chief of colorectal surgery at Main Line Health and world-renowned colorectal surgeon, is a pioneer in the evolution of colorectal procedures used around the globe. He helped forge a path for new minimally invasive technology, which enables surgeons to access narrow workspaces while maintaining high-quality vision, precision, and control—all through a single, one-inch incision. These innovative tools are designed to cure patients of cancer while providing the best possible quality of life and avoiding a colostomy bag.
Learn more about Dr. Marks and the state-of-the-art practices he can offer patients with colorectal disease.
Making an appointment with a Main Line Health provider
PIM can help you identify a Main Line Health provider that would be best for you, and coordinate everything from scheduling appointments and transferring your medical records, to arranging hotel accommodations, securing visas, and discussing payment options. You also have the option to identify a Main Line Health provider and PIM will make the arrangements.