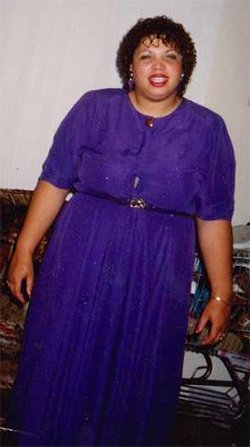 Teresa Pearsall of Philadelphia was no stranger to struggling with her weight. As a child, people always referred to her as the 'girl with the pretty face.' She continued to gain weight into adulthood, eventually reaching 309 pounds at her heaviest. Still, despite low self-esteem and constant sickness as a result of her weight, she couldn't commit to making a change until the time came when she didn't have a choice.
In 1998, Teresa took a vacation to visit family in North Carolina. Saying she felt a little 'off' the entire time, she went to a local hospital to be seen by a doctor. There, she was diagnosed with diabetes and slipped into a diabetic coma in the days following.
"I was scared to death of taking needles and became depressed when I found out that I would be insulin-dependent for the rest of my life," says Teresa.
That's when she decided it was time to make a change.
After years of failed fad diets and a health wake-up call, Teresa decided to seek out a more permanent solution to her constant struggle with weight. She had considered bariatric surgery before, but had backed out from beginning the procedure twice. When she finally made the decision to undergo bariatric surgery, a nurse from her physician's office recommended Dr. Richard Ing of the Bariatric Program at Bryn Mawr Hospital.
"When I was initially introduced to Dr. Ing, I didn't even realize how desperate I was," she says. "He was a no-nonsense physician and made it very clear that bariatric surgery is a procedure that you have to be 100 percent committed to."
On April 4, 2012, Teresa underwent gastric bypass surgery at Bryn Mawr Hospital. After a four-day stay at the hospital, she was back at home and adjusting to life with a new, and smaller, stomach. Although sugar-free popsicles, gelatin, and soup were made for a very mundane diet, Teresa stuck to a strict diet after the surgery, eventually graduating to pureed foods and small meals as the weight began to melt off.
Now, a year after her procedure and 117 pounds lighter, Teresa says her life has changed completely.
"I always thanked God for waking me up in the morning, but now every morning I can't wait to get up, thank God, and look in the mirror!"
Among the lessons she's learned during the first year with a new body and lifestyle? How to chew food correctly to improve digestion, the importance of fiber and protein, and the importance of being active. But the most important part of her transformation is that her diabetes has been reversed as a result of her weight loss and healthy living.
Now, Teresa finishes eating once she is full and uses smaller bowls and plates to control her portions. She's walking daily, has joined a gym, and enjoys dancing with her grandchildren. Although she's worked hard to achieve her goals and continue her healthy habits, Teresa also credits Dr. Ing.
"It wasn't easy, and no one promised it would be," she says. "But I learned that if you follow instructions, it will work for you. To date, I've lost 117 pounds, but I also lost diabetes, sleep apnea, neuropathy, glaucoma, high blood pressure, and low self-esteem. I will forever be grateful to Dr. Ing and the Bariatric Program."
Learn more about bariatric surgery options at Main Line Health