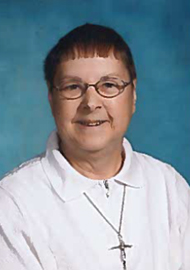 When Sister Mary Praskac called the Kidney Transplant Program at Lankenau Medical Center, she recognized the voice of the pre-transplant assistant right away. It was Marie, who had been a teaching aide in Sister Mary's religious education classroom more than 20 years earlier and whose son she had taught in school. That familiar voice and the recommendation of another sister in the convent prompted Sister Mary to choose Lankenau for kidney transplant care after two years of being on dialysis.
Sister Mary had already spent more than a year losing weight at the recommendation of her primary care doctor. She knew she would also need to lower her body mass index (BMI) in order to meet the kidney transplant requirements. "It isn't easy," she says, "I love to eat and now I'm restricted. But I know that sometimes it's not a bad thing to say 'no thank you."
When she met with the kidney transplant team, Dr. Ramirez advised her she still had some weight to lose, but that she would have some additional help. Sister Mary began working with Main Line Health's Joan Diorio, a medical nutrition therapist, who helped Sister Mary get her blood sugar (A1C) down from 8 to 5.6. In addition to her nutrition program, Sister Mary added in light activity, such as walking in the school yard and on the treadmill, when she was able. She also enjoys walks by the lake in Tuscarora State Park and French Creek State Park.
"The key is to persevere," says Sister Mary. "I know that God gives us life, and wants us to live it to the fullest, so that's what I try to do."
Sister Mary is now active on Lankenau's kidney transplant list, waiting for a matching donor kidney. She has some fears about kidney transplant, saying she's also concerned about infections and doesn't like the idea of tubes in her nose and throat. "But I know the end result will be worth it, and I trust the surgeons at Lankenau."