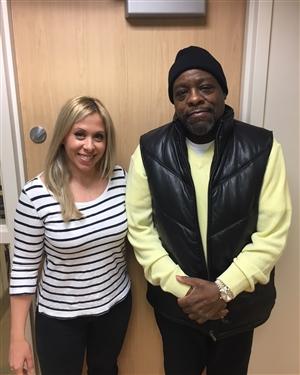 When Norman Brown chose the Lankenau Medical Center Kidney Transplant Program through which two of his uncles had previously received kidney transplant, he was told he may have to wait three to five years for a new kidney. It's now been four-and-a-half years and Norman remains optimistic. "It's hard to deal with this but I just keep going," he says. "I tell myself I have to do what I can because I can't turn back now, I'm so close! I've got to keep a positive attitude."
Good and bad days on dialysis
For Norman, dialysis has been the hardest part of his kidney transplant journey. He notes good days and bad days, but the worst being seeing people die within the unit, or become very sick. "I mean, you spend so much time with these people, then all of a sudden, one day, they are gone. It's hard. You get close to them, they become like family."
When he's feeling down about things, Norman turns to his own family, especially his wife Roteya, who's been especially supportive. He also feels supported by his four children, Amber, 21, Avante, 17, little Norman, 15, Mya, 12, and stepdaughter Carla, 27. "They really go the extra mile," he says. Norman also finds it helpful to talk with a close friend who has been through this type of thing before. "He gets it, and that's so helpful!"
Enjoying life (and some vices) while waiting for kidney transplant
Norman grew up in West Philly but his mother is from down South. "We grew up with our Southern food and traditions," he says, "but most important was that when mom cooks, you eat!" Normal loves his mom's tuna macaroni and fried chicken. He also enjoys banana pudding, but will only eat it if it's made by his mother or stepdaughter Carla. Norman also enjoys listening to old school rap music as well as jazz.
While awaiting kidney transplant, Norman says he wants to live healthier by changing his eating habits. "I want to get strong and go back to work," he adds. His parting advice for patients on the kidney transplant waiting list is to open up to the kidney transplant team. "I don't think there's anything that can't be resolved with your team," says Norman. "Go to your appointments, do your stuff, or you will lose the transplant opportunity. Make sure you do what you have to. I know I do it because I know how badly I want this."
Your kidney transplant journey starts with an evaluation to determine if you are eligible for a transplant. Call 484.476.8485 to schedule an appointment with our Lankenau-based team.