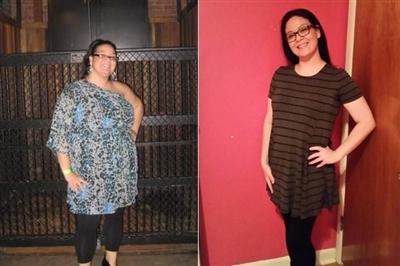 Monica Pagan had worked hard to try and shed some of the weight she had gained in recent years. But when exercise and dieting didn't work and left her suffering from shortness of breath and joint pain, she knew she needed a new solution.
After a referral from her primary care doctor, David Targan, DO, Pagan made an appointment with endocrinologist Dina Green, MD, at Lankenau Medical Center, part of Main Line Health. During her first appointment, Dr. Green confirmed Pagan's suspicions.
"She told me that I was too young to be experiencing joint pains and to be having such a difficult time losing weight," recalls Pagan, who was 30 at the time. "We tried a few medications, but I was working hard to lose weight on them and still wasn't seeing results."
Dr. Green recommended bariatric surgery. Pagan began to research local bariatric programs and, after attending a free information session, selected the Bariatric Program at Bryn Mawr Hospital, part of Main Line Health.
"I met Michele, Stephanie and Dr. [Richard] Ing and I just liked them all so much. After meeting them, I knew Bryn Mawr was right for me and I made an appointment."
Following a consultation with Dr. Ing, medical director of the Bariatric Program, to evaluate her candidacy for bariatric surgery, Pagan was approved.
But she was nervous; the preparation for surgery would involve losing a percentage of her weight and adhering to a two-week liquid diet.
"I was apprehensive about making such a permanent change, but the support that I felt from the Bariatric Program team was incredible," she says. "Any time I called with a question or felt overwhelmed about my decision, Michele would help talk to me and calm me down, reassure me."
So, when the time came for her surgery, Pagan was prepared. On January 13, 2016, she arrived at Bryn Mawr Hospital for her Roux-en-Y procedure. Roux-en-Y, the most common form of weight loss surgery, involves stapling the stomach to create a small pouch that holds less food. As a result, patients—like Pagan—feel fuller, sooner.
"The difference between bariatric surgery and attempts to lose weight through traditional methods, like diet and exercise or medications, is that surgery interrupts the effects of gut hormones that control hunger and fullness," explains Dr. Ing. "Bariatric surgery doesn't cause the same degree of hunger that you feel with weight loss through diet and exercise. For people who lose weight through diet and exercise, this hunger commonly results in weight regain."
While Pagan was on her way to a healthier lifestyle, she says the benefits weren't immediate. It wasn't until her post-op appointment two weeks after surgery that she first stepped on the scale.
"I visited Dr. Ing and I stepped on the scale, and I did lose some weight, but it was slow-moving in the beginning. After a couple of months, I really started to notice progress," says Pagan.
This isn't uncommon for patients who have undergone weight loss surgery, says Dr. Ing.
"Every person's progress is different. Weight loss, even after surgery, requires a long-term commitment to a healthy lifestyle. Our priority is to ensure that patients are losing weight at a safe pace and they are in good health."
And that, she was.
Pagan, who says she used to go to the gym and go for walks regularly, has gone "full force" into working out and made it a priority. And she's making better food choices, too.
"I learned that you need to prepare for when you're presented with all different types of foods. That's when you fall back into old habits," says Pagan. "But I'm eating healthy foods, making better nutritional choices for my body and my health. It's not as tempting as it was before. Not only can I physically not eat as much food, I don't feel tempted to."
For some, making such a drastic change can seem difficult. But Pagan, a busy woman juggling a career and family, knew it was the best option for her—and her loved ones.
"It came down to my health. I have two children and a husband and I thought, 'You have to do this.' I'm able to do the things I couldn't before, like keep up with my kids."
Now, more than one year after surgery, she's physically healthy and still leaning on the Bariatric Program team when she needs it.
"If I had to do all of this without the support of their team, it would've been a very different experience. The program was so comprehensive, and I got so much support from everyone in Dr. Ing's office. It made me feel comfortable. My only regret is that I didn't do it sooner!"
Is bariatric surgery right for you?
For many patients, including Monica, traditional diet and exercise doesn't always work.
"Bariatric surgery, or weight loss surgery, is the only option that effectively treats morbid obesity in people for whom more conservative measures have failed," explains Dr. Ing.
Potential candidates for bariatric surgery include those with a body mass index (BMI) greater than 40, or those with a BMI between 35 and 40 who have another condition, like obesity-related type 2 diabetes, sleep apnea or heart disease.
To explore whether bariatric surgery is right for you, register for a free bariatric information session where you'll meet bariatric surgeon Richard D. Ing, MD.
For more information or to schedule a consultation, call 484.476.6230.