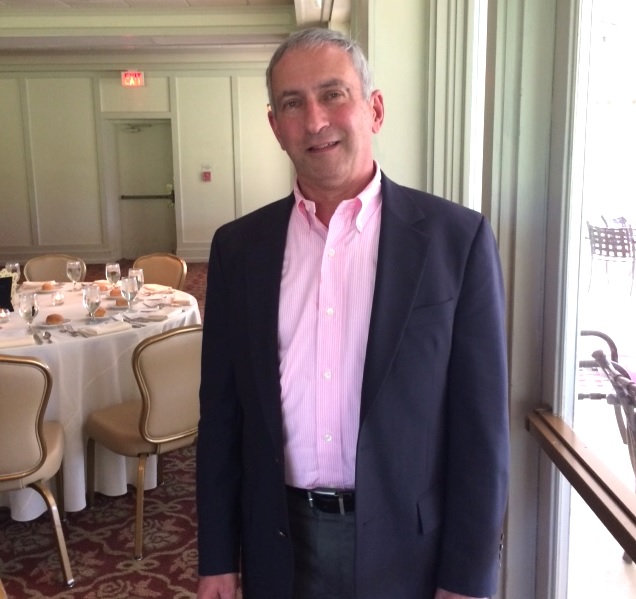 Health had always been a part of Michael Schorr's life. As a surgeon, his priority was keeping his patients in good health. But, when he was diagnosed with Stage 4 gastric cancer in February 2016, his own health took center stage.
Dr. Schorr began treatment immediately, receiving chemotherapy twice a month for five months. Although he expected to experience side effects, one that surprised him was weakness in his legs. He began immunotherapy treatments, but his symptoms continued to worsen.
"I went in for therapy in August and I was using a cane. Three weeks later, at my next appointment, I was in a wheelchair," recalls Dr. Schorr.
Dr. Schorr was diagnosed with Guillain-Barre syndrome, a rare condition in which the body's immune system attacks the nerves. To treat its symptoms, he would require inpatient treatment at a physical rehabilitation hospital. He chose Bryn Mawr Rehab Hospital, part of Main Line Health.
"I chose Bryn Mawr Rehab because I heard good things about it, and it's close to home," he says. "I knew people that had had orthopaedic surgery and recovered there, and they recommended it to me."
On September 20, just six days after his Guillain-Barre diagnosis, Dr. Schorr was admitted to Bryn Mawr Rehab. He was expecting to return home that day or shortly after. Instead, he remained in the hospital for two months.
"I had never met anyone who had Guillain-Barre; I had never really dealt with it before," he says. "But when I arrived at Bryn Mawr Rehab, they assured me that they had seen this before and could treat it."
Dr. Schorr immediately jumped into his treatment plan. In addition to physical and occupational therapy, he used the hospital's pool for aquatic therapy and joined the hospital's golfing group. It was unique therapies like these that stood our as Dr. Schorr's favorite part of his stay.
"Golfing is a hobby of mine. The fact that I was in a wheelchair didn't stop me from doing something that I liked," he says. "It was doing something that was fun for me, but the activity was still helping me to achieve my goals."
Occupational therapist Michael Ziemak, who oversaw Dr. Schorr's golf outings, was impressed with his patient's determination.
"Dr. Schorr is one of the most determined people I know. From the day that I met him, he had a list of goals he had set for himself. He was up for every challenge I threw at him, as long as it meant getting close to achieving those goals. I am lucky to have been a part of his process."
But therapy—and his quick progress—weren't the only thing that impressed Dr. Schorr. He emphasizes the role that the therapy team had in his recovery, from their friendly demeanor to their clinical knowledge.
In discussing his care, Dr. Schorr is quick to name several therapists who helped him at every point during his stay at Bryn Mawr Rehab.
"I was just so impressed by everything that happened. Everyone there was very focused on doing their jobs, but they were also so incredibly nice," he says.
His visitors agreed. Dr. Schorr points to a visit from his rabbi and other friends and family, all of whom spoke highly of the Bryn Mawr Rehab team.
Returning home
On November 16, just two months after his diagnosis, Dr. Schorr was ready to be discharged. Although he had initially been surprised to learn that he would be an inpatient for longer than expected, he applauded his care team for knowing that he needed extensive care.
"I thought I would be going home earlier, but I'm glad they kept me there for as long as they did. Physically, I wasn't able to do anything by myself. When I returned home, my health was even better than I thought it would be," he says.
Although he thanks Bryn Mawr Rehab, his care team credits Dr. Schorr's positive attitude for his progress.
"From the moment he started with therapy, Dr. Schorr was engaged and motivated to participate. His positive outlook, work and desire to return to his home and activities were key in his successful recovery," says his physical therapist, Lauren Glime-Wilson.
"Dr. Schorr and I did several activities together to help him prepare for his return to home and work, including grocery shopping and cooking activities, playing hockey here at the hospital, but also taking trips outside the hospital to Dairy Queen. He was up for anything, willing to try any activity, and a very fun patient to work with," says his occupational therapist Casey Converse.
Dr. Schorr still continues his therapy on an outpatient basis, working alongside more of the therapists whose care he speaks so highly of. He continues to make progress through weekly physical and occupational therapy visits.
And he continues to share his experience with others.
"I was incredibly impressed with everything. I worked in acute care hospitals for 35 years and I know really good teams, but I've never been to a place where everyone was so focused on the patient. The way Main Line Health runs things is just incredible."