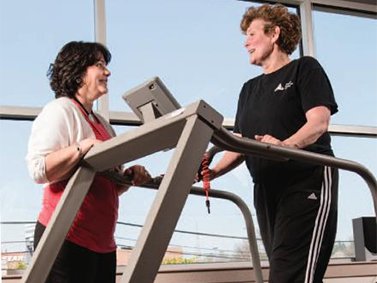 Merrie Fitzgerald wasn't about to let knee pain interfere with walking down the aisle at her youngest son's wedding. They'd promised each other they'd also dance to a Frank Sinatra song.
But for several years, Merrie's knee pain from arthritis had taken its toll. She'd worked as a medical sales representative but could no longer carry equipment or stand in the operating room during procedures. She also had to forgo her beloved evening walks with her husband, Scott, and their dogs.
"I put off a knee replacement as long as I could," Merrie says.
Finally, she knew it was time when a Baker's cyst behind her knee, caused by arthritis, ruptured at work. Merrie had knee replacement surgery at Riddle Hospital. Just four months later, she and her son Christopher two-stepped to "Fly Me to the Moon" on his special day.
The surgery went better than Merrie could have imagined. In a knee replacement procedure, the surface of the joint is removed and replaced with new metal and plastic surfaces. Merrie spent two days in the hospital and was up walking on day one.
"Depending on the health of the patient, we try to get most of them up the day of surgery," says Scott Voshell, PT, Riddle Hospital. "We get them out of bed, oriented to a walker, and into a chair, and we teach them exercises to keep the blood moving. The next day we begin doing range-of-motion exercises."
Merrie worked with Voshell during the next few months. "Scott pushed me in such a positive way," she says. "He and his team knew what I was working for."
During that time, she exercised three times a day, once with Voshell and twice on her own.
Riddle Hospital performs a high volume of knee replacements each year. In contrast, most knee replacements are done by surgeons who perform fewer than 10 a year, says Peter Sharkey, MD, orthopaedic surgeon at the Rothman Institute at Riddle Hospital, who performed Merrie's surgery.
"The knee joint has many unique features that cause complexity when doing replacement surgery," explains Dr. Sharkey. "Just like with any other activity, the more time committed to mastering the surgery, the better the results. Our success stems from our commitment and focus. Our surgical procedures are standardizes, and we don't waste any time, because the longer the patient is open on the table, the greater the chance for complications such as infection or blood clots."
Several weeks before surgery, Riddle patients take a joint class to become familiar with the procedure.
"We want to ease their mind by knowing what to expect," says Voshell.
After surgery, patients benefit from a coordinated team approach to rehabilitation, including physical therapists, occupational therapists, and aides.
Today, Merrie splits her time between watching her 13-month-old granddaughter and working part-time with the Riddle Surgical Center.
"I have no problems, which is especially important now that my granddaughter is learning to walk," she says. "I'm on the floor crawling around with her as would any grandmother. I climb in the playpen and we play with her toys."
Most people wait too long to have a knee replacement, says Voshell.
"The longer you wait, the harder it is to recover from surgery. Today, the anesthesia and pain management are much better, and patients are so much happier."