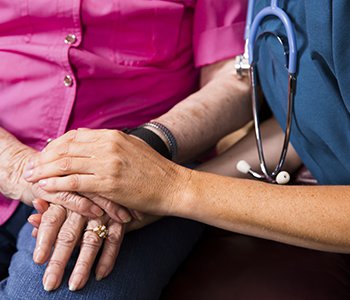 When a woman is diagnosed with breast cancer, she needs a health care team that offers not only clinical expertise, but also comfort and support. This multidisciplinary approach is what she can expect at the Cancer Center of Paoli Hospital and its locations in Exton and Collegeville.
"We've woven together a continuum of care designed to treat the whole woman, not just the disease," says Susan Zuk, RN, MSN, director, Cancer Center.
The continuum of care begins with digital mammography at the spa-like Holloway Breast Health Center at Paoli. Marti Stine, 61 and a grandmother of two, visited the Breast Health Center for yearly mammograms. In July 2012, the Malvern resident's results were suspicious; more testing showed cancer.
"The words 'you have breast cancer' can change a woman forever, but our team provides a peace of mind matched with high-level expertise. In fact, we exceed National Cancer Database patient outcomes for breast cancer overall," says Robert Fried, MD, medical director of the Breast Health Center.
Dr. Fried, along with Breast Nurse Navigator Meghan Walker, RN, MSN, and the Cancer Center team, educate patients about their diagnosis, guide them to make informed choices, and offer emotional support.
Marti had a lumpectomy to remove the tumor, and biopsies revealed it was more invasive that initially thought. After surgery, Marti began chemotherapy at the Cancer Center.
"When I called to set up my treatment, the first thing they told me was that I was not alone," remembers Marti. "I just cried. The support is amazing."
Marti was able to incorporate complementary therapies with her traditional medical care thanks to the Unite for HER Integrative Care Program at Paoli Hospital, the only one of its kind in Chester County and the surrounding area. Available to all Paoli patients with breast cancer, it provides access to yoga, nutritional counseling, acupuncture, and more. These therapies can help reduce stress, alleviate the effects of treatment, and restore well being.
During each chemotherapy session, Marti met with her health care team to review her treatment and progress. She received a therapeutic massage and participated in art therapy, using visual images to express her concerns and focus on positive thoughts. She and other patients shared their experiences during support group sessions.
"Having cancer makes you feel out of control," says Marti. "But taking a proactive approach helps. The Cancer Center helped me do that."