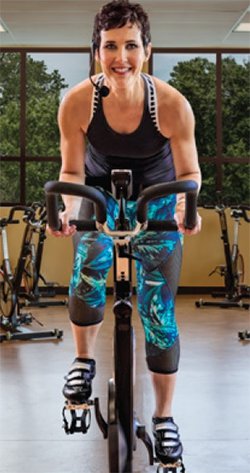 Marisa Finnell had always been active, until a herniated disk put her on the sidelines in 2008. After exhausting all the noninvasive options, she had her first surgery: a lumbar microdiscectomy at the L5-S1 level.
She recovered and was doing well for nearly four years when, suddenly, the stabbing leg pain was back. After researching her options and with the recommendation of friend, she decided to go to Rothman.
In the spring of 2012, she met with Dr. Jeffrey Rihn at Rothman Institute at Riddle Hospital, where an MRI confirmed she had reherniated the same disc.
"Dr. Rihn was very compassionate when he explained my options. He even told me that he was on call that weekend so if I couldn't wait for my date, I could go into the ER and he would operate on me then," says Finnell.
She was able to wait until her scheduled date and Dr. Rihn performed her second surgery, another lumbar microdiscectomy at the the L5-S1 level. She was hopeful this would be it, but only three weeks after surgery—the leg pain was back. When another MRI revealed the same disc had again reherniated, she was ready to be done with it.
"Dr. Rihn agreed with me that a spinal fusion at the L5-S1 level was a good choice for me given the circumstances," recalls Finnell.
One week later, she received her third spine surgery: a lumbar spinal fusion.
While the surgery was successful, Finnell had accumulated scar tissue that still caused her pain. She underwent a procedure in which hyaluronic acid and cortisone were injected into her spine at the site of the scar tissue to try and break it up. It was a success and her pain has gone away completely.
Since then, Finnell has gotten into fitness full-time, becoming a nationally certified group exercise instructor who teaches indoor cycling, boot camp, and weight lifting classes.
"I can honestly say that I'm stronger now than I was in my twenties," she says. "Thank you to Dr. Rihn and Riddle Hospital for never limiting my recovery potential."
From evaluation and treatment through recovery and rehabilitation, Main Line Health's orthopaedic professionals are committed to providing the best possible care.