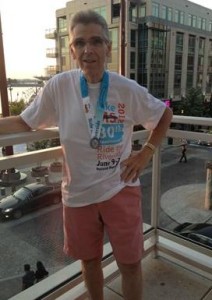 Mack Henderson had always struggled with his weight. Although he had been athletic, a swimmer throughout his school years, college graduation brought on a different and less active lifestyle, one that left him fighting a battle with his weight.
Over the next 30 years, Mack tried every popular diet plan that came along, including Weight Watchers and food delivery services, like Nutrisystem. Although he lost weight temporarily on the programs, it never stuck and he ended up gaining back the weight he'd lost.
Then, at age 60 and over 300 pounds, he grew tired and afraid of letting his struggle with weight get the best of him.
"I've worked at the same company for over 20 years, but I started to think about what would happen if I had to go out and find a new job," Mack says of his motivation to lose weight. "Would my obesity stand in the way of being hired despite a proven track record? Would I be as respected and accepted because of my weight at a different job, too?"
Mack also worried about his wife who has stood by him steadfastly, and whether or not his health would eventually become too much of a burden for the two of them in their later years.
"I didn't want to have to be taking multiple medications and be in and out of the hospital all of the time just because of my obesity," he says. "Those fears are eventually what motivated me to decide to have bariatric surgery. I decided I needed to get busy living or get busy dying, and I chose to live."
Mack entered the Bariatric Program at Bryn Mawr Hospital on May 13, 2010 at 356 pounds. After researching other bariatric programs in the area, he settled on Bryn Mawr for the convenient location and the openness of the bariatric team. To begin the program, Mack started a regular fitness routine and adjusted his diet in preparation for the life he would be living post-surgery.
Over the next three months, Mack lost nearly 40 pounds and, on September 15, went in for gastric bypass surgery.
"Mack underwent a procedure called roux-en-Y gastric bypass, which is the most common bariatric procedure," explains Dr. Richard Ing, medical director of the Bariatric Center. "By stapling the stomach and creating a small pouch that holds less food, roux-en-Y surgery restricts food intake and allows patients to feel satisfied more quickly."
Following his surgery, Mack spent two days in the hospital and, during his stay, was pleased not only with his treatment, but with how involved and informed he was throughout the process.
"Dr. Ing and his whole team were all so good at preparing me for surgery and making sure I was adhering to the program," he says. "There wasn't anything that I went through, right up through the surgery and my recovery, that I didn't expect. I was a part of the process the whole time."
In the weeks immediately following his surgery, Mack began slowly working solid foods into his diet and exercising again. He started off slowly, joining the YMCA to begin swimming again, an exercise he was familiar with and that wouldn't aggravate his arthritis pain. Over the next year and a half, the weight began falling off, and Mack began to notice obvious changes to his health. Within six to eight months of surgery, he was completely off all of his medications.
"Had I kept on the path I was on, I really would have started to have some serious health issues," he says. "I had high cholesterol, high blood pressure, all of the diseases you hear that are associated with obesity except for diabetes, I had them."
Prior to surgery, Mack had set a goal to weigh 185 pounds. When he reached his goal more quickly than he had anticipated, he pushed forward, knowing there was more that he could lose. In December 2011, he reached 168 pounds, a weight Mack says feels comfortable for him and that the scale seems to like, too.
Still, despite reaching his goal, Mack hasn't stopped pushing himself. He completed his first sprint distance triathlon earlier this year on March 29, and to date has completed two additional triathlons – sprint and Olympic distances, 5K and 10K races, and 60-mile and 80-mile bike rides. September's schedule includes a 100- mile bike ride and an Olympic distance triathlon in the Outer Banks, where he vacations. Mack will finish the 2012 season with a half marathon in November.
"I've just continued to challenge myself," Mack says of his new active lifestyle and fitness goals which include training six days a week. "I'm not looking to set any world records; I just want to push myself to new heights and get busy living and enjoying my new life. My goal for 2013 is a half ironman."
Mack credits his many support systems for his success: his family, his endurance coach Mark Kotarski, the West Chester YMCA and his work colleagues and company that encourages and actively supports a healthy lifestyle with Commit 2b Fit.
He thanks his wife, five sons and their wives for their overwhelming support of his surgery and new diet, saying he couldn't do this without their encouragement throughout the entire process. And he credits his second family, too, the one he sees for monthly support groups.
"The Bariatric Center has been so helpful with the support groups and meetings for patients, too. Unless I'm out of town, I always go and I'll continue to go; it reminds you of where you started from. It's like a family," Mack says.
For Mack, the Bariatric Center's easy-to-follow program put him on the path towards better health and richer life. Now, he says, there are endless possibilities.
"If you use the program for what it's there for and you really participate in it, I think you'll have success in the long term," he says. "Thanks to the program, there are endless possibilities of what I can expect from myself. I can't say enough about what that program has helped me do for my life."
Learn more about bariatric surgery options at Main Line Health