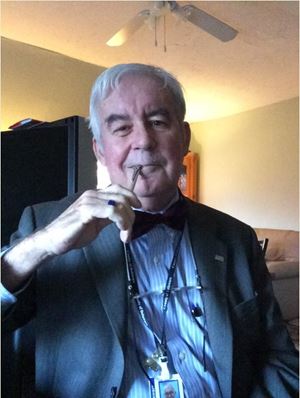 Leigh Bechtle was more concerned about getting steaks for his Labor Day barbecue than going to the hospital when he woke up feeling dizzy. But at the insistence of his wife – who threatened to have him taken in an ambulance – Bechtle finally agreed to go on his own.
"They took one look at me in the emergency room and immediately took me back," recalls Bechtle, who learned he had suffered a major ischemic stroke overnight and was just beginning to show symptoms. An ischemic stroke occurs when an artery that supplies blood to the brain becomes blocked.
After four days in Riddle Hospital's stroke unit, Bechtle was stable enough to be transferred to Bryn Mawr Rehab Hospital.
"I call it my Hannibal Lecter ride," says Bechtle. "I was in a wheelchair. I couldn't sit up straight, talk or swallow. I was leaning over drooling and choking. I couldn't move my entire left side. I basically gave them nothing to work with."
Though Bechtle was familiar with Bryn Mawr Rehab Hospital and its superior reputation due to his 35 years as a medical malpractice defense attorney in the Philadelphia area, he was still amazed at the quality of care he received while he was there.
"It's the people at Bryn Mawr Rehab that make it so special," says Bechtle. "From the maintenance workers to the doctors, they are all dedicated to making Bryn Mawr Rehab the best in its class. They create an environment that is a catalyst for getting better. Their love, compassion, skill and ability are second to none."
Bechtle spent six weeks in Bryn Mawr Rehab Hospital where he received physical therapy, occupational therapy and speech therapy to regain the use of the left side of his body.
"I call my therapists – Abbie, Keely, and Jennifer – the A-Team," Bechtle gushes. "They are just remarkable people and they really run the show. I had real problems with my left arm and my hand being clawed up by my chest. Not only was my therapist able to get my hand unclawed, but I also now have enough functionality to carry things with that arm."
"They also have this robotic walking device called the Lokomat," continues Bechtle. "You get in a harness attached to a treadmill and the Lokomat guides your steps. It's exhausting but great. There are only about 100 of these machines in the country and Bryn Mawr Rehab has one."
Bechtle continued his therapy at Bryn Mawr Rehab for four months as an outpatient after his release. Since that time he has returned to his law practice and, in an effort to squelch any question of his ability, he underwent a comprehensive neuro-psychological evaluation, which he passed with flying colors.
"I still have limited use of my left hand, I walk slowly with a cane, and I may need surgery to repair some vocal chords, but I'm not limiting myself to recovery after one year. It's a continual process of healing," says Bechtle. "Bryn Mawr Rehab Hospital really saved my life – not in the standard definition of the phrase, but they made my life really worth living after my stroke."
"They had vision for me when I didn't have it myself. I could see the passion and dedication they brought to the task and it inspired me to want to do better for them … to match their efforts. Their mission is to take damaged people and repair them. I had the opportunity to see that mission being accomplished on a daily basis. In the final analysis, both my body and spirit were nurtured and ultimately healed as the result of the wonderful work done by extraordinary people."