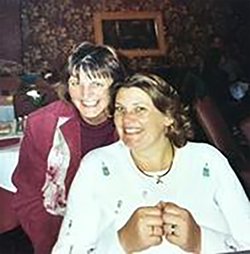 Kathy Giuliano (far left) had always had a healthy heart. A regular exerciser, she went to the gym twice a week, played with her grandchildren, and enjoyed dancing with her husband. Her father had suffered a stroke and heart attack, but Kathy had no history of cardiac issues herself. So, in July 2011, when she found herself in the emergency room with chest pains, she was surprised.
"My job had been getting more stressful, so I just figured that was it. They did a cardiac work-up and kept me overnight, but nothing was wrong, so I went home and took a few days off from work," she says.
Unfortunately, her chest pain didn't disappear. Over the next three months, the pain continued to worsen until Thanksgiving, when she began noticing arm, chest, and jaw pain during a walk with her husband. She returned to the emergency room for additional testing, but her results still didn't reveal the source of her pain.
Dr. Matthew Hillis, a cardiologist working during Kathy's visit to the emergency department, recommended a catheterization to determine the cause. Dr. Antonis Pratsos performed the procedure which revealed a myocardial bridge-- a congenital condition where the heart muscle partially "bridges" over part of a coronary artery-- that would require medication for the rest of her life.
"I was just so relieved to have an answer," says Kathy. "This whole time, I had thought it was just my body not responding well to stress, but now I had the answer to my problem."
Or so she thought.
As Kathy's chest pain continued past Thanksgiving, doctors raised the dosage for her medications every six weeks in an effort to relieve the pain. By the following February, her pain was so severe that she could no longer visit the gym, something she typically did twice a week, or spend time alone with her grandchildren.
"At one point, I was walking my two-year-old granddaughter down the street and I started to notice pain," she recalls. I thought, 'What would happen if I collapsed?'"
Kathy even began having her groceries delivered, as the hour she typically spent walking up and down the aisles became too painful for her. By August of 2012, Kathy had reached the maximum dosage limit for her heart medication and couldn't walk to the end of her driveway without chest pain.
Kathy made an appointment with her cardiologist, who found her myocardial bridge was severely impeding her blood flow and told her it was time to seek a long-term option for her pain: heart surgery. When it came time to choose a physician, she selected Dr. Francis Sutter, cardiac surgeon at Lankenau Medical Center.
"I had heard of Dr. Sutter before," says Kathy. "He had just performed a quadruple bypass on my neighbor down the street and he came highly recommended. Plus, I had heard of the robotic procedures he performed, and I preferred that to having my chest cracked open."
On September 10, Kathy visited Lankenau for her first appointment with Dr. Sutter. During her appointment, Dr. Sutter called Kathy's bridge 'the biggest he had ever seen' but promised her that both she and the bridge would be taken care of. On September 26, only a little over two weeks after her first appointment, Kathy underwent robotic heart surgery and Dr. Sutter was able to successfully treat the bridge that had caused her so much pain.
In the days following her surgery, Kathy says pain was never an issue. The strongest medication she needed during her recovery after the first 48 hours was Motrin and a low dose beta blocker. She credits her physicians, nurses, and the rest of the Lankenau staff for a pleasant post-surgical experience.
"I can't say enough wonderful things about Dr. Sutter and his staff. All of the physicians, the nurses, the office staff, the dietary staff, housekeeping…everyone at Lankenau was so kind," recalls Kathy. "I had the absolute best care. It could not have been a better experience,"
Now, almost six months after her procedure, Kathy continues improving. She is enrolled in Main Line Health's Cardiac Rehabilitation program, where she participates in the fitness activities she loves—like the elliptical, treadmill, and light weightlifting—to strengthen her heart and get her back to the gym at her own pace. And, most importantly, she's getting back to the life she led before chest pain.
"I still get occasional chest pain, but it's nothing compared to what I had before," she says. "I can do my own shopping now and feel my energy level slowly increasing, although I don't always have the energy, I can play with my grandchildren like I couldn't before."
And, says Kathy, she owes her recovery to Dr. Sutter.
"You cannot get better care than at Lankenau," she says. "I got my life back because of Dr. Sutter."