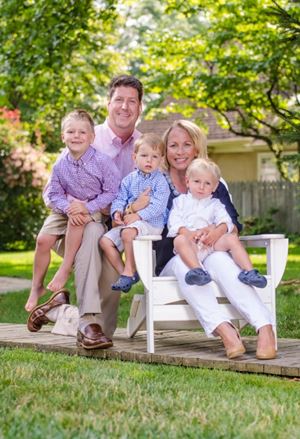 During the third trimester of pregnancy, most expectant moms are decorating the nursery, stocking up on diapers, and getting as much rest as they can before their bundle of joy arrives. But not Jessica Shorten. At seven months pregnant, she was diagnosed with breast cancer, fighting for her life and that of her unborn baby.
Two years ago, at an appointment with Shari Senzon, MD, an ob/gyn at Paoli Hospital, Shorten, then 38 years old, mentioned a lump she felt in her right breast. During pregnancy, breasts enlarge and milk ducts grow in preparation for breastfeeding, which can cause lumps and other changes in the breast landscape. Still, it's important to discuss anything unusual with a doctor, especially a lump on only one side.
"We take all breast complaints very seriously," says Dr. Senzon. "Just because Jessica was pregnant, I didn't want to assume it was a normal pregnancy change. I wanted to make sure she received the appropriate tests so we could make a determination."
An ultrasound performed at Paoli Hospital showed a mass in Shorten's breast. A biopsy then  confirmed that she had an especially aggressive form of cancer, call HER2 positive, which required immediate treatment.
Difficult Decisions
"A tumor that is HER2 positive produces a protein that encourages it to grow at a rapid rate," says Thomas Frazier, MD, breast cancer surgeon and medical director of the Comprehensive Breast Center at Bryn Mawr Hospital. "The next step was to decide whether to surgically remove the tumor and wait until Jessica delivered to begin chemotherapy, or start chemotherapy during the pregnancy to shrink the tumor and then do surgery after she delivered."
Shorten and her husband, Tim, consulted with their team of breast and OB specialists at Main Line Health. They also sought second opinions from other health care providers in the area. They wanted to weigh all their options and make the best decisions for Jessica, their baby, and their two sons, Callen, now age two and a half, and T.J., now age four.
"Ultimately," says Shorten, "we decided to continue with the team at Main Line Health. I connected with Dr. Frazier and felt like he knew exactly what he was doing. I trusted him fully, and I knew I wanted him to be the one to treat me."
At 36 weeks pregnant, Shorten had an amniocentesis, in which doctors examined a sample of amniotic fluid to see if the baby's lungs were developed enough for him or her to be delivered early. Unfortunately, that wasn't the case. Because Shorten's tumor was likely to grow quickly, Dr. Frazier and Dr. Senzon recommended that she proceed with surgery before giving birth.
"Dr. Frazier always kept me in the loop with prompt and detailed communication," Dr. Senzon says. "There's no one-size-fits-all approach in these kinds of situations. We consider each patients and her unique circumstances when developing a treatment plan."
At Bryn Mawr Hospital, Dr. Frazier performed a lumpectomy, removing as much of a three-inch-wide tumor as he could.
"The procedure required real teamwork among department including surgery, obstetrics, medical oncology, and anesthesia, all working together for Jessica and her baby," Dr. Frazier says. Shorten also developed a close relationship with her oncologist, Sandra Schnall, MD, at Bryn Mawr Hospital, who frequently called her at home to check up on how she and her growing baby were doing.
"Dr. Frazier recommended Dr. Schnall, and I'm so glad he did," she says.
Mother of Three — And Now Cancer-Free
At 39 weeks, Shorten delivered a healthy baby boy, Wesley Parker. A week and a half later, she started the first of six rounds of chemotherapy.
"During chemo, I got sick, and it was incredibly traumatic losing my hair," Shorten says. "But I tried really hard not to show my kids that I was sick. I went to the gym like I always did. I made healthy food. I put makeup on. I insisted on dropping off and picking up my son from school. We just tried to stay as positive as we could."
In May 2013, Dr. Frazier performed Shorten's double mastectomy. Since she completed her treatment two years ago, all her tests have come back cancer-free.
"At the time I was diagnosed, it was a really difficult road," Shorten says. "But as far as cancer goes, it was just a year out of my life, and I feel so lucky."