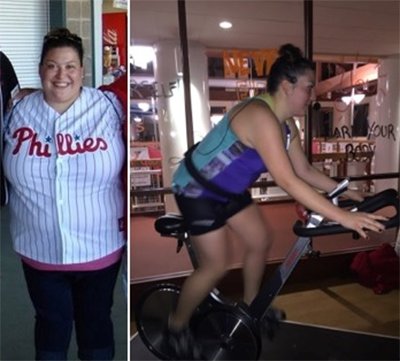 Heather Jones is dedicated to fitness. The 25-year-old makes a commitment to exercise seven days a week, maintains a diet based on clean eating, and leads four classes per week at her local YMCA that combine strength training and aerobics. But fitness wasn't always such an integral part of her daily life.
Diagnosed with polycystic ovary syndrome (PCOS) and told she was insulin-resistant at age 18, Jones had always found it difficult to lose weight. She had tried Weight Watchers and made appointments with dietitians and nutritionists, but it was a trip to a theme park that finally made her realize she was ready to make a change.
"My mom and I went down to Florida one spring, and we visited Busch Gardens during our visit. She agreed to ride a roller coaster with me, and I was so excited because she hates roller coasters and never rides them," Jones recalls. "When I got on, the safety strap didn't fit over me. I was 21, I was embarrassed, and the worker didn't handle it very well. It made me really upset."
It was on that trip that Jones decided that, after 21 years of struggling with her weight, she would look into a bariatric surgery program. Jones, who lives in North Wales and was a student at Drexel University at the time, looked at a few bariatric programs in the area, but ultimately selected the Bariatric Center at Bryn Mawr Hospital and surgeon Richard Ing, MD for her surgery.
"What I liked about the program at Bryn Mawr Hospital was that the first thing you did was meet with Dr. Ing. When we met, he asked me what I wanted, and that was so different from the other programs," says Jones. "From the beginning, he had his hand in everything I did and that was ultimately what drew me to the program."
After weeks of weight loss preparation, Jones underwent a full roux-en-y gastric bypass surgery with Dr. Ing in July 2011. Although she admits that the days immediately following surgery were painful, Jones says her spirits were on the rise when she began to notice the weight falling off.
Inspired by her results, she decided to visit Drexel's student fitness center. Though she had been working out at her local YMCA once she had been medically cleared by Dr. Ing, it was the first time Jones would be working out among her peers. At first, she was nervous about how they would react.
"I decided to go to a Les Mills Body Pump class being offered at the gym, and the staff of the women's basketball team walked in. I almost walked out. I thought, 'No way am I going to work out in front of them.' I was embarrassed," says Jones. "They turned out to be the nicest people to work out with, and I kept coming back."
Over the next two years, Jones continued losing weight, gaining muscle definition, and exploring new fitness trends. Then, in March 2013, Jones took her love of fitness to a new level: She decided to become a certified fitness instructor. Down 100 pounds since her surgery, her confidence was at an all-time high, and she was ready to motivate others who could benefit from her story.
After rigorous training, Jones became a certified Les Mills instructor in May 2013. She currently teaches RPM, a high intensity, indoor cycling workout, and CXWORX, a core strengthening workout, at her local YMCA, and has her eyes set on additional certifications in the future.
"I'm finally at a point where I'm happy with what I've done, and I felt that I had to tell members where I had come from. It doesn't matter what you look like, you can achieve anything," Jones says. "I wasn't someone who had been into fitness my entire life, and I was able to achieve this after a lifetime of being overweight."
Is Bariatric Surgery Right for You?
For many patients, including Heather, traditional diet and exercise doesn't always work.
"Bariatric surgery, or weight loss surgery, is the only option that effectively treats morbid obesity in people for whom more conservative measures have failed," explains Dr. Ing.
Potential candidates for bariatric surgery include those with a body mass index (BMI) greater than 40, or those with a BMI between 35 and 40 who have another condition, like obesity-related Type 2 diabetes, sleep apnea, or heart disease.
Learn more about bariatric surgery options at Main Line Health