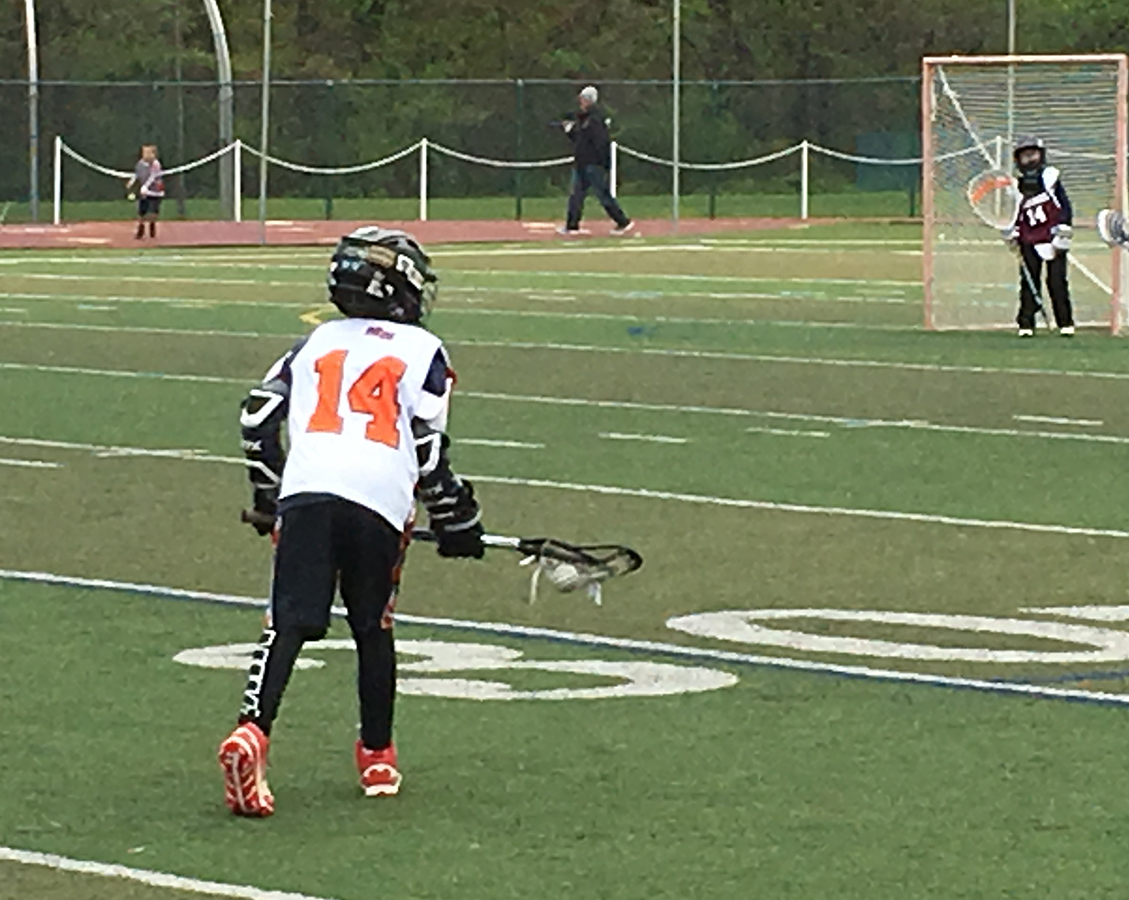 It was a lost dog that led Brian and Allyson McTear to take their 10-year-old son Hagen to Bryn Mawr Rehab Hospital.
"Our dog got loose and I ran into a neighbor while I was looking for him," explains Allyson. "She happened to mention that her friend's child just completed therapy for a concussion at Bryn Mawr Rehab. Our son was still recovering from his own lacrosse-related concussion, but he had some lingering symptoms. I asked our pediatrician if I should take Hagen to Bryn Mawr Rehab, and he said it couldn't hurt to have him evaluated."
"We did this as a precaution," adds Hagen's dad, Brian. "We fully expected everything to check out fine and for Hagen to resume playing sports in a few weeks."
Things didn't work out the way they thought.
"When I took him for the evaluation, they put him in a harness for a balance test," explains Allyson. "I thought to myself, 'This is silly, his balance is fine.' But the physical therapist actually had to catch him a few times because he was falling backwards. He scored really low on that test and another test of his peripheral vision."
Allyson continues, "I was shocked by the results. I honestly didn't think it was that bad. We followed all of the pediatrician's guidelines for concussion—kept him from watching TV, reading, playing video games, et cetera. Nothing I had seen up to that point made me think there was a problem."
"We were stunned to learn of the severity of Hagen's condition," says Brian. "He was playing around the house like normal. If we hadn't taken him to Bryn Mawr Rehab, we probably would have let him start playing sports again and unknowingly put him at risk for an even more serious injury."
At the completion of testing, Hagen immediately began physical therapy at Bryn Mawr Rehab once a week. Two weeks later he began occupational therapy, as well. Both approaches are meant to aide in healing the brain, decrease lingering symptoms and increase tolerance for exercise.
"His therapy consisted of a variety of exercises where they evaluated his head and eye movement, timing and symptoms," Allyson says. "His therapists always have a positive, upbeat manner and kept Hagen interested with new routines so he didn't get bored. It's amazing how well they adapt to him. He's made very measurable progress."
Hagen's therapy team—including Clint Beckley, occupational therapist and concussion specialist at Bryn Mawr Rehab—knew it was important to keep Hagen entertained and engaged during his visits.
"Hagen, by his very nature, is athletic, energetic, inquisitive, competitive, and a risk taker. Kids get hurt sometimes, and that won't change so, as a medical professional providing therapy to children, you have to engage their interests and energy, facilitate a strong recovery, and hopefully add to their safety awareness to reduce future risks. Hagen did great with his recovery, and I think he had some fun in along the way," says Beckley. "It was a win-win."
Although Hagen returned to school and was no longer having headaches only two weeks after his injury, he still wasn't 100 percent. This led to the decision to continue his therapy for at least another six weeks.
"I feel like without the technology and expertise they have at Bryn Mawr Rehab Hospital, Hagen would have been back on the playing field well before he was completely recovered," says Allyson. "The physical therapist said that if he had done that and been reinjured, it could be very serious."
"Our pediatrician is fabulous, but he was just following general guidelines and he's not an expert in concussions," adds Brian. "At Bryn Mawr Rehab, they have people with the expertise to confirm that everything is okay or determine if it's a much more serious situation. Parents are unknowingly taking risks on behalf of their children that they shouldn't be. They just don't know."
It's been more than a year since Hagen completed his final therapy at Bryn Mawr Rehab, and he's back to enjoying time on the field. You'd be hard-pressed to find a sport Hagen doesn't love to play—the 10-year-old is enrolled in swimming, soccer, lacrosse, basketball, and baseball.
"He didn't jump right into things," says Brian of Hagen's return to sports. "It was more of a gradual return to activities once he had completed his therapy."
With a history of concussions, Hagen's parents and coaches are cognizant of putting safety first, and continue sharing his story with others. According to Allyson, nearly everyone she talks to is shocked—and scared—when they hear Hagen's story.
"People don't realize how serious a concussion can be," she says. "I think maybe there needs to be better guidelines for pediatricians and general practitioners to share with their patients…and there needs to be more awareness across the board."
"Unfortunately, there is not a Bryn Mawr Rehab everywhere in the world. We are so fortunate to have it in our backyard."
The Bryn Mawr Rehab Hospital team treats over 1,000 concussion patients annually at the hospital's state-of-the-art Neuro Center. Our program, which is led by a team of physicians, therapists and other clinicians who specialize in the field, is fully accredited by the Joint Commission and by the Commission on Accreditation of Rehabilitation Facilities. Visit our website to learn more about our Concussion Treatment and Recovery Program.