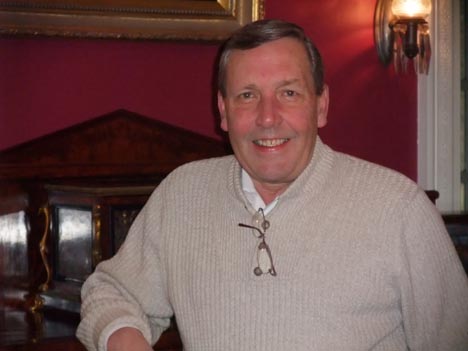 Glenn Mon knows a thing or two about good customer service. Mon, who is co-owner of Chester Heights-based Hamanassett Bed & Breakfast with his wife, Ashley, is no stranger to service with a smile. So, when it came time for him to seek treatment for Stage 2 prostate cancer, Mon was looking for a hospital whose purpose was twofold: to receive state-of-the-art cancer care and make his treatment experience a positive one.
He chose the Jefferson Radiation Oncology Program at Riddle Hospital.
"Riddle is in my backyard, and my wife and I have been patients there before. We've always been happy with our care, and so when my urologist recommended the radiation oncology department there, it seemed like the perfect choice," he says.
In January 2015, less than three months after a routine prostate exam had indicated abnormal PSA levels in his blood, Mon met with radiation oncologist Jessie DiNome, MD, to discuss a treatment program. Over the course of eight weeks, he would receive 39 radiation treatments.
The schedule was ideal for Mon. His radiation treatments took place in February and March, a slower season for the bed and breakfast. His schedule was more flexible than in the spring and summer, but his job often required his treatments to be in the morning, and over by 11:00 in the morning so he could be home to prepare meals for his guests.
"From my very first treatment, we had a standing appointment, and the staff knew I needed to be out by a certain time to accommodate guests," he recalls. "I talked to Dr. DiNome about it during out first appointment, and the staff was so efficient during my time there. I would arrive at 10:20, and be out by 10:45 every time."
Although prostate cancer patients undergoing radiation treatment can experience side effects like skin reactions, loss of energy, and urinary incontinence or bleeding, Mon says he was unaffected.
"Mr. Mon fared so well because he was treated with the TrueBeam Linear Accelerator with image-guided radiation treatments, which allows us to deliver radiation directly to the tumor site and better protect nearby healthy tissues," explains Dr. DiNome.
The TrueBeam Linear Accelerator is offered at Riddle Hospital and all Main Line Health hospitals.
During the course of his treatment, life outside the hospital was business as usual. And inside the hospital, he had found a group that had made his time at radiation positive.
"I can't say enough about the overall attitude of everyone associated with the radiation oncology department at Riddle," says Mon. "They were so welcoming, so superb, and their kindness made each week's treatment a more tolerable and more comfortable experience."
Now, almost one year after his initial cancer diagnosis and six months after he received a clean bill of health from Dr. DiNome, Mon is back to busy season at Hamanassett. He'll continue follow-up visits and screenings to make sure the  cancer doesn't return but, if it does, he knows that the team at Riddle will be there.
"I actually miss seeing the folks at radiation oncology. I don't miss the cancer, but I do miss them. I can't say enough positive things about my experience at Riddle."