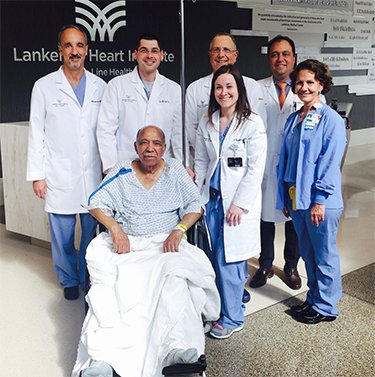 It was early in the morning on June 6 when Ernest Manley awoke with shortness of breath, a symptom he wasn't accustomed to feeling. Right away, he knew something wasn't right.
"I kept trying and trying to breathe. Normally, if I was sick or something was wrong, my son would take me to the hospital. But with the shape I was in, I figured I should call an ambulance," Manley recalls.
Manley, who lives in Wynnefield Heights, requested to be taken to Lankenau Medical Center, part of Main Line Health. He had long been a cardiology patient of Dr. Maribel Hernandez and Dr. Frank McGeehin, and Dr. Stephanie DeLoach was his primary care doctor. And though Manley remembers being delivered to the emergency room, he recalls little more than his arrival.
"I remember going in, and the team starting to work on me, and that's the last thing I remember for two days."
Manley, 81, was suffering from the sudden onset of mitral valve regurgitation, a condition marked by a leakage of blood under high pressure into the left atrium of the heart.
"The mitral valve is situated between the left atrium and left ventricle of your heart. In a normally-functioning mitral valve, blood is allowed to flow in a single direction through this valve: from the atrium to the ventricle. But, in mitral valve regurgitation, the mitral valve doesn't fully close, and allows blood to leak back into the left atrium," explains William Gray, MD, interventional cardiologist and System Chief of Cardiovascular Disease at Main Line Health and the Lankenau Heart Institute.
Although Manley had felt shortness of breath as a result of mitral valve regurgitation, his body had entered a state of shock upon his arrival at Lankenau. His body was no longer getting the blood flow it needed to survive. The team knew they had to act quickly.
Manley was immediately taken to the cardiac catheterization lab, where Eric Gnall, DO, interventional cardiologist with the Lankenau Heart Institute at Lankenau Medical Center implanted an Impella device. Considered the smallest heart assist pump in the world, the Impella helped stabilize Manley and boost his blood flow when his heart was too weak to pump on its own.
"Although the Impella heart pump is thinner than a pencil, it still has the power to keep our patients alive so they can receive the treatment they need for a long-term solution to cardiac complications," says Dr. Gnall. "Before we had this as an option, we performed a sternotomy (opening of the chest) to insert a ventricular assist device, which was a longer and more traumatic experience for patients."
Once Manley was stabilized, the Lankenau Heart Institute cardiology team was able to address the 'heart' of the situation: Manley's badly leaking valve. They had the ideal solution: the MitraClip, a device that is smaller than the size of a dime, is used in the repair of mitral valves to help close the leaflets of the mitral valve and prevent the backflow of blood into the atrium.
For the Lankenau structural heart team, implanting the MitraClip was not a new procedure—Lankenau is the largest implanter in the state of Pennsylvania, and has performed more than 40 procedures using the devices since 2014. But even they were surprised by the severity of Manley's case.
Throughout the process, Manley's family remained confident in his care.
"It was certainly a scary situation, but the Lankenau team helped put my mind at ease," says Manley's wife, Barbara.
Only hours after he had arrived in the emergency room, Manley's valve had been repaired and his heart was back to beating on its own.
When Manley awoke the following morning, Barbara and his care team began to help him fill in the blanks on what had happened upon his arrival at Lankenau.
"Everyone explained it the best that they could. It was a foggy memory, but I was amazed at what had happened," Manley says.
One thing he remembers very well? Being able to get out of bed and sit comfortably in a chair in his room.
"About a half hour or 45 minutes after I woke up, they told me they were going to get me up out of bed and let me sit in the chair in my room. And sure enough, I was sitting in my chair for the rest of the day. The next morning? The same thing."
The ability to get out of bed was an exciting one for Manley—he had assumed he'd be bedridden for several days following a lifesaving and technically advanced surgery. But a quick recovery is typical for patients who receive MitraClip surgery, says Dr. Goldman.
"One of the benefits of the MitraClip surgery is that it is minimally invasive, and allows patients to return comfortably to the life they enjoyed before surgery more quickly. We were able to get Mr. Manley back on his feet and home—all within four days."
Now, Manley continues doing well following his MitraClip procedure. Although he takes it easy with exercise, per the advice from his cardiologist, Dr. McGeehin, he says he's feeling good.
"I'm doing exercises and trying to get my strength back, but I'm doing great," he says.
And—he says—it wouldn't be possible without the Lankenau team.
"I've been going to Lankenau for 20 years. It's a group of people that care about me, my health and well-being."
With four hospitals and many community cardiology sites throughout the region, Lankenau Heart Institute's team of cardiologists, cardiovascular surgeons and sub-specialists seamlessly integrate prevention, diagnostics, treatment, rehabilitation and disease management into one uncompromising service. Visit our website to learn more about the Lankenau Heart Institute.