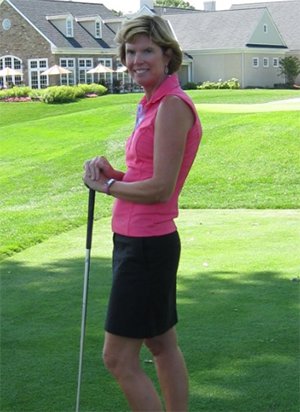 For Carol Cutler, life is a verb. An active woman who spends weekends playing golf and paddle tennis, the fit 47-year-old never imagined she'd face a potentially fatal heart problem.
One morning, after a strenuous weight-lifting session, Carol began feeling numbness in her foot. Other symptoms followed, such as migraine headaches and numbness in her arms. When she began experiencing chest pain, Carol called 911. She was brought to Lankenau Medical Center.
"I can remember the doctor telling me, 'You're having a heart attack right now'," Carol recalls.
Emergency testing revealed a tear in Carol's left main coronary artery that extended into other arteries. Then, her heart stopped-twice.
Francis Sutter, DO, chief of cardiac surgery at Lankenau, conducted emergency quadruple bypass surgery on Carol, repairing several tears in the inner lining of the arteries of her heart.
"Carol's surgery was one of the most complicated coronary bypass surgeries I've done, and I perform heart surgery every day," recalls Dr. Sutter.
Today, four years later, Carol has fully recovered and is using her experience to help others. An integral part of the Women's Heart Initiative at Main Line Health, Carol helps raise women's awareness of heart disease risk.
Timely Care is Key
When sharing her experience, Carol often says she was in the right place at the right time. And time is of the utmost importance when it comes to heart attacks.
"Interventional procedures, which can only be performed within the first 10 to 12 hours following a heart attack, prevent heart muscle from dying," explains Jonathan Felsher, MD, interventional cardiologist at Riddle Hospital. "The sooner a woman seeks help, the more likely she will live a strong, healthy life."
Dr. Felsher adds that many women delay medical help because they don't recognize less obvious symptoms of a heart attack. These can include nausea, shortness of breath, and back or jaw pain.
Time is also an important factor after a patient arrives at the hospital. Guidelines by the American College of Cardiology state that a patient's blocked vessel should be opened within 90 minutes of arrival at the emergency room. This is referred to as 'door-to-balloon' time. Dr. Felsher notes that Main Line Health consistently meets this goal and often treats patients in less than 90 minutes.
Taking Back Control Over Your Life
After a heart attack, it's important to remember that life isn't over, says Tarun Mathur, MD, cardiologist at Bryn Mawr Hospital.
"In fact, many women can do more after a heart attack than before," he adds. "Often, women may experience very subtle symptoms of their heart condition for years without knowing it, such as mild fatigue or breathlessness. With blood flowing correctly after cardiac surgery or an interventional procedure, women may feel more energetic."
Plus, cardiac rehab, which is offered through Main Line Health facilities, can help build endurance. It also helps rebuild confidence in physical capabilities.
Caring for the Whole Woman
Following a healthy lifestyle after a heart attack is essential. This includes exercising, eating a balanced diet, and not smoking. Paying attention to emotional well-being is also crucial.
"Some people feel depressed or hostile after heart attack. Although these feelings are normal, it's important to cultivate a positive outlook on life," says Don Ferrari, DO, a cardiologist at Paoli Hospital. "Emotional stress can strain the heart and interfere with quality of life."
With a focus on physical and emotional health, women can achieve positive, productive lives after a heart event.
"Slowly, you get back out there," says Carol. "Your friends and family encourage you to do more and more, and pretty soon, you're living your life again."