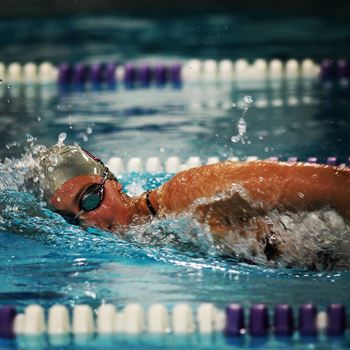 "I grew up around Bryn Mawr Rehab Hospital," says Bernadette Tankle. "It's right down the road from my high school and I drove by it every day on my way to school. I never thought I'd end up there as a patient."
Yet that's exactly where Tankle found herself when she was just 19 years old after being diagnosed with Guillain-Barré syndrome – a rare disorder in which the body's autoimmune system attacks part of the peripheral nervous system.
"I was a freshman and a member of the swim team at Colgate University. I was feeling run down, so I went to the doctor and was diagnosed with mononucleosis," explains Tankle. "Then I started having numbness in my legs and felt like I was becoming paralyzed. The doctors thought I was crazy, but eventually I was sent to a neurologist who began running some tests. By the time I was diagnosed with Guillain-Barré I was a quadriplegic."
Following treatment for the disease and a one-week hospital stay, Tankle was discharged to Bryn Mawr Rehab Hospital, still paralyzed from the neck down, for therapy to return function to her body.
"They have the most amazing therapists at Bryn Mawr Rehab who were able to get me back to where I wanted to be in no time," says Tankle. "I was in therapy four hours a day, six days a week for just over a month. The people there were so willing to listen to me and they really let me drive my own rehabilitation. From playing cards with me to strengthen my hands to offering tidbits of advice when I thought I couldn't make it through another session, they were simply amazing."
Tankle explains that with Guillain-Barré, symptoms often get worse before they get better and feeling is the last thing to return.
"I really had to trust my physical therapist because I was still paralyzed," says Tankle. "She would say, 'I know you can't feel your legs right now, but they are moving.'"
In addition to physical and occupational therapy, Tankle also participated in equestrian therapy during her time at Bryn Mawr Rehab.
"I'd always been around horses, but I never had any interest in riding," Tankle shares. "The equestrian therapy was amazing. It was really hard, but it was so much fun and it helped me regain my balance and core strength."
Tankle continued at Bryn Mawr Rehab as an outpatient for one week after being released and then returned to school where she continued her outpatient rehab at a local facility.
"The resources at Bryn Mawr Rehab, things like the Lokomat machine that helped me learn to walk again, were far superior to what was available at this other facility," Tankle points out. "They just didn't have access to that type of technology."
Not only was Tankle able to return to school to complete her freshman year, she was able to earn back her place on the swim team for her sophomore year. She also switched her major from chemistry to neuroscience, something she mentioned to her mom just weeks before her diagnosis.
"One of the biggest positives that has come out of my diagnosis is the focus it has given me in my life," says Tankle. "Knowing that one day I can help others gets me through the hard classes. It's pretty awesome how fast Bryn Mawr Rehab got me back to where I wanted to be. They knew I wanted to return to my life and they helped me get there as quickly as possible."