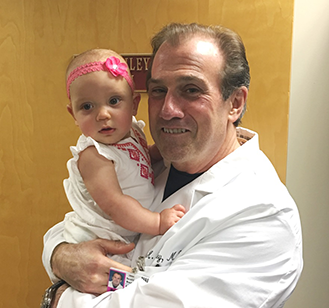 Audrey Fanucci had all but abandoned the idea that she would one day become a mom. After being diagnosed with endometriosis and a rare uterine abnormality in her twenties, doctors warned her that the likelihood of her ever becoming pregnant—or carrying a baby to term—was slim.
So, Fanucci was as surprised as anyone when a urine test to diagnose her dizziness and nausea told her otherwise.
"The last thing I expected when I was feeling sick was to find out I was pregnant. I literally almost fell off the chair," she says.
Fanucci and her boyfriend, John Goddard, were pleasantly surprised but cautiously optimistic. Immediately after the news from her doctor, thoughts began racing through Fanucci's head: Was it a viable pregnancy? Would she carry to term? Doctors had warned her that, due to her health history and age, her pregnancy was considered high-risk. What did that mean for the health of her and her baby?
To the couple's delight, Fanucci's pregnancy progressed smoothly. She was due for a scheduled C-section on July 17, 2015. Or so they thought. Baby Fanucci had other plans.
"Over Memorial Day weekend, it was as if my body had 'popped'," recalls Fanucci. "My stomach got huge, I was uncomfortable and—by that Saturday—I was in excruciating pain. I knew something wasn't right."
Fanucci and Goddard headed to Lankenau Medical Center, where they were met by a team of medical residents and Ob/Gyn Scott Bailey, MD. Although Fanucci knew her pain was serious, she didn't realize how serious it was until she arrived at Lankenau.
"Audrey had suffered a uterine rupture which, especially in high-risk pregnancies, can be fatal for both the mother and the baby," explains Dr. Bailey. "Even though it was almost two months ahead of schedule for her to deliver, we needed to perform an emergency C-section in order to save her life."
Fanucci was shocked to hear that, after so many months of no complications, her baby could potentially be at risk.
"All I remember thinking was, 'Oh my god, I'm going to lose this baby now when I came all this way?"
Saving Two Lives
"The last thing I remember while lying on the operating table is Dr. Bailey telling the team that it was time to get the baby out," recalls Fanucci. "I was scared, but I felt secure with him. I knew he had it under control."
And under control, it was. Grace Elsie was born at four pounds, seven ounces on Sunday, May 24, 2015 to a healthy mother and a proud father.
As Fanucci recovered from her delivery, Dr. Bailey and Goddard, a paramedic, discussed how serious her uterine rupture could have been.
"John knew that when someone's uterus ruptures, the situation can be fatal, there needs to be a blood transfusion, or the mother needs to have her uterus removed," says Fanucci. "None of that happened to me. Without Dr. Bailey, Grace would have died, and I probably would have, too."
For the next six weeks, Grace remained in the care of Lankenau's NICU. Fanucci and Goddard received daily updates regarding their daughter's health, and the couple made frequent visits to learn how they'd care for their young daughter when she returned home—how to bathe her, change her diaper, and more.
As new parents, the couple was grateful for their help.
"Even though Grace needed to be in the NICU, it was such an amazing experience meeting and working with the doctors and nurses there," says Fanucci.
A Chance Meeting
Almost one year after Grace's arrival, in April 2016, Fanucci returned to Lankenau for a hysterectomy, performed by Dr. Rudolf Laveran. Although Dr. Laveran performed the surgery, Fanucci was told that she would see one of his colleagues before her discharge a few days later. That colleague was Dr. Bailey.
"After Grace was born—while we were visiting her in the NICU—I had thought about stopping at Dr. Bailey's office so many times but I never did. When Dr. Laveran told me Dr. Bailey would be discharging me, I couldn't even put into words how it felt to see him again and what he had done for me."
The feeling, as it turns out, was mutual. Upon seeing Fanucci again, Dr. Bailey and his office staff assured her they thought of her—and Grace—often.
"I showed him some photos of Grace, and we exchanged phone numbers so we could stay in touch. We visited him in his office in May 2016," says Fanucci. "We continue to keep in touch, and I'm so grateful for it. Everyone at Lankenau was wonderful, but Dr. Bailey literally saved my life, and I'm glad he's still a part of it."
Main Line Health's team of obstetricians offer complete, family-centered care for women with normal and high-risk pregnancies, which includes monitoring and testing during pregnancy. Visit our website to learn more about our Ob/Gyn services and find a physician in your area to help you navigate your pregnancy.