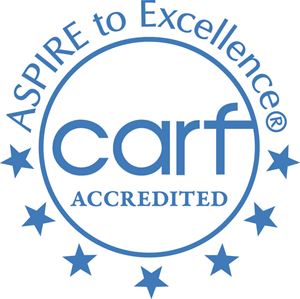 Unique program is one of only a few of its kind in the nation
Bryn Mawr Rehabilitation Hospital recently received a prestigious nationwide distinction from the Commission on Accreditation of Rehabilitation Facilities (CARF) for its inpatient Cancer Rehab Program, part of Main Line Health's comprehensive cancer care. The recognition focuses on quality and a patient-centered approach in a healthcare environment.
Cancer rehabilitation is a personalized program to address a variety of conditions ranging from weakness, pain and fatigue, to changes in function related to specific types of cancers, such as brain, head and neck, spinal cord and debility resulting from other cancers and cancer-related treatments. Whether the cancer patient was recently diagnosed, is currently in treatment or has completed treatment, the care team and patient work together to achieve the individualized goals.
"Our cancer rehab program, while new, is already supporting patients with innovative therapies throughout their cancer journey. I am proud of the team at Bryn Mawr Rehab Hospital for their stand-out care," said Jack Lynch, FACHE, President and Chief Executive Officer, Main Line Health.
"This recognition reflects our strong commitment to quality, safety and equity. I am extremely proud of the diligent work our team has done to achieve this success. Our goal is to provide a safe, compassionate, and welcoming environment for patients and their families. The CARF accreditation is a culmination of the continuing commitment and dedication our staff has made to ensure our programs and services offer only the highest level of care for our patients and our community," says Donna Phillips, President of Bryn Mawr Rehabilitation Hospital.
CARF surveyors met with key staff, stakeholders and patients who helped to demonstrate the Program's commitment to offering services that are measurable, accountable and of the highest quality. The Program received high marks from the CARF team for the specialty programs offered to patients, the efficiency of the program, the investment in cutting edge technology and the staff's commitment to their patients. Surveyors noted the strong leadership and development of the Program as well as documentation that went above and beyond in crafting a patient's story. This attention to detail and strategic approach of the Program helped to augment its strengths and positioned it to achieve this respected accreditation.
Bryn Mawr Rehab Hospital also received 3-year CARF re-accreditation for the following inpatient rehabilitation programs: comprehensive integrated inpatient rehabilitation program (adults); amputation specialty program (adults); brain injury specialty program (adults, children, adolescents); spinal cord system of care (adults); stroke specialty program (adults); and interdisciplinary outpatient medical rehabilitation programs: brain injury specialty program (adults, children adolescents); spinal cord system of care (adults).
Bryn Mawr Rehabilitation Hospital is committed to providing excellence in care to help patients resume their lives. Learn more about Bryn Mawr Rehab Hospital's Cancer Rehab Program.