Lankenau Heart Group physician practices, part of Main Line Health's Lankenau Heart Institute, have been recognized by the American Heart Association (AHA) for their commitment to managing heart disease risk by controlling risk factors like high cholesterol and diabetes.
Both awards are a testament to Lankenau Heart Institute's commitment to the prevention, diagnosis, treatment and management of cardiovascular disease.
Sixteen Lankenau Heart Group practices earned the AHA's Check. Change. Control. Cholesterol Participation award in recognition of the Group's collective commitment to reducing the risk of heart disease and stroke among patients by promoting tactics to manage cholesterol.
To effectively manage cholesterol among patients, Lankenau Heart Group physicians prescribed statins for adult patients who:
Had a diagnosis of clinical atherosclerotic cardiovascular disease
Had been previously diagnosed or had a family history of high cholesterol
Were between ages 40-75 with Type 1 or Type 2 diabetes and an LDL of 70-189 mg/dL
Additionally, Lankenau Heart Group at Newtown Square received the AHA's Target: Type 2 Diabetes Gold Award for implementing quality improvement measures to address the relationship between diabetes and cardiovascular disease in the outpatient setting.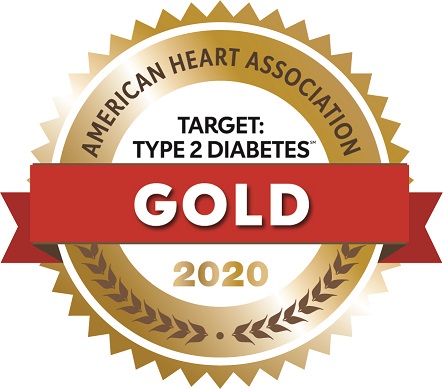 The Gold Award recognizes practices that have fulfilled the participant criteria and met the Gold Award level thresholds for each of two selected clinical measures related to diabetes control and cardiovascular disease risk factors, hypertension and high cholesterol. Lankenau Heart Group at Newtown Square was specifically recognized for showing impressive HbA1c control in patients with diabetes.
"These well-deserved awards recognize our Lankenau Heart Group physician practices for their ongoing commitment to keeping our patients well by not only following proven guidelines that reduce the onset or recurrence of heart and vascular disease, but also by providing education and guidance to help inform healthy decisions. At Lankenau Heart Institute, we offer advanced surgical and interventional care for complex cardiovascular issues when they arise, but the goal is always to be able to offer early, preventative approaches that reduce the need for those hospitalizations. These awards are a testament to the excellent care being offered at our practices, and we couldn't be more proud to be receiving them," says William Gray, MD, System Chief of Cardiovascular Disease at Main Line Health.
High cholesterol and diabetes are two of the most common risk factors for heart disease. Nearly one in three American adults have high LDL or "bad" cholesterol and need personalized treatment while every 80 seconds, an adult with diabetes in the U.S. is hospitalized for heart disease.
Lankenau Heart Institute offers the full continuum of cardiovascular care: prevention, diagnosis, imaging, treatment, cardiac rehabilitation and disease management at its hospitals and 16 Lankenau Heart Group practices across the region.