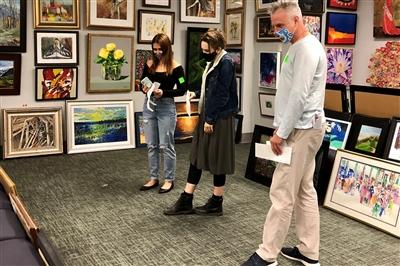 Main Line Health's Bryn Mawr Rehab Hospital launched its 25th annual Art Ability Exhibition and Sale with a virtual celebration on Saturday, November 7. The exhibition, which began in 1996, is a showcase of artwork by people with disabilities.
Held virtually this year as a result of the COVID-19 pandemic, the celebration included remarks from Main Line Health President and CEO Jack Lynch; Bryn Mawr Rehab Hospital president Donna Phillips; as well as several patients and artist alumni from the show's 25-year history. Approximately 400 guests tuned in and participated.
"Our artists, donors and community members have been so supportive of this program and the hospital for so many years. When we learned our 25th anniversary celebration would need to be a virtual one, we wanted to go the extra mile to ensure we could convey the same spirit of excitement that we've experienced during our on-campus events," said Gaby Heit, curator of the Art Ability program.
Program elements included video messages from exhibiting artists, a message of recovery from  patient and stroke survivor Steve Zarrilli and a live painting demonstration with longtime Art Ability artist Sal Panasci. You can view the program in full here.
A total of 111 pieces of art were sold during the event, totaling $46,447 in art sales. Eighty percent of the proceeds from each sale go directly to the artist and the remaining funds are used to benefit Bryn Mawr Rehab's patients and programs. 
In addition to art sales, the annual event also raises funds to support of the hospital's top priorities. Sponsors and other donors contributed $138,100 in advance, helping to ensure the event's success. A silent auction generated $23,697. And, as part of a special donation appeal following Steve Zarrilli's patient story, $136,776 was raised in support of a new robotic exoskeleton. This state-of-the-art equipment helps patients relearn to walk again following a stroke, traumatic brain or spinal cord injury.   
"These injuries can be debilitating and significantly affect quality of life. Thanks to the generosity of our Bryn Mawr Rehab community, we are now able to purchase this exoskeleton to help facilitate strong patient outcomes and satisfaction," said Phillips. "Our goal is to have two, given the large patient population who could potentially benefit. Each year, more than 2,000 patients choose Bryn Mawr Rehab for their recovery following a stroke, brain injury or spinal cord injury."
The success of the 2020 Art Ability Virtual Celebration is thanks to the outstanding work of the hospital's Foundation Board, along with many philanthropic partners and donors.