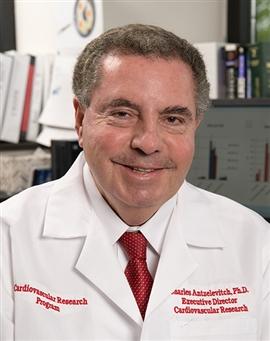 Charles Antzelevitch, PhD, professor and executive director of cardiovascular research at the Lankenau Institute for Medical Research (LIMR), which is part of Main Line Health, will receive the 2020 Lifetime Achievement Award from the American College of Cardiology (ACC), a non-profit medical association, for his groundbreaking research into abnormal heart rhythms.
"We are so proud that Dr. Antzelevitch has been named for this very prestigious award from his colleagues in the cardiovascular field," said George Prendergast, PhD, president and CEO of LIMR. "For many years, Dr. Antzelevitch has played a pivotal role in global advancements of important investigations that have the potential to significantly improve cardiac care today and in the future."
Dr. Antzelevitch, who also serves as director of research for Lankenau Heart Institute, studies abnormal heartbeats (also known as arrhythmia syndromes) via electrophysiology. He has devoted much of his career to the study of the mechanisms underlying abnormal rhythms of the heart, including atrial fibrillation and inherited cardiac arrhythmias (e.g., Long QT, Short QT and J Wave Syndromes), the latter of which can contribute to sudden cardiac death of young adults and in some cases have been shown to be responsible for sudden infant death.
Dr. Antzelevitch and fellow LIMR researcher Gan-Xin Yan, MD, PhD, convened a consensus conference in 2015 to update the scientific and clinical communities on the mechanisms, diagnosis, prognosis, risk stratification, and treatment of J Wave Syndromes. And in 2016, the report of the J-Wave Expert Consensus Conference was published simultaneously in three biomedical journals,a highly unusual occurrence that speaks to the importance of their work.
Dr. Antzelevitch and his research colleagues also have contributed significantly to studies aimed at the development of new medications to treat atrial fibrillation, the most common type of arrhythmia. Additionally, he and his lab team are engaged in organ bioengineering studies, including cloning hearts that one day could be used in heart transplants and thus would resolve the world's organ-shortage challenge.
"I am honored and humbled by this recognition from the ACC and am grateful to the awards committee and board of trustees," said Dr. Antzelevitch, who is a fellow of the ACC and was the recipient of the Society's Distinguished Scientist Award in 2011. "I share this honor with the members of my lab team past and present who have contributed immensely to the advancement of science and to the many breakthroughs in cardiovascular research that have benefited patients at Main Line Health and throughout the world."
During his 42-year career, Dr. Antzelevitch's contributions to the scientific literature include more than 550 original papers and reviews,over 380 abstracts and seven books. His research has been funded by public agencies such as the National Institutes of Health, the State of New York Department of Health, and the State of New York Stem Cell Center; organizations such as the American Heart Association and Heart Rhythm Society; private foundations such as the W.W. Smith Charitable Trust, and Martha and Wistar Morris Fund; as well as many pharmaceutical, biotechnology and device companies.
Before joining LIMR in 2015, he served as executive director and director of research at the Masonic Medical Research Laboratory in Utica, N.Y., for many years a major site of fundamental advances in arrhythmia research.
Previous winners of the ACC's Lifetime Achievement Award have included James Forrester, MD, chief of the Division of Cardiology at Cedars-Sinai Medical Center; Patrick Serruys, MD, head of interventional cardiology at Rotterdam's Erasmus Medical Center, who played a major role in the development of cardiovascular stents; and Aldo Castañeda, MD, PhD, of Boston Children's Hospital and considered the father of neonatal corrective surgery.
Dr. Antzelevitch's award will be presented during ACC's 69th Annual Scientific Session in Chicago in March.
In addition to this honor from ACC, Dr. Antzelevitch recently was ranked by Expertscape in the top 0.1 percent of scholars writing about electrocardiography and 13th out of about 72,000 scientists and physicians worldwide in the field of electrocardiography and cardiac electrophysiology. And he was ranked second in the state of Pennsylvania.