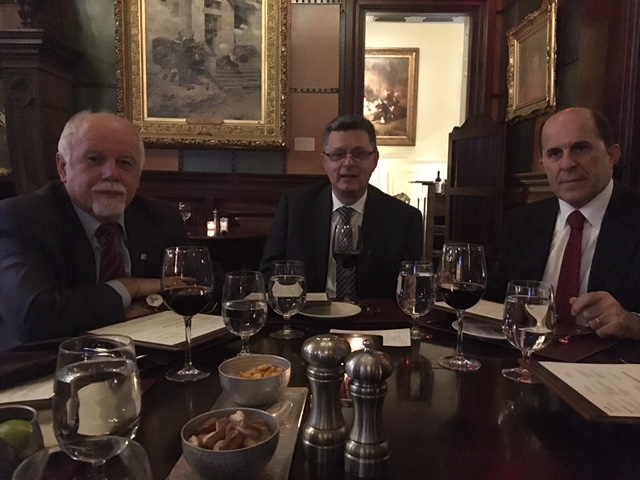 The Hellenic News of America honored Konstadinos Plestis, MD, system chief, Lankenau Heart Institute, part of Main Line Health, at its 29th Anniversary Celebration on Sunday, October 30, 2016 at the historic Concordville Inn. The event recognized the newspaper's commitment to the Greek Diaspora in America and kicked off a larger celebration planned in 2017, when the Hellenic News of America celebrates 30 years of publishing.
A native of Greece, Dr. Plestis maintains an active surgical practice focusing on the care of patients with complex aortic disease, including aortic aneurysms and aortic dissections, and complex valvular and coronary disease. He previously served as Director of Aortic Surgery and the Aortic Wellness Center at Lenox Hill Hospital in New York City. He has more than 20 years of cardiovascular surgical experience, specifically in aortic surgery. He has served as a guest of honor at numerous Hellenic News programs since he came to Philadelphia in 2014.
"Dr. Plestis is both a leader in the field of cardiovascular surgery and a prominent figure in the Greek community," said Paul Kotrotsios, founder and publisher, Hellenic News of America. "It is an honor to have such an innovator practicing in our region and we are pleased to be able to honor him during this special evening for Hellenic News."
Along with Dr. Plestis, other honorees include Dr. George Patoulis, president of the Medical Association of Athens and Central Union of Municipalities of Greece, and Mayor, municipality of Amaroussion; Dr. Stefanos Foussas, president of The Hellenic Cardiological Society; Elias Tomazos, Director of the PAIDEIA Hellenic Organization UCONN; Eleni Poulos, a community travel agent; and Dr. Peter Patukas, community leader.