Main Line Health and our Main Line Health Exton Square are committed to the highest standards of patient care, education and research. Our commitment has been recognized by our peers and by others throughout the Delaware Valley and across the nation.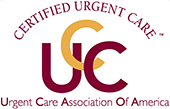 Certified Urgent Care (CUC) Center
Urgent Care Association of America's CUC Program recognizes urgent care facilities that meet nationally standardized criteria to demonstrate their commitment to meet the scope of expectations as a qualified urgent care facility. This designation tells the public that the urgent care center's scope of practice is consistent with a set of UCAOA criteria defining easy access and services that allow for care of a broad spectrum of illness, injury and disease.