Procedures, therapies and playrooms so your kid can still be a kid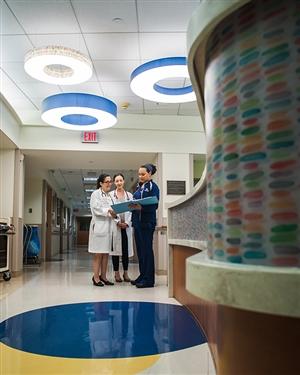 For Bryn Mawr Hospital's youngest patients we have a dedicated pediatric unit called the Lori Beth Brodsky Pediatric Wing. Here, every patient room has been beautifully renovated to make this a healing place for children and provide comfort for parents. With flat-screen televisions and video game systems as well as sleeping chairs for parents, the hallways, playroom, and family nourishment room have been renovated and nursing stations upgraded for maximum efficiency, workflow and patient safety. With these improvements we are able to provide families with the greatest amount of comfort and convenience.
At Bryn Mawr Hospital in the western suburbs of Philadelphia, we collaborate with the pediatric experts of Children's Hospital of Philadelphia (CHOP) to provide optimal pediatric care that is close to home. In the Bryn Mawr Hospital Pediatric Emergency Department (ED) and Lori Beth Brodsky Pediatric Wing, CHOP pediatricians with specialty training and experience in pediatric medicine provide compassionate care for children of all ages. They are supported by Bryn Mawr Hospital pediatric nurses who are trained in pediatric advanced life support (PALS).
The unit has been named in memory of the daughter of longtime Main Line Health benefactor, Mrs. Barbara Brodsky.