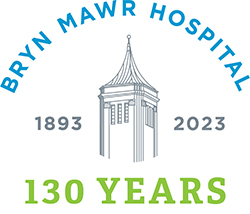 Bryn Mawr Hospital was established in 1893 by Dr. George S. Gerhard, a beloved Ardmore physician who saw a need for a public hospital on the Main Line. When Bryn Mawr Hospital first opened its doors to the public, the hospital only had capacity for twenty patients and was staffed by just three physicians. However, by the early 1900s Bryn Mawr was already admitting about 200 patients annually, and was seen as a beacon for the communities of the Main Line.
One hundred and thirty years later, we continue to uphold our commitment to compassionate care and have built upon our rich legacy of physician and nursing excellence. Today Bryn Mawr Hospital still serves as a vital part of the community and continues its mission to provide a comprehensive range of safe, high quality services that meet the health care needs and improve the quality of life of the neighborhoods we serve.
Generations of care
It's remarkable to think about the legions of people who have walked our halls and provided such wonderful care to so many generations of patients. Read some stories of generations of families that have worked at Bryn Mawr Hospital and helped us continue our legacy.
If you have a connection to Bryn Mawr—whether through generations of your family working here, trusting our hospital to care for multiple generations of your family, or both—we want to hear your story! Please share with [email protected] and your story may be featured on the Main Line Health website.
A family legacy at Bryn Mawr
Michele Radaszewski was born at Bryn Mawr Hospital in 1970 and is now the manager of the Bariatric Center. Her family history at Bryn Mawr began in the early 1950s.
My Bryn Mawr story
Eileen Sinibaldi is entering her 22nd year working at Bryn Mawr. Throughout her work she has made friends that are like family to her. Additionally, she has entrusted her most treasured loved ones, including her husband, siblings, and children, as well as herself, to the care provided at Bryn Mawr Hospital.
Three generations of #BrynMawrBabies
Although Ruth Akers, director of cardiovascular imaging and cardiac rehab services, was not born at Bryn Mawr herself, her family includes three generations of Bryn Mawr babies.
Bryn Mawr history at a glance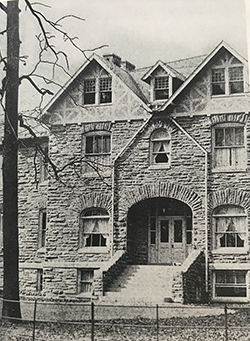 1893 – The year Bryn Mawr Hospital opened.
1894 – The First Annual Report which published contributors and their donations is released.
1901 – The hospital begun to show signs of its first pains of growth, and began construction on a new wing which was called the Garrett Memorial Wing.
1905 – The first nursing class is assembled with nine students.
April 1905 – The pathology laboratory building was completed.
1908 – Bryn Mawr Hospital School of nursing graduates its first class.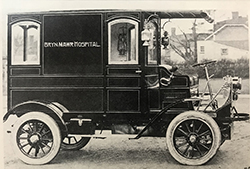 1911 – The new wing for free patients was completed; this addition doubled the previous capacity for ward patients.
1917 – The Junior Branch of the Social Services Department provided and catalogued the medical library for use in the hospital. This is the first record of the library at the hospital.
1919 – The Devon Horse Show selects Bryn Mawr Hospital as its sole beneficiary.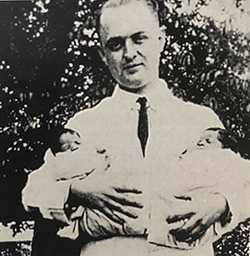 1924 – The new maternity building was handed over by the Board of Lady Visitors to the trustees of the Bryn Mawr Hospital.
1928 – The corner of the new hospital was laid.
1929 – Bryn Mawr Hospital acquires a full block on Old Lancaster Avenue.
1938 – Medical history occurred when the first blood bank in the United States was established at Bryn Mawr Hospital under the supervision of Dr. Max Strumia.
1950 – The medical office building was opened for use.
1952 – A 120 housing nurses' home was opened for occupancy; the facilities included were an auditorium, a library, classrooms, and several lounges.
1953 – C wing was opened with four floors and 119 beds.
1965 – Ground broke for a multi-million dollar building and extensive modernization program.
1966 – The first open-heart procedure at Bryn Mawr Hospital takes place.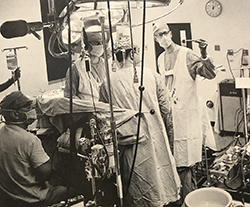 1968 – The coronary care unit was opened.
1985 – Bryn Mawr Hospital helped to form the Main Line Health system, becoming one of the region's largest hospital systems.
1990 – Four-story E-wing which houses the labor-delivery-recovery rooms was opened.
2002 – Andrea Gilbert became the current president of Bryn Mawr Hospital.
2007 – Bryn Mawr Hospital renovated and enlarged it's emergency department.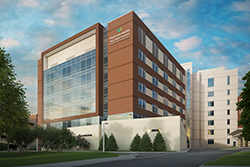 2016 – Bryn Mawr Hospital broke ground for a new Patient Pavilion which will include a new intensive care unit, two medical/surgical telemetry units, all new operating rooms, a 25-bed maternity unit, all new labor and delivery unit, a neonatal intensive care unit.
2017 – Bryn Mawr Hospital renovated and renamed the pediatric wing; now named the Lori Beth Brodsky Pediatric Wing.
2018 – Bryn Mawr Hospital celebrates its 125th Anniversary.
2019 – The new Patient Pavilion opens at Bryn Mawr Hospital.
2020 – John Schwarz becomes the current president of Bryn Mawr Hospital.
2022 – The Inpatient Psychiatric Unit, a newly expanded 40 bed unit for those suffering from behavioral health issues, at Bryn Mawr Hospital opens.
2023 – Bryn Mawr Hospital will celebrate 130 years.
Photo credits: we are trying to determine the source of some of these photos. Can you help us? If so, please contact us at [email protected].