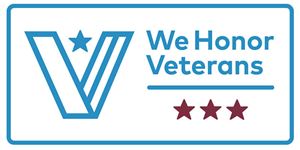 We Honor Veterans is a program of the National Hospice and Palliative Care Organization (NHPCO) in collaboration with the Department of Veterans Affairs (VA). The program draws hospices, state hospice organizations, Hospice-Veteran Partnerships and VA facilities together in a pioneering program that focuses on respectful inquiry, compassionate listening and grateful acknowledgment. By recognizing the unique needs of our veterans and their families, we learn how to best support and guide them through their life experiences and take into consideration any emotional and psychological needs that may stem from having served in the armed forces.
Veteran hospice services provided by hospice staff and volunteers with specialized training
Main Line Health Hospice is currently a We Honor Veterans Partner Level Three, which means we provide veteran-centric education for our hospice staff and hospice volunteers, and we identify patients with military experience so we can meet their unique, end-of-life needs.
Features of this effort include:
We Honor Veterans lapel pins worn by all hospice staff and designated veteran volunteers
American flag lapel pins for all patients who served in the military (pin is presented along with framed certificate reflecting patient's branch of service)
Patriotic lap quilts sewn by volunteer quilters
Veteran volunteers who visit our veteran hospice patients
Veteran recognition activities on holidays such as Memorial Day, Independence Day and Veterans Day
How the Main Line Health Hospice team cares for veterans in hospice
All hospice leaders, nurses, social workers, chaplains, therapists, home health aides and volunteers are involved in the We Honor Veterans program. When a veteran is admitted to Main Line Health Hospice, we discuss the kinds of experiences they had while in the military. We consider illnesses and conditions related to their service that may affect their end-of-life experience and we strive to provide the very best end-of-life care while honoring their courage and sacrifice.
To advance our partnership level, our staff members and volunteers attend special programs related to veterans' assessment and care. Main Line Health Hospice earns achievement stars as our program participants perform special tasks, attend educational seminars, and complete training goals. Main Line Health Hospice actively participates in the Veteran Community Partnership of South Central PA and Philadelphia, coalitions of community providers and Veterans Administration (VA) facilities who work together to provide seamless access to care and support services.
Our goal is to advance to Partner Level Five as we continue our staff-wide training and education, continue partnerships with local and regional VA offices, and increase access and improve quality of care for veterans in our community.
If you know of a veteran who needs hospice care, please call 1.888.533.3999 from Monday to Friday between 8:00 am and 6:00 pm, or Saturday, Sunday and holidays from 7:30 am to 4:00 pm. You can also submit an online referral at any time or email us for more information.
If you are interested in becoming a hospice volunteer or would like to make a donation to support this program, visit the HomeCare & Hospice Foundation page.