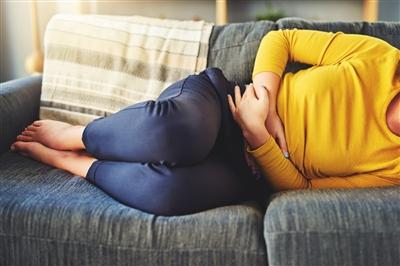 Ovarian cancer has been called the "silent killer." That's because unlike many other, more common women's cancers (breast, lung and colorectal, to name a few) ovarian cancer's symptoms are not easily noticed and often go undetected until the cancer reaches a later—and more serious—stage. 
"There's a misconception that ovarian cancer does not have any symptoms, but that's not the case. Rather, the symptoms of ovarian cancer so closely mimic the symptoms of many other things—like irritable bowel disease, diverticulitis, menopause or your monthly cycle—that they often get overlooked or dismissed by women and, sometimes, their health care providers," explains David O. Holtz, MD, gynecologic oncologist at Lankenau Medical Center, part of Main Line Health.
The signs and symptoms of ovarian cancer vary, but typically include one or more of the following:
Abdominal pressure, swelling, bloating or a general feeling of "fullness"
Persistent indigestion, gas or nausea
Changes in bowel or bladder habits
Loss of appetite or feeling full more quickly
Unintentional weight loss
Increased abdominal growth (do your clothes feel tighter around your waist?)
It's easy to see why—for many women—these subtle changes might not be a red flag. But Dr. Holtz encourages women to be mindful of changes to their digestion, appetite or weight and talk to a health care provider if these symptoms persist for an extended period of time.
"Most of the time, these symptoms are a result of something other than ovarian cancer, but it's always best to follow up with your primary care provider or gynecologist if you've been in pain or uncomfortable for some time. Regardless of the cause, they can help you find treatment and relief," he says.
What's my risk for ovarian cancer?
Ovarian cancer is the fifth-leading cause of cancer deaths among women. While 1 in 78 women will be diagnosed, only 1 in 108 women will die from ovarian cancer. While it's still a staggering number, your risk for ovarian cancer diagnosis and death is lower than that for many other cancers—like lung, breast, colorectal and cervical cancer.
Some women, however, can be at an increased risk of the disease. A family history of ovarian or breast cancer are the two most common factors that can put you at increased risk, but others include:
Increasing age, particularly after menopause (60 and above)
Never having been pregnant
A history of infertility
Fortunately, there are ways to manage your risk—namely: genetic testing. Genetic testing, offered at Main Line Health, is intended to detect certain genes that might make you predisposed to a disease and help you develop a proactive approach to managing this genetic risk. Learn more about genetic testing for ovarian cancer and other health issues.
Even if you don't pursue genetic testing, you should still notify your health care provider about a family history of breast or ovarian cancer. "If a mother, an aunt, a sister, or other first-degree female family member has had breast or ovarian cancer, make sure you make your regular health care provider and gynecologist aware of that history," says Dr. Holtz. "This will keep them especially aware of any abnormalities during your visits and more likely to detect something that might have otherwise been overlooked."
Can you catch ovarian cancer early?
While research in the field continues, there is still no screening available to detect ovarian cancer in its earliest stages. 
Until an accurate screening method is available, be mindful of changes to your body and report any physical changes or symptoms you're concerned about to your gynecologist or health care provider. If you or your health care provider suspects that you might have ovarian cancer, they will likely recommend a CA-125 blood test or transvaginal ultrasound to determine a diagnosis.
Is there anything I can do to prevent ovarian cancer?
Unfortunately, no. But there are steps you can take to decrease your risk. Research has found that using an oral contraceptive (birth control pill) can reduce your risk for ovarian cancer, as can breastfeeding, maintaining a healthy weight and exercising regularly. Additionally, women who give birth to their first child before age 25 may be at an even lower risk for ovarian cancer. 
Understanding the symptoms and risk factors associated with ovarian disease can help to turn up the volume on a silent killer. If you're experiencing any of the symptoms of ovarian cancer, call 1.866.CALL.MLH (225.5654) or use our secure online appointment request form to make an appointment with a Main Line Health physician.