Mental illness does not discriminate. It affects people of all ages, ethnicities and income levels. In the United States, approximately one in five adults live with a mental illness, but the vast majority don't get treatment.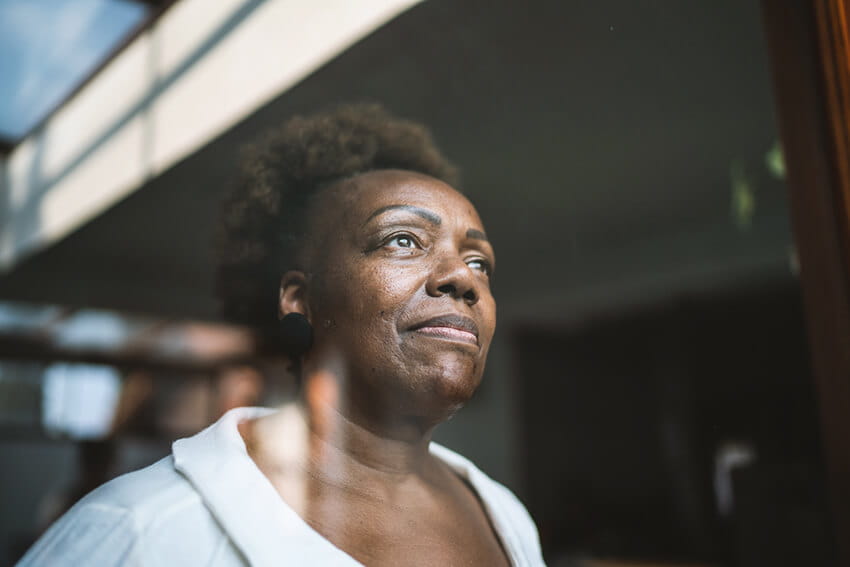 This is particularly true in the African American community and even more so among African American women, who, in general, are twice as likely to develop mental health problems. Even though African American women face a heightened risk of depression and anxiety, a powerful stigma, which is the disapproval or dismissal of a particular attribute, can prevent many from getting the help they need.
Chimère G. Holmes, LPC, a licensed psychotherapist at Main Line Health's Women's Emotional Wellness Center, says this mental health stigma in the Black community is decades (and even centuries) in the making. African American women have been suffering in silence for years, without knowing who to turn to or how to ask for help.
"So many women are probably suffering in silence and living with depression, anxiety, unresolved trauma, different stress-related disorders and marital or relationship strains," says Holmes.
Costs, inequities and lack of awareness fuel the stigma
Many African Americans face barriers that prevent them from being able to easily access mental health care, such as racism, discrimination and inequity. People in the African American community are also frequently subjected to provider bias, which occurs when a healthcare provider's attitudes or beliefs impact the quality or type of care someone receives.
This bias, along with the long history of medical mistreatment and racism in our country, has contributed to widespread mistrust of the health care system within the African American community. People might question whether they will be fairly and adequately treated by a mental health professional if they do decide to seek care. These structural barriers can be traumatizing and stress-inducing.
"Seeking out treatment when there are so many cards and odds stacked against you can be all the more overwhelming and daunting," says Holmes.
In addition, more than 10 percent of Black adults in the United States are either uninsured or underinsured, making mental health services unaffordable for some African American women. That plays a huge part in not getting services they need.
Mental health treatment is often poorly represented in communities of color. Not knowing and being familiar with the conditions, treatment, resources and day-to-day impact of mental health only adds to the mental health stigma. In the African American community, faith-based institutions like mosques and churches tend to be the greatest source of support rather than a therapist or psychiatrist.
Many African Americans want a care team that looks like them and can understand, culturally, where they're coming from. But, according to recent data from the American Psychological Association, only five percent of the U.S. psychology workforce identifies as Black or African American.
Cultural norms can prevent people from seeking care
African American women are particularly susceptible to the mental health stigma. Many who struggle with their mental health may be misjudged as weak or unable to cope with daily stressors.
"A lot of people will correlate mental illness with weakness," says Holmes. "Women in the African American community have often been conditioned, and forced, to be strong and resilient."
This stigma leads to many African American families frowning upon mental health care and preferring that family members keep their problems and struggles private, rather than sharing them with a stranger, even if that person is a therapist. Left untreated, mental health problems can snowball and lead to physical health problems, substance misuse issues and relationship strains.
The reality is that everybody has a threshold for how much they can cope with psychologically. "Nobody is invincible," says Holmes. 
Steps to take if you want help taking care of your mental health
If you're struggling with your mental health, it can be overwhelming to know where to start. The stigma, along with the fact that there are a mountainous amount of resources out there, can make the process seem burdensome.
Holmes recommends kicking off the process by opening up to a loved one you trust. Try sharing what you've been going through and how it's affected you emotionally. "Sometimes, just speaking it aloud can be the first step to a very curative, emotional, corrective process," she says.
You can also reach out to one of your go-to healthcare providers, such as your primary care physician or OB/GYN and let them know that you've been struggling. Your physician will be able to refer you to a mental health professional, such as a therapist or psychologist, or they can connect you with helpful resources, like support groups or online tools.
There are plenty of online resources that can help you figure out what you want your mental health journey to look like. You can find directories of mental health professionals at Black Mental Health Alliance, Association of Black Psychologists, Black Men Heal and the National Queer & Trans Therapists of Color Network. Therapy for Black Girls and DRK Beauty also connect women with licensed clinicians.
No one needs to suffer in silence. There are many culturally informed and sensitive therapists who will understand you and be able to help.
"Mental health is total health," says Holmes. "Your mental health can impact the totality of your life, including how you think, feel, act and live. I want to encourage all women of color to speak up. Quality help is out there, and there are people who care and can help you feel, deal and heal. There is hope when it comes to your mental well-being, please keep the faith."
If you find yourself in a mental health emergency, contact the 988 Suicide and Crisis Lifeline by calling or texting 988 or chatting with an online provider at 988lifeline.org.
Next steps:
Make an appointment with Chimère G. Holmes, LPC
Learn more about Main Line Health's Women's Emotional Wellness Center
Signs of depression in men