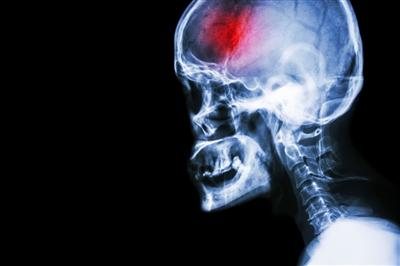 By now, you've probably been warned about the symptoms of a concussion. How long after a head injury can symptoms occur? In many instances, these symptoms don't occur until a few hours after an injury?
After a traumatic accident, a sports injury or a fall, the symptoms of a concussion can be immediate or latent.
"For some people, the symptoms after a concussion may not become apparent until later in the day," says Beth Kolar, advanced clinician at Bryn Mawr Rehabilitation Hospital, part of Main Line Health, who explains that delayed concussion symptoms may present 24 to 48 hours after and injury. "After getting home or even the next day, they may start to develop a headache, or other post concussive symptoms."
The symptoms one develops can vary from person to person, and may include headaches, nausea, dizziness, difficulty remembering, fogginess, irritability, difficulty sleeping or trouble balancing. Symptoms can vary so greatly that it's difficult to pinpoint what exactly you might experience and when.
What's important is that — whenever you begin to experience symptoms like these — you should call your doctor immediately.
What happens when you get a concussion?
Three phases of concussion recovery
Concussion recovery: Rest is best
Regardless of when your symptoms begin, your recovery should begin immediately. Refrain from vigorous activity, sports or other activities that could jar your head until you consult with your doctor.
"Following a concussion, 24 to 48 hours of rest is recommended. There have been several studies that have shown that if you're physically active during this initial time period, it can actually prolong your recovery," explains Kolar.
This period begins the first phase of concussion recovery: rest. During this time, the brain needs as little mental stimulation as possible, which means you should avoid tablets, cell phones, televisions and other electronic devices. Take a break from vigorous physical activities, too, like driving or exercise.
Following this 48-hour time period — and with a doctor's clearance — it's usually okay to start to slowly ease yourself back into a routine. While you shouldn't return to sports or extracurricular activities yet, you may be able to return to walking around, using electronic devices for a few minutes each day or return to school.
"If you start to notice concussion symptoms returning, like the onset of a headache or dizziness, stop what you're doing and let your doctor know," says Kolar.
Concussion recovery: Regaining necessary skills
For concussions that are moderate or severe in nature, it may take several days for symptoms to subside. For adults, it may take more than 10 days for symptoms to subside and, for children and adolescents, up to two weeks. In cases like these, your doctor may refer you to a comprehensive concussion rehabilitation program, like the one at Bryn Mawr Rehab.
This would begin the second phase of your recovery, called the skill phase.
At Bryn Mawr Rehab, the skill phase begins with a meeting of your multidisciplinary team of therapists, including a psychologist and speech, occupational, physical and vestibular therapists. The group works as a team to identify skills that you need to return to work, school or play.
"We perform an evaluation, determine what each patient's needs and individual goals are and build a treatment plan based on this feedback," says Kolar.
Each day, your therapy follows a program based on this tailored treatment plan.
Concussion recovery: Gaining strength to return to activity
The final phase of concussion recovery is the endurance phase. Patients who have entered the endurance phase are demonstrating improvements in concussion symptoms and are regaining the necessary skills they need to return to work, school or play, This phase assists the patient in returning to their previous level of activity without modifications or restrictions.
Bryn Mawr Rehab helps prepare patients for this return through a process called exertion therapy.
Exertion therapy is a six-step protocol that seeks to gradually re-introduce athletes who have suffered a concussion back into their respective sport by having them participate in activities or exercises that they'll be doing on the field, in the gym or on the court.
"We start with light activity and increasing your heart rate systematically without symptoms, while simultaneously progressing to sports-specific activities for each patient," explains Donna Merkel, PT, MS, SCS, CSCS, physical therapist at Bryn Mawr Rehab Hospital. "If you're a basketball player, you might be running and dribbling a basketball or shooting at the basketball hoop."
Based on patients' reactions to these non-contact activities, they'll be medically cleared to continue to contact activities, return to practice and — eventually — return to games.
Additionally, the protocol also helps bring to light any concerns.
"If there are any red flags, we discuss whether we can really confidently and safely put this athlete back on the field yet," says Merkel.
While exertion therapy is beneficial for athletes, Merkel also notes that it has been shown to benefit other groups, as well.
"Some of our patients who are still experiencing persistent post-concussion symptoms can also benefit from this," she says. "Exertion therapy helps prepare people for their return to daily living, whatever that might be."
Concussion care at Bryn Mawr Rehab
As one of the first acute rehabilitation hospitals in the country to treat brain injuries, Bryn Mawr Rehab has been recognized as a leader in the field of concussion treatment and recovery for more than 17 years. Our team treats over 1000 concussion patients annually at our state-of-the-art Comprehensive Concussion Center at Bryn Mawr Rehab Hospital. Concussion patients come to us with routine to complex injuries, but leave with functional outcomes due in large part to the individualized, creative approach we bring to concussion care.
Patient spotlight: Kaylyn Sawyer
Main Line Health serves patients at hospitals and health centers throughout the western suburbs of Philadelphia. To schedule an appointment with a specialist at Main Line Health, call 1.866.CALL.MLH (225.5654) or use our secure online appointment request form.