Riddle Hospital Ranks Top 2% in Healthgrades Ratings
Lankenau Medical Center and Riddle Hospital, part of Main Line Health, today were recognized by Healthgrades as among the top hospitals in America for clinical excellence.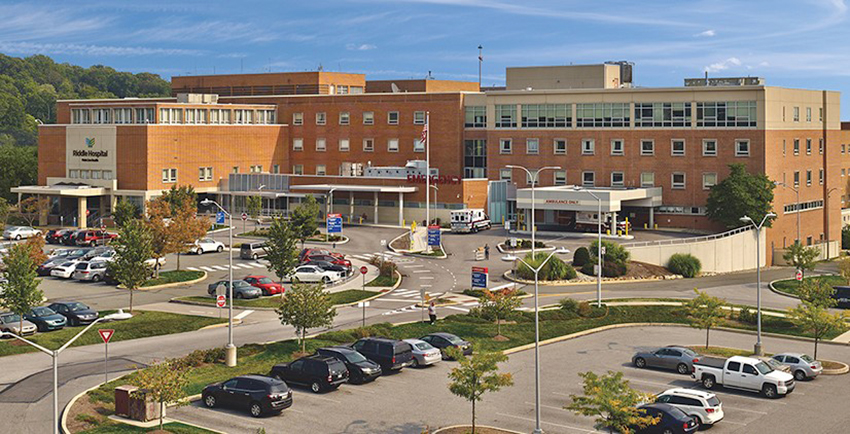 Lankenau was recognized with the Healthgrades 2022 America's 50 Best Hospitals Award™, placing it among the top 1% of all centers across the country. It is one of only four hospitals in Pennsylvania to receive that distinction.
Riddle received the Healthgrades 2022 America's 100 Best Hospitals Award™ for the first time after cracking the top 250 for the last two years.
Riddle was also recognized for critical care excellence for the third straight year and pulmonary care excellence for the second time in three years. According to Healthgrades, 72% of patients gave a rating of 9 or 10 for their experience at Riddle. "I am thrilled for Riddle to receive this honor," said Shelly Buck, DNP, MBA, president, Riddle Hospital. "It is a tribute to our physicians, nurses and every member of our team. It is wonderful to be recognized by our peers for the outstanding work and dedicated care consistently delivered at Riddle every day."
---
NATIONAL DOCTORS' DAY
Show your appreciation to your favorite doctor or physicians' group by making a Doctors' Day tribute gift to Riddle Hospital.
Your charitable gift will recognize your doctor's hard work and dedication while serving as an important investment in patient care at Riddle Hospital.
You may include a personal note of thanks addressed to your doctor.
---
Riddle HealthCare Foundation Welcomes New Board Member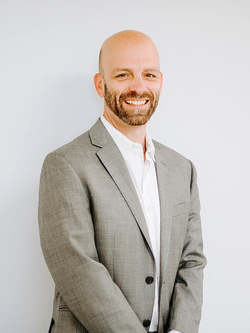 The Riddle HealthCare Foundation welcomes Mark Gaudiosi to its board. Board members assist with the foundation's fundraising efforts for Riddle Hospital and help fulfill the foundation's mission to improve the quality of life in the communities we serve.
Mark is the current CFO of Medical Guardian, which is a one-stop provider of medical alert solutions.
Mark has 25+ years of strategic finance experience across multiple sectors and companies. Most recently Mark was the Chief Financial Officer at Gopuff where he led the growth and scale of enterprise value over 3500%. Over the past 3 years Mark has driven growth by building a world class finance organization focused on profitability and strategic acquisitions.
Prior to Gopuff, Mark led Accounting and Finance organizations for large retail and technology corporations including eBay Enterprise (now Radial), Aramark, and Wawa. Mark began his career in the Philadelphia startup scene, building teams and partnership to successfully work through an acquisition and IPO at Zany Brainy.
Mark received his MBA in Finance and BS in Accounting from Drexel University and sits on the Steering Committee of the CFO Leadership Council.
Mark is the cousin of Nick Gaudiosi, who also serves on the Riddle HealthCare Foundation Board of Trustees.
---
Riddle Hospital's Modernization Project: Building for Our Future
As we look towards the future we are thrilled to be embarking upon the most significant facility improvement in Riddle's nearly 60-year legacy. This Master Facility Project will transform our campus with a new state-of-the-art, five-story Patient Pavilion, all single patient rooms, contemporary facilities and advanced technology to support the evolving needs of the community. This critical $327 million investment in Riddle Hospital and Delaware County reflects Main Line Health's unwavering commitment to "be the health care provider of choice in leading and optimizing the health of all in our communities."
On behalf of the Riddle HealthCare Foundation Board and the Main Line Health Board of Trustees, we invite you to support Building for Our Future: The Campaign for Riddle Hospital, which seeks to raise $11 million to meet this critical need. Thank you for your thoughtful consideration so that we can provide our community with excellent care for generations to come.
The hospital's main entrance has relocated to a temporary entrance at Health Center 1.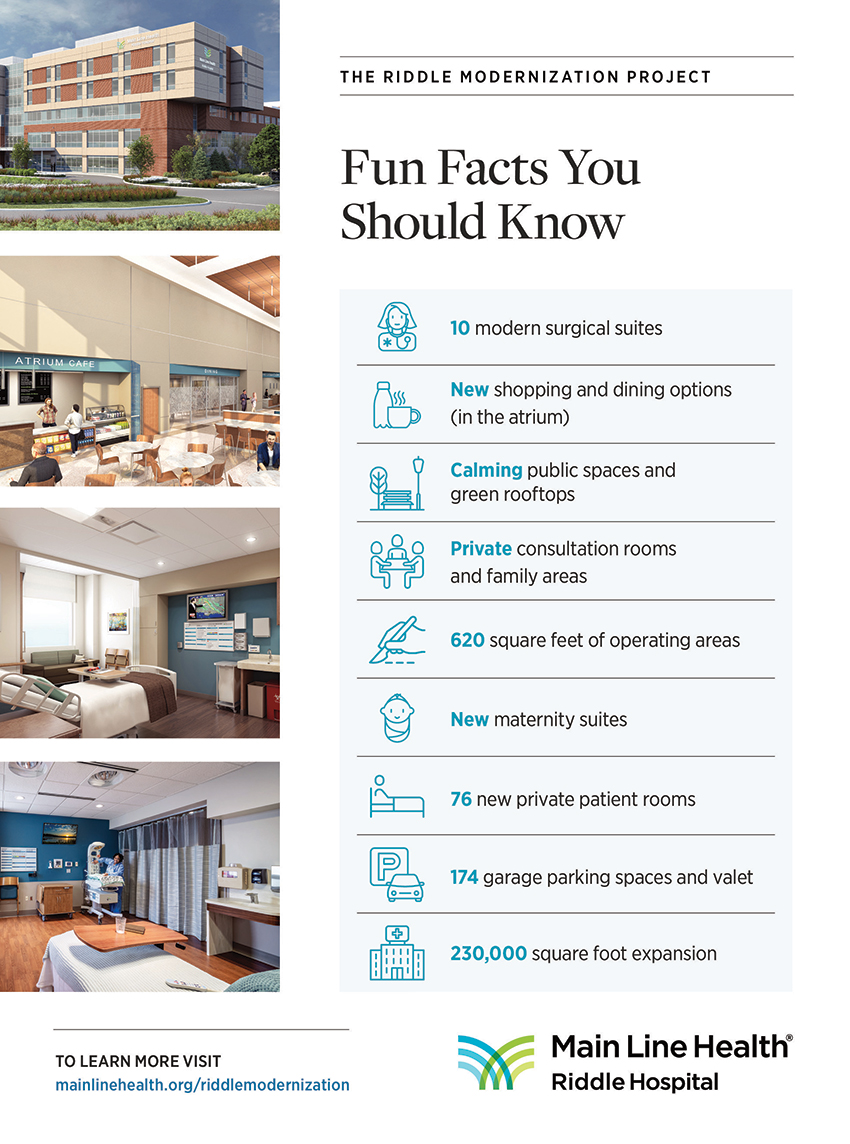 ---
Upcoming Events
Thursday, May 5, 2022 - Man O'War Gala - A Virtual Evening at the Races - 6:00PM.
Register Here
Thursday, September 15, 2022 - RIDDLE HEALTHCARE FOUNDATION | 39TH ANNUAL PRO-AM GOLF CLASSIC TOURNAMENT at DuPont Country Club
For more info on these events, contact Dan Green at [email protected].