The Paoli Hospital Foundation is the fundraising organization for Paoli Hospital. Our purpose is to help the hospital provide highly-skilled, compassionate care and community health programs, all essential for a vibrant community. Charitable gifts are a critical source of funding which allow the hospital to invest in patient care programs, costly equipment upgrades and facility expansion projects.
Since our founding over 100 years ago, Paoli Hospital has received gifts from patients, their families and community members, which have helped the hospital become nationally recognized for nursing and medical care.
Unprecedented matching gift opportunity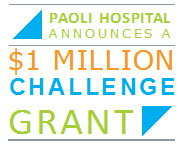 The Paoli Hospital Foundation is thrilled to announce that two anonymous donors have provided an unprecedented matching gift opportunity for Paoli Hospital. All gifts of $10,000 or more from donors who have not given in at least three years and gifts of $1,000 or more from members of Paoli's medical staff will be matched dollar-per-dollar.
Gifts can be designated to any department or program of Paoli Hospital, while the matching gift will be applied to the Always There with Great Care Campaign. When the Challenge Grant is met, one million dollars will go to the campaign, supporting the most pressing needs of the hospital.
This unique Challenge Grant will help to strengthen the future of Paoli Hospital while allowing new and lapsed donors, as well as Paoli Hospital physicians, to double the impact of their giving.
Make a difference at Paoli Hospital
We encourage you to get to know us better and learn more about how your gift to the Foundation can make a difference at Paoli Hospital.
For more information, call the Paoli Hospital Foundation at 484.565.1385 or send us an email.