Building for Our Future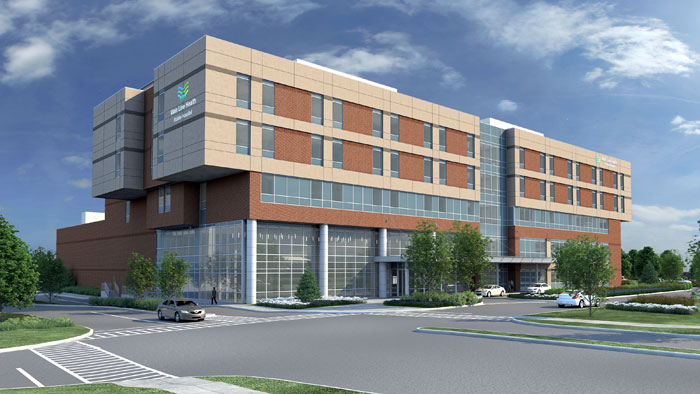 "Our neighborhood hospital was built upon philanthropy, a tradition that has brought us to where we are today. This project is not an enhancement— it's something that the Riddle community must do, now more than ever in these unprecedented times. I hope you will join Mary Ann and me in supporting this important campaign."
— Don Saleski, Board Chair, The Riddle HealthCare Foundation
Our Story
Riddle Hospital opened in 1963 as the direct result of a bequest from Samuel D. Riddle, a native of Delaware County, local businessman and breeder of famous racehorses—Man O'War and War Admiral, to name two.
Mr. Riddle's will stipulated that his estate of $2.2 million and 72 acres of land be utilized to "... establish, construct, equip, maintain and operate a hospital, staff and personnel, for the relief of suffering humanity and for the care of the sick, injured and afflicted … to be established in the Borough of Media or the vicinity thereof."
The staff and physicians of Riddle Hospital proudly carry on Mr. Riddle's legacy in our commitment to providing superior patient care for the communities we serve.
Message from Our Leadership
The delivery of health care is evolving quickly, now more than ever. Our facilities must be modern and adaptable for all levels of care, for patient and staff safety, and to meet the needs of our community.
Since joining the Main Line Health system more than a decade ago, Riddle Hospital has made great progress, including the Emergency Department expansion and renovation, opening of the Wound Care Center and MRI and Interventional Suites, plus Health Center 4 and comprehensive renovation of The Birthplace.
Early in the COVID-19 pandemic, Riddle Hospital along with the rest of Main Line Health, took crucial steps to mitigate community spread while continuing to meet the health care needs of our patients. We could not be any prouder of our health care team for providing excellent, compassionate care in the face of COVID-19— they are true heroes who went the extra mile in extraordinary ways. We are so appreciative of our community members who provided generous support in the form of donations, meals, letters of support and much more.
As we look towards the future we are thrilled to be embarking upon the most significant facility improvement in Riddle's nearly 60-year legacy. This Master Facility Project will transform our campus with a new state-of-the-art, five-story Patient Pavilion, all single patient rooms, contemporary facilities and advanced technology to support the evolving needs of the community. This critical $327 million investment in Riddle Hospital and Delaware County reflects Main Line Health's unwavering commitment to "be the health care provider of choice in leading and optimizing the health of all in our communities."
On behalf of the Riddle HealthCare Foundation Board and the Main Line Health Board of Trustees, we invite you to support Building for Our Future: The Campaign for Riddle Hospital, which seeks to raise $11 million to meet this critical need. Thank you for your thoughtful consideration so that we can provide our community with excellent care for generations to come.
Now more than ever, we need your support. Thank you.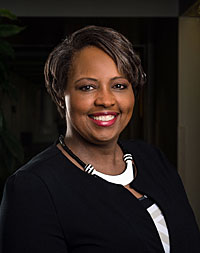 Shelly Buck, DNP, MBA
President
Riddle Hospital and The Riddle HealthCare Foundation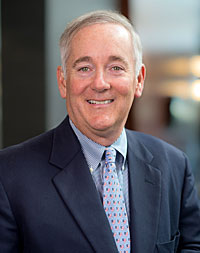 John J. Lynch III, FACHE
President and CEO
Main Line Health
Advancing Health Care in Our Community
When Samuel Riddle—noted sportsman and Delaware County native—left in trust the land and financial support to build a hospital, our mission to provide quality health care began. More than 55 years later, through enduring support from grateful patients and the surrounding community, Riddle Hospital has steadily grown through investments including our Emergency Department expansion and The Birthplace renovations so that we can continue to put patients and families first. It is time to upgrade and expand our facilities in order to match the excellent care provided. We are thrilled to launch the most transformational endeavor in our history—a complete campus modernization including the construction of a new Patient Pavilion at the heart of our campus, as well as major reconstruction within the existing hospital. Riddle Hospital is privileged to be a vital part of the Delaware County community and exceptional philanthropic support has helped bring us to where we are today. We hope you will choose to continue this tradition by contributing to our $11 million Building for Our Future capital campaign, our largest fundraising goal in Riddle's history. Your investment as donors will help us continue to offer superior care close to home, that will benefit multitudes of patients. On behalf of Riddle Hospital and The Riddle HealthCare Foundation, we consider it an honor and a privilege to share this opportunity and extend our deepest appreciation for your consideration.
For more information, please contact The Riddle HealthCare Foundation:
Daniel Green
Executive Director of Development
484.227.3651 | [email protected]