Gifts at Work — Self-Compassion Training for Healthcare Workers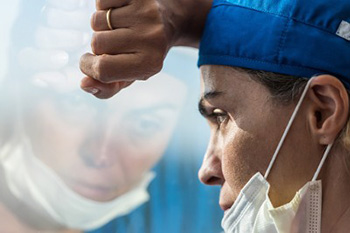 In the wake of the COVID-19 pandemic, many frontline health care workers have dealt with the mounting emotional and mental toll of caring for critically ill patients and navigating ever-changing guidelines for COVID-19 care. The constant trauma, stress and anxiety many health care workers face can lead to burnout and ultimately a desire to leave their field of employment.
To address these concerns and introduce personal coping strategies that teach and build resilience, Main Line Health is offering a six-week, evidence-based Self-Compassion Training for Healthcare Communities (SCHC) for staff that offers resources centered on well-being, resiliency, job satisfaction and use of self-compassion as coping strategies.
The training is made possible through a grant awarded by the Henry Luce Foundation, through the Chaplaincy Innovation Lab at Brandeis University. The SCHC training is co-led by Rev. Dr. Liam Robins, manager for clinical pastoral education at Lankenau Medical Center, part of Main Line Health and Annie Allen, PhD, an educator and Mindful Self-Compassion teacher in the Philadelphia area. The course takes participants through weekly, one-hour virtual sessions that teach self-compassion practices that can be employed almost immediately. "We want to provide a supportive strategy guided by spirituality that's rooted in applicable, daily practices," he says. "One of our goals is to raise awareness that this type of training exists for health care workers and to train those who have gone through the program to lead this training in the future."
---
Girl Scouts Pay It Forward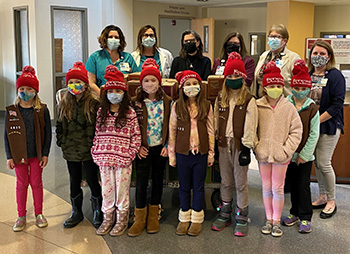 Every year, Renewal by Andersen makes a charitable contribution to the Girl Scouts. This year, a local troop #4635 from Beaumont Elementary, used the funds to purchase and donate more than 500 boxes of cookies to Paoli Hospital. Troop leader Kristin McGurrin shared, "It's an honor to help the girls carry on this annual tradition especially during these difficult times. We are grateful for this generous donation from Renewal by Andersen that allowed us to support our very own healthcare heroes at Paoli Hospital!"
---
Your IRA – It's Not Just for Retirement!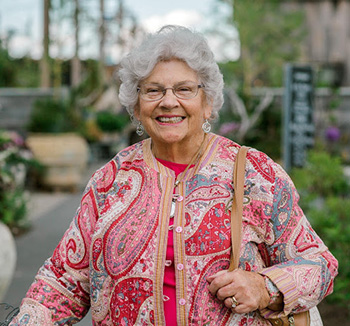 Jane M. Alexander is first and foremost a nurse educator. She is also an enthusiastic fan of change, and embraces the technology that allows for medical advancements that save lives every day. Paoli Hospital has impressed her with its evolution and ability to stay on the cutting edge.
That is why she uses the Qualified Charitable Distribution (QCD) to donate meaningful gifts through her IRA to help Paoli invest in improvements like the new advanced stroke program. She hopes her IRA gifts will help save the life of someone like her husband, Jim, who sadly died of a stroke in 2018.
Jane and Jim had made a commitment to include Paoli Hospital in their giving because they wanted to stay up-to-date on what was new at the hospital. Being a member of The Potter Society and going to Senior Suppers – as well as attending Be Seen virtual events – have allowed Jane to stay engaged as a lifelong learner. She says her faith and her support of Paoli Hospital are her foundations and connect her past, present and future.
Like Jane, many people choose to support Paoli Hospital through their IRA account using the QCD. Donors age 70½ and older appreciate the tax benefits of this giving method and those age 72 and older can use the QCD to meet their Required Minimum Distribution.
IRAs can be used for charitable giving in another way. Some donors choose to make a deferred gift to Paoli Hospital by designating the hospital a beneficiary of their IRA. In doing so, they make a gift that is beneficial for both the hospital and their heirs, since IRA's can be highly taxed assets to inherit. A simple change of the holder's beneficiary designation form can accomplish this without a lawyer. For more information on including Paoli Hospital as a beneficiary of your IRA or for using the QCD to support us annually, please click here: https://paoli.plannedgiving.org/gifts-from-retirement-plans
As always, we encourage you to contact us if you have any questions about these methods of giving. We also invite you to complete a short survey about your interest in planning a gift to Paoli Hospital, and will send you a fleece blanket as a way to thank you for your time.
---
Paoli Hospital Auxiliary Launches Legacy Brick Campaign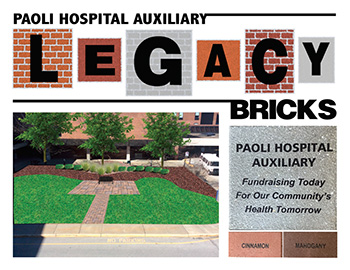 This is your chance to buy a customized brick to acknowledge your appreciation for Paoli Hospital, celebrate your family, honor a decreased loved one or thank a physician/healthcare provider.
Your engraved brick will become a permanent marker and a forever keepsake displayed prominently in a terrace at the Paoli Hospital entrance.
This purchase will also support the Paoli Hospital Auxiliary and its mission of "Fundraising Today for Our Community's Health Tomorrow." Currently we are working to raise $1 million for the new Interventional Vascular Suite at Paoli Hospital, scheduled to open next year. This lifesaving stroke and cardiac center will be the first of its kind in Chester County and an important advancement of healthcare for our community.
Join our exciting first phase and buy your brick today! Click here for details.
Please help us make our campaign a huge success and become part of our living legacy! Brick purchases are 100% deductible!