Board of Trustees
July 1, 2018–June 30, 2019
Patricia B. Holloway, Chair, Lindsay Fashion Enterprises
Joseph J. McLaughlin Jr., Co-Chair, Haverford Trust Company
James Paradis, President, Paoli Hospital
Christopher J. Annas, Meridian Bank
Jennifer Armstrong, MD, President, Paoli Hospital Medical Staff
Stephen G. Aylward, Change Healthcare
Elaine Rinaldi Bailey, Esq., Cozen O'Connor
Sandra K. Baldino, Generocity Community Alliance, Inc.
Frank Brewer, NextGen Security
Robert J. Bucco
John Diederich, Royce & Associates
Anthony J. DiValerio, Jr., Morgan Stanley
Vincent T. Donohue, Esq., Lamb McErlane PC
Charles Ehlers, Jr.
Thomas A. Fillippo, Devault Foods
Robert C. Fried, MD, Surgical Specialists, PC, Paoli Hospital
James Gengaro, DO, VPMA
Maureen Glenn, Community Volunteer
Philip J. Harvey, Sr., Harvey Insurance Group
Jack Hewes, Community Volunteer
Denise Hubley, Balfour Beatty Investments
Michael E. Kalogris, Arete Capital Partners*
Thomas MacCrory, Energy Investments, LLC
Peggy Mason, Community Volunteer*
Elizabeth R. Moran, Community Volunteer*
Carol Rabe Palmer, The Cambridge Schools
Frank A. Piliero, Marsh Creek Corporate Services
Robert J. Riley, The Riley Company
Robert A. Ruggiero, MD, Premier Orthopaedic & Sports Medicine*
Louis N. Teti, Esq., MacElree Harvey, Ltd.
Cary W. Toner, Community Volunteer
Wayne M. Withrow, SEI Investments
Leighton M. Yohannan, LiquidHub, Inc.
*Emeritus Trustee
Development staff
Meghan Sayer, executive director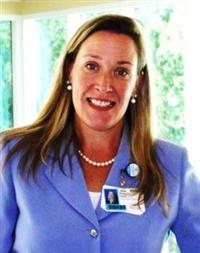 Meghan Sayer joined the Paoli Hospital Foundation as executive director in 2016, after eight years of working in the development office at Westtown School. Prior to her time at Westtown, Meghan was associate director of development at Bryn Mawr Hospital from 2002–2007 helping with the $15 Million dollar Emergency Department Campaign.
Meghan is a graduate of Penn State University with a Master Degree in human service administration. She loves that her job in development allows her to meet a variety of people who want to make a positive impact on their community. Since returning to Main Line Health she has been impressed by the warmth of the Paoli Hospital staff and the generosity of the donors. "Everyone has been so helpful and reading the dozens of grateful patient stories affirms that I am just where I need to be."
Meghan is a resident of Berwyn with her husband and two sons. She enjoys watching her boys play baseball, and soccer, running on the Chester Valley trail, and spending time with her extended family.
Pam Costanzi, associate director
Pam Costanzi has spent more than 25 years in development. She joined the Paoli Hospital Foundation staff in January of 2014 as the associate director. In that role, Pam oversees all aspects of annual giving, including direct mail. Her primary focus is The H. Phelps Potter Society major donor program, and working with clinical staff throughout the hospital to identify areas of need that align with the philanthropic interests of donors. She lives in Willistown, enjoys Lewes, Delaware, and loves reading and spending time outdoors, both on land and water.
Jennifer Drass, development manager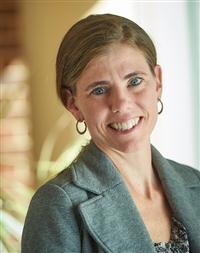 Jennifer joined the Paoli Hospital Foundation staff in August 2015, after having spent six years working Main Line Health's Central Development Office. As development manager, she oversees the Foundation's communications, assists with stewardship writing, coordinates the Physician's Advisory Council and manages corporate/foundation fundraising efforts. Jennifer is a graduate of Temple University. She lives in Paoli with her husband and three daughters. Together, they enjoy spending time outdoors, live music, bon fires and ice cream.
Noelle Fabrizio, development representative
Noelle Fabrizio joined Paoli Hospital Foundation in January 2017 as the development representative. In her role, Noelle serves as an ambassador for the hospital and its fundraising initiatives, supporting daily operations of the foundation and collaborating on fundraising initiatives including the annual Employee Giving Campaign and the Physician Giving Campaign. She previously worked as the marketing and communications coordinator at The Baldwin School. At Baldwin, she was introduced to non-profit fundraising while working closely with development as lead writer on numerous projects. Noelle holds a BA in strategic communication from Temple University and lives in Philadelphia with her wife, son and their clowder of cats. She enjoys creating plant-based creations in her kitchen, urban hiking, discovering new brunch spots, silent films and writing.