Dear Friends of Lankenau Medical Center,
I hope this message finds you and your loved ones healthy and safe. To say that these last few months have been challenging for all of us—and certainly our hospital and health system—would be an understatement. At the same time, I am continually encouraged by the resilience our staff and patient community has demonstrated during this time. This letter summarizes our response to the pandemic and the impact of COVID-19 on Lankenau and Main Line Health (MLH) and provides updates on exciting COVID-focused research at the Lankenau Institute for Medical Research, our commitment to addressing disparities in healthcare, and some shining moments that make us smile even in the hardest of times.
I'm thrilled to share some exciting news about the impressive accolades Lankenau Medical Center has recently earned for delivering high-quality, patient-centered care.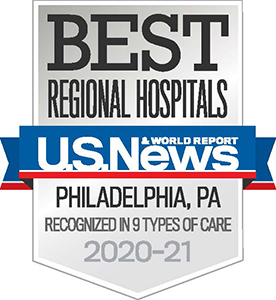 U.S. News & World Report has released its 2020–2021 Best Hospital rankings, and Lankenau Medical Center was once again ranked as one of the top 5 hospitals out of nearly 100 in the Philadelphia region and among the top 10 hospitals out of more than 200 in the state of Pennsylvania.
For the 11th year, Lankenau Medical Center has been named one of the nation's 50 Top Cardiovascular Hospitals by IBM Watson Health™ (formerly Truven Health Analytics). The study spotlights the top-performing cardiovascular hospitals in the U.S. based on clinical, operational and patient satisfaction metrics and data. Lankenau continues to deliver significantly higher inpatient survival rates and shorter hospital stays for patients with heart failure or who have experienced a heart attack.
Finally, Lankenau has received the Mission: Lifeline® Gold Plus Receiving Quality Achievement Award for implementing specific quality measures outlined by the American Heart Association for the treatment of high risk emergencies including heart attack, stroke and cardiac arrest to help save lives and improve patient outcomes.
As always, no matter the circumstances, Lankenau and Main Line Health remain committed to delivering the best patient care possible, and we thank you for your ongoing support.
In closing, being part of the pandemic response and witnessing the resolve and "can do" attitude of the Lankenau and Main Line Health team is something that will stay with me forever. I sincerely hope we won't see a resurgence of the virus in the months ahead, but we are certainly prepared and will be ready to care for all who need us.
I wish you and your family a safe and healthy rest of your summer and thank you again for your loyal support of Lankenau.
Sincerely,
Phillip D. Robinson, FACHE
President, Lankenau Medical Center
---
COVID-19 Pandemic response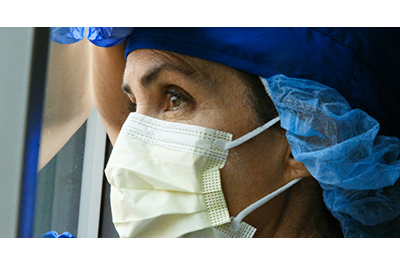 Within days of the outbreak in our region, we established an incident command center at Lankenau, which worked in concert with the MLH system command center in Radnor; postponed elective procedures; delayed in-person visits or replaced them with telemedicine appointments; restricted visitors and hospital access to two entrances; implemented screening and social distancing protocols; developed a predictive model to project demand on our bed capacity, ICU resources and ventilators; and enacted crisis staffing plans to support the influx of COVID-19 patients. Additionally, I helped to spearhead our efforts to secure personal protective equipment (PPE) from sources around the world and our planning and preparation for a surge in cases at our hospitals. Since the start of the pandemic until early August, Lankenau treated 763 COVID-19 positive inpatients out of a total of 2,013 across MLH hospitals. Thankfully, inpatient cases have declined substantially since our peak in late April. I am pleased to report that we have discharged more than 1,500 recovered patients from all MLH entities including more than 600 from Lankenau.
To support our workers who have experienced challenges during the pandemic with child or eldercare, commuting, housing or related needs, we established an Employee Emergency Fund and have awarded almost 500 grants to MLH employees in need of extra assistance. This fund— along with an incredible number of food, mask and PPE donations— was made possible thanks to our remarkably generous donor community. We have been overwhelmed and humbled by this outpouring of support.
Covid-19 research from Lankenau Institute For Medical Research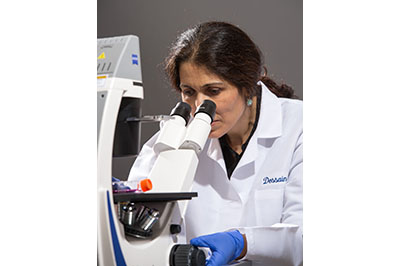 Five principal investigators at the Lankenau Institute for Medical Research (LIMR) have pivoted their teams' attention and expertise to battling COVID-19 and are seeking solutions to the many challenges posed by the virus. This research includes important investigative work in antibodies, experimental therapies and vaccines, and lung and cardiac risks to treatment, as well as population heath research to assess the pandemic's impact on the lives of those in our community. In one exciting development, LIMR is providing BARDA, the federal agency responsible for responding to chemical, radiological and biological threats, anti-COVID-19 antibodies generated at LIMR for use as national standards for infection testing.
In order to further support these efforts and help meet the approximately $300,000 in funding necessary to bring LIMR's COVID-related research to completion, we established a new LIMR COVID-19 Research Fund, and are excited to announce that a group of LIMR Board members have initiated a Challenge Match to help raise the remaining dollars by the end of 2020. 
Recognizing and addressing health care disparities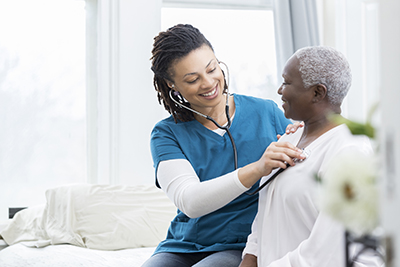 Main Line Health held its 9th Annual Healthcare Disparities Colloquium on May 29th. This year the virtually-conducted Colloquium enabled us to bring together regional and national experts for a timely discussion on how the pandemic has shed light on the depth of existing healthcare disparities. MLH CEO Jack Lynch and I were joined by the CEOs of Jefferson, Penn Medicine and Trinity-Health Atlantic for a discussion of how healthcare systems can work to better identify, address and eradicate disparities in healthcare access and outcomes. We also heard from healthcare colleagues in Chicago and Detroit about initiatives their cities have taken to ameliorate healthcare inequities during this time. It was noted that the Centers for Disease Control and Prevention (CDC) has found that age and congregate living increase the risk of severe illness from COVID-19 and that particular racial and ethnic groups carry a disproportionate burden of infection. Access to testing was identified as a potential disparity during the early phase of the pandemic, and Lankenau and MLH remain committed to identifying and addressing these disparities and ensuring equitable care for all.
Additionally, to continue our efforts to increase access to healthy food and address food insecurity among vulnerable populations in our community during the pandemic, Lankenau partnered with the Metropolitan Area Neighborhood Nutrition Alliance (MANNA) to provide weekly home deliveries of farm fresh produce from Lankenau's on-site Delema G. Deaver Wellness Farm to patients in need. We are also partnering with MANNA to deliver prepared meals to referred MLH patients who have a COVID-19 positive diagnosis, upon discharge and in the ambulatory setting.
Advancing the patient experience through technology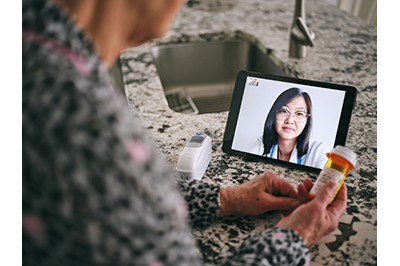 As referenced, the COVID-19 pandemic rapidly changed the way we deliver exceptional care to our patients—from the PPE required to restricting visitors on our campuses. To mitigate the effects on the patient experience, we quickly pivoted to using video technology to connect patients to their families during this challenging time. Generous philanthropic support provided the resources necessary for this technology, and the impact of connecting critically ill patients with their loved ones for encouragement and support, during a time when their physical presence has been restricted, has been overwhelmingly positive.