Do you enjoy helping others? Do you have a few hours a week to spare? Then join the growing family of volunteers at Bryn Mawr Hospital! Volunteers from high school students to retirees dedicate their time to the hospital community, providing care and support that is truly unique to Bryn Mawr Hospital.
Volunteering brings special rewards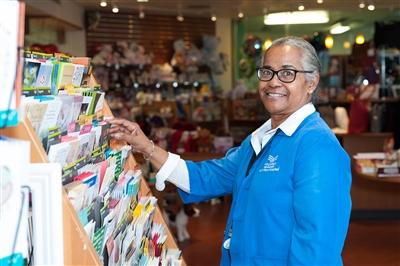 Volunteering at Bryn Mawr Hospital means being part of an energetic group of individuals who make a significant difference in the health and well-being of the community.
At Bryn Mawr Hospital we believe each of our volunteers has a unique voice, perspective and gift to share. Our volunteers provide vital support to our patients, families and other visitors. Through the generous gift of time, talents and personal interests, our volunteers supplement the work of staff members by offering many special services so important to patients, their families and hospital staff.
Volunteers also receive a free beverage and free on-site parking.
Volunteer opportunities at Bryn Mawr Hospital
The following volunteer opportunities are available at Bryn Mawr Hospital:
Shadowing – A program for high school and college students to gain deeper insight into the experiences of clinicians and health care professionals.
High school program– Applicants must be 15 years old to participate in the high school summer volunteer program. The program runs from June to August and applications will be accepted beginning in February. Students are permitted to volunteer throughout the school year. Spots are limited and will be filled on the first come first serve basis.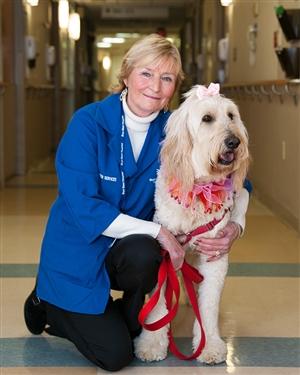 Volunteer opportunities include:
Nursing units
Emergency department
Companion Care Program
Pet therapy
Musician on Call
Mail room
Patient transport
Gift Shop
Thrift Shop
NICU Cuddlers
Administrative support
Telephone friendly visitor
How to become a Bryn Mawr Hospital volunteer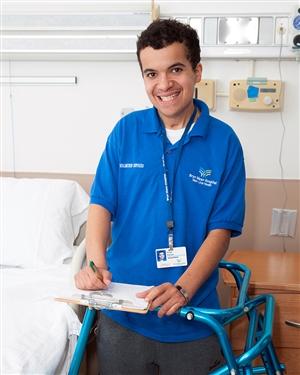 To apply to be a volunteer at Bryn Mawr Hospital, you must:
Commit to a weekly shift of four hours with a minimum of a six month stay.
Complete and submit the appropriate application packet to the Volunteer Services office either by mail or email as noted below.
Submit two reference letters from non-relatives. Reference forms are located within the application. Please have completed forms mailed to our department.
Provide information requested for background check (required for applicants over the age of 18). Please make sure to sign your consent for background check to be processed.
Once your application and reference letters are received, we will invite you to come in for an interview. If you are selected for one of our volunteer programs, you will participate in an orientation session that includes education on volunteer policies and procedures, confidentiality documents, and infection/prevention certification.
When you are matched to a program, you will be given a signed form to report to the hospital lab for a QuantiFERON test (screening for tuberculosis). During flu season, September through May, all volunteers are required to have a flu shot.
Application for volunteer opportunities
Please note: All summer applications must be submitted no later than April 1. Spots are very limited and we accept students on a first-come basis.
Still have questions? Contact us:
Bryn Mawr Hospital
Department of Volunteer Services
130 South Bryn Mawr Avenue
Bryn Mawr, PA 19010
484.337.3058
[email protected]