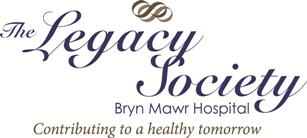 Bryn Mawr Hospital deeply appreciates the commitment to our future made by the following individuals who have included the Bryn Mawr Hospital Foundation in their long-term financial or estate plans. In recognition of their thoughtfulness, we proudly affirm their membership in the Legacy Society, established to honor individuals who have named the Hospital as the beneficiary of their will (bequest), IRA, qualified retirement plan, living trust, life insurance policy or other estate-related instrument.
Bequests and designations
Alexandra Aldridge
Ms. Carol J. Armstrong
Bonnie Lee Ashby, MD
Dr. and Mrs. Ian M. Ballard
Betsy Block
Jeffrey Bomze, MD
Mr. and Mrs. John J. Brennan
James H. and Joan B. Bromley
William C. Buck
Mr. and Mrs. Russell T. Bullitt
Dr. and Mrs. John S. Carson
Mr. Isaac H. Clothier IV
Mr. and Mrs. Edward C. Dearden
Ms. Madeleine E. Donaghey
Mr. John J. Donnelly
Gifts from friends (12)
Andrea F. Gilbert
Mr. Peter Godfrey
Mr. and Mrs. W. Anthony Hitschler
Mrs. Eleanor K. Ingersoll
Katherine G. Kittleman
Mr. and Mrs. John D. Komar, Jr.
Mrs. Martha G. Lewis
Grace Sevier Lincoln
Mr. and Mrs. Peter M. Lindley
Madeleine L. Long, MD
Mr. Gene F. Luongo
Mr. Anthony R. Mancini
Henry S. Mayer, MD
Ms. Virginia M. Mueller
Mr. and Mrs. Geoffrey P. Mynott
Mrs. Mary Read O'Malley
Mr. and Mrs. Van D. Olmstead
Joseph E. Pappano, Jr., MD
Mr. and Mrs. Stanley L. Petty
Dr. and Mrs. Robert F. Plotkin
Miss Barbara H. Roberts
Dr. and Mrs. Harold J. Robinson
Mrs. JoAnne L. Roosa
Mr. and Mrs. Edward C. Rorer
Mr. and Mrs. Alan H. Ross
Lyn B. Schoenfeld, Esq.
Mr. and Mrs. Edward M. Selverian
Nancy Day Sharp
Mrs. Earle Smith, Jr.
Mrs. Edward Starr, III
Mr. and Mrs. Walter G. Stringer, Jr.
Mr. Henderson Supplee, III
Dolores Ashley Swann, PhD
Dode and Barry Tague
Lamar and Lois Wagner
Charitable remainder trusts
CRTs provide income during the lifetime of the donor (grantor) or for a specified period and often during the lifetimes of designated beneficiaries. When the trust terminates, the remainder interest is distributed to a qualified charity of the donor's choice
Mr. and Mrs. Clifford C. Collings Jr.
Mr. and Mrs. Russell H. Crawford
Gifts from friends (3)
Mrs. C. James Kavle
Mr. and Mrs. Justin M. McCarthy
Mr. and Mrs. John N. McConnell
Mr. and Mrs. Lee D. Stevens
Charitable gift annuities
Charitable gift annuities provide life income for one or two annuitants based on their age at the time of the gift. They are a thoughtful and meaningful way to support Bryn Mawr.
Mr. and Mrs. Francis H. Bohlen, III
Mr. Spencer H. Collmann
Gifts from friends (3)
Dr. and Mrs. E. James Kohl
Mr. and Mrs. Robert D. Narrigan
Mrs. Thomas A. Williams
Pooled income fund
The PIF provides the donor with a proportional share of the fund's income each quarter and makes a generous gift to Bryn Mawr Hospital.
Dr. and Mrs. E. James Kohl
Mr. and Mrs. Joseph C. Ladd
Mrs. Annelies Peltz
Mr. R. A. Pew
Charlotte W. Rowland, MD
William G. Stewart Jr., MD
Estates and trusts
Bryn Mawr Hospital today reflects the legacy of generations of thoughtful benefactors whose estates or trusts have helped us to thrive and grow over the years to meet the needs of the community we serve.
Margaret A. Abdnor Trust
Edith Alexander Residuary Trust
Estate of Jananna L. Anderson
Estate of Charlotte L. Applegarth
Estate of Phyllis N. Arrison
Estate of Avis A. Athill
Estate of Anna A. Austin
Estate of Jean Watson Baker
Estate of Mr. and Mrs. Samuel H. Ballam, Jr.
Estate of Joseph M. Baltz
Estate of James Bamford
Estate of T. Ellis Barnes
Estate of Brandon Barringer
Estate of Jane E. Baserga
Estate of Harold A. Beard
Estate of John W. Beatty, Jr.
C. Herbert Bell Trust
Estate of Russell Bement, Jr.
William G. and Ruth B. Berlinger Trust
Estate of Jack M. Berry
Estate of Margaret A. Bickers
Estate of John Bishop
Estate of Paul J. Blake
Estate of Caroline Bloomer
Estate of Susanna H. Bodine
Estate of Mary E. Brenneman
Estate of Elizabeth Jane Otto Bricker
Estate of James M. Brittain
Estate of Ruth H. Bromley
Estate of Esther C. Brooke
Estate of Frank Brower
Estate of Elizabeth R. Brown
Estate of Paul Brown
Estate of Thelma K. Brown
Estate of Marian L. Brown
Estate of Ellen Browning
Estate of Catharine E. Brunner
J. Mahlon Buck, Jr. Trust
Estate of Walter W. Buckley
Estate of Grace M. Buckworth
Estate of Agnes H. Burke
Estate of Martin H. Bury
Estate of Grace Butterweck
Estate of J. Ebert Butterworth
Estate of Florence C. Campbell
Estate of Ruth S. Campbell
Estate of David C. Carmichael, Jr.
Estate of William T. Carter
Estate of Mary Hagan Caslin
Estate of Edna Scott Chantry
Estate of Philip H. Chase
Estate of Theora W. Chase
Estate of Sue W. Clader
Estate of Marion L. Clarke
Estate of George H. Class
Estate of William Willis Clements
Estate of Milton H. Cohen
Estate of Mary H. F. Colket
Estate of Tristram C. Colket
Estate of Dwight Conn
Estate of Mr. and Mrs. Randall E. Copeland 
Estate of Helen F. Corson
Estate of F. Adele Cox
Estate of Nancy H. Cox
Estate of James A. Crawford
Estate of Margaret M. Crawford
Estate of Richard G. Crecraft
Estate of Elizabeth G. Croker
Estate of Mr. and Mrs. Eaton Cromwell, Jr. 
Estate of Rosamond Cross
Estate of F. Martin Cummer
Estate of Joseph G. Deacon
Estate of Albert DeFelice
Estate of Charles DeMarco
Estate of Jane W. Denk
Estate of A. Katharine Detwiler
Estate of Pauline Thayer Dolan
Estate of Margaret E. Dolby
Estate of Bernard Douredoure
Estate of Edna R. Douredoure
Estate of Frederick R. Drayton
Estate of Isabelle Rose Drumheller
Estate of Ruth Edna Duffy
Estate of Ann Dugan
Beth M. Duncan Trust
Estate of Esther B. Dunlap
Estate of Robert C. Dunn
Estate of Sydney B. Dunn, Jr.
Estate of Elizabeth M.W. Earle
Estate of Louisa Marjorie Eglin
Estate of Anita D.K. Elliott
Estate of William C. Elliott
Estate of Marie A. Eppley
Estate of Mr. and Mrs. Charles Augustus Ernst Jr.
Estate of Margaret L. Ernst
Estate of Frances K. Evans
Estate of Leroy J. Evans
Estate of R. Edna Evans
Estate of Curtis C. Eves
Estate of James H. Faasen
Estate of Walter R. Falck
Estate of Francis J. Fanning
Estate of Patricia A. Fenn
Estate of Alice H. Fernandez
Estate of Dorothy K. Fisher
Estate of Gloria M. Fisher
Estate of Rachel Fitler
Estate of Ethel B. Foerderer
Estate of Carl J. Forve
Estate of Edwin C. Fox
Sarah C. Fox Trust
Estate of Mary Patton Freeman
Estate of Catherine M. Frey
Estate of Julia W. Frick
Estate of Frances B. Fricke
Estate of Miriam P. Fritz
Estate of Carol W. Froese
Estate of Mae S. Fuller
Estate of Elmer H. Funk, Jr., MD
Estate of Harald H. Gade
Estate of Christine I. Gagliardi
Estate of Helen George
Estate of Helen H. Giffin
Estate of Joan C. Goodfellow
Estate of Dorothy C. Goodman
Estate of Frank and Margaret Goodyear
Estate of Mary F. Gordon
Estate of Ruth Grandin
Estate of Mary D. Grant
Estate of Marion Marvin Greene
Estate of Norman J. Greene
Estate of Gerald G. Griffin
Estate of James P. Gross
Frances W. Gross Trust
Estate of William T. Haddon, Jr.
Florence H. Haehnlen Trust
Estate of Joseph Edward Hafner, Jr.
Estate of Edwin Hall
Estate of Jane A. Hallaran
Dorrance H. Hamilton Charitable Lead Trust
Estate of Samuel M.V. Hamilton
Estate of Raymond F. Hammann
Estate of C. Addison Harris, Jr.
Estate of Dr. Frank S. Harrison
Estate of John S. C. Harvey, III
Estate of William N. Hastings
Estate of Mr. and Mrs. Gustave A. Heckscher II 
Estate of Mrs. Helen C. Heggestad
Melvin W. Hendren and Elizabeth Hill Hendren Trust
Estate of Florence S. Henning
Estate of Madeleine B. Herle
Estate of Virginia M. Herring
Estate of Emily P. Herron
Estate of Eleanor Kay Hess
Estate of Henry B. Heston
Estate of Dean Hill, Jr.
Estate of Ruth N. Hoffman
Estate of Walter O. and Helen J. Hoffmann
Lucille Mellon Holloway Trust
Estate of Marion F. Hosbach
Estate of Mildred Huber
Harry Hurst Trust
Estate of Paul M. Ingersoll
Estate of Frieda G. James
Estate of Samuel Jamison
Estate of Eleanor Johnson
Estate of John Ward Johnson
Estate of Lindley Johnson, Jr.
Estate of Adelaide S. Jones
Estate of Constance A. Jones
Estate of Llewelyn Jones
Estate of Elizabeth Norris Jordan
Estate of Ruth Rea Junkin
Estate of Dorothy B. Kaufmann
Estate of Marguerite F. Kennedy
Estate of L. Stanley King
Lily Klabunde Trust
Estate of Clara Klein
Estate of Louis Klein
Estate of Mr. and Mrs. Edwin L. Knetzger Jr.
Estate of Donna Marie Korban
Estate of Gabriel Lavine
Estate of Helen Arronson Lavine
Estate of Elisabeth W. Lee
Estate of Dorothy M. Levergood
Estate of Leroy Moody Lewis, Jr.
Estate of Edith R. Ligget
Estate of Birda J. Limprun
Estate of H. Gates Lloyd
Estate of Rudolph Lombardo
Estate of Mrs. Henry Paul Long
Anne Droop Longstreth Trust
Estate of Rose Lowry
Estate of Frank L. Macera
Estate of Edna S. Marsh
Estate of Elizabeth Dury Master
Francis B. Matthews Trust
Estate of William H. Maule
Estate of Robert K. Mayfield, Sr.
Estate of Dorothy McBride
Estate of Eleanore R. McCandlish
Estate of Robert S. McCracken
Estate of Marie H. McCullough
Estate of Ann M. McEvoy
Estate of Mary M. McEwen
Estate of John H. McFarland
Estate of John S. McGavic MD
Estate of Mary S. McKenna
Estate of John P. Menyo
Estate of Florence K. Mershon
Nancy H. Mervine Trust
Meyers Charitable Remainder Trust
Estate of William H. Michener
Estate of Florence Miller
Estate of Susan S. Mingey
Estate of Doris Mohn
Estate of Elizabeth H. Monahan
Estate of Henrietta M. Montgomery
Estate of Robert L. Montgomery, Jr.
Estate of William R. Mooney
Estate of Evora K. Morgan
Estate of Helen D. Morgan
Estate of Marion D. Morgan
Estate of Walter L. Morgan
Estate of Theodore H. Morris III
Estate of Mr. and Mrs. Louis F. Morsbach
Elisabeth H. Morris Trust
Estate of Benson M. Moskowitz
Estate of Jean E. Munn
Estate of Anna E. Murr
Estate of Sara R. Murray
Estate of Harold W. Nyce
Estate of Frances H. O'Dell
Mary E. O'Neill Trust
Estate of William H. Olandt, Jr.
Estate of Edith C. Olmstead
Estate of William W. Olmstead
Estate of Hilma L. Ortlip
Estate of John L. Ott
Estate of Catherine E. Pabst
Estate of Richard K. Page
Estate of George C. Page
Estate of Julie Painter
Estate of Frank T. Patterson
Estate of A.J. Drexel Paul, Jr.
Estate of Gustavus E. Payne
Estate of Christian M. Peterman
Estate of Horace Pettit
Estate of Alberta C. Pew
Estate of Marjorie H. Pew
Estate of Walter C. Pew
Estate of Elizabeth Poultney
Estate of Carrie F. Powell
Estate of Elisha Barclay Powell
Estate of Martha Stokes Price
Estate of Herbert P. Prince
Estate of Charles A. Pryor, Sr.
Estate of Theodore D. Rand
Estate of Hannah S. Randolph
Estate of Richard S. Ravenscroft
Estate of Margaret B. Rebmann
Estate of Louise B. Reese
Estate of Anna B. Renton
Estate of James McK. Ridgway
Estate of Calvin S. Roberts
Estate of Mary Clark Rockefeller
Estate of Jean L. Rockey
Estate of Jacqueline J. Roddy
Estate of Patrick J. Rolli
Estates of Gerald F. Rorer and M. Amelie Rorer
Estate of Christine P. Rosengarten
Estate of Florence J. Rossell
Estate of Eleanor R. Rowe
Estate of Ethel F. Royster
Estate of Frederick W. Rueblinger
Estate of Louise D. Santoni
Estate of Edward S. Sawyer
Estate of William I. Schaffer
Estate of Henrietta K. Scheidy
Estate of Samuel F. Scheidy
Estate of Carl A. Schlegel
Estate of Albert H. Schoell
Estate of Margaret D. Schoettle
Estate of Howard A. Schroedel
Estate of Pauline E. Schubert
Estate of Martha A. Schweitzer
Estate of Phyllis Schweitzer
Estate of Almira R. Scott
Estate of Edgar Scott
Estate of John C. Scott
Estate of Letitia B. Scott
Estate of Paul J. Scullin
Estate of Charles F. Seeger
Estate of Duncan I. Selfridge
Estate of Catharine D. Sharpe
Estate of Frederic C. Sharpless
Estate of Daniel L. Shaw Jr., MD and Arlene D. Shaw
Estate of Florence Shepherd
John J. F. Sherrerd Trust
Estate of Harry J. Sides
Estate of Leanor H. Silver
Estate of Mary T. Silver
Estate of Abigail A. Silvers, MD
W. Percy SimpsonTrust
Estate of Julius R. Sirmay
Estate of William E. Sketchley
Estate of Richard M. Skidmore, DDS
Estate of Ruby Skillman
Estate of Eric M. Sloan
Estate of Allen C. Smith, Jr.
Estate of Florence M. Smith
Estate of Mary Ulmer Smith
Estate of William E. Somers III
Estate of Mary A. Sonier
Estate of Christian C.F. Spahr
Estate of Mr. and Mrs. Milton S. Stearns Jr.
Estate of Richard P. Stamm
Estate of Edward Starr III
Estate of Edward Starr, Jr.
Estate of Mary O'Neill Steele
Estate of Herbert P. Stellwagen
Fay M. Stetzer Charitable Remainder Unitrust
John Stewart Trust
Estate of Sabina Straub
Estate of Mary C. Strickler
Estate of Alice W. Strong
Estate of Agnes H. Stroud
Estate of Mr. and Mrs. Charles G. Sunstein
Estate of Edith S. Taylor
John M. Taylor Charitable Trust
Estate of Kathryn M. Terry
Estate of Eleanor Morris Thacher
Estate of Eleanor M. Thayer
Estate of Harriett T. Thompson
Helen Harte Thompson Trust
Estate of Marjorie Lamonte Thompson
Estate of Alexandra Dolan Toland
Estate of Pauline T. Toland
Estate of Mary H. Townsend
Estate of Charles C. Townsend
Estate of Margaret Supplee Treat
Estate of Kathleen Y. Troncelliti
Estate of Louise B. Truitt
Estate of Harvey C. Tull
Estate of Ruth Ullman
H. Stuart Valentine, Jr. Trust
Estate of Annette C. von Starck
Estate of Augusta Wagner
Estate of Dr. and Mrs. Joseph A. Wagner
Estate of Hazel C. Wallace
Estate of Mary Jane Walton
Estate of Channing Way, Jr.
Estate of Anne N. West
Estate of Marion A. Whittingham
Estate of Frances Gillmore Williams
Estate of Dorothy E. Wilson
Elizabeth Louise Wilson Trust
Estate of Marguerite Hoak Winings
Estate of Joan Charlotte Woehr
Estate of Jane Prizer Wood
Estate of Marie Estelle Wood
Estate of D. Stratton Woodruff
Estate of Lydia Woolman Wright
Estate of Rebecca E. Young
Estate of Carl H. zurNieden