The LIMR Chemical Genomics Center (LCGC) is housed at the Lankenau Institute for Medical Research (LIMR), founded in 1929 at Lankenau Medical Center. We offer state-of-the-art infrastructure to scientists worldwide for accelerating early-stage pharmaceutical R&D. One of the special technologies is orthogonal pooled screening (OPS). It enables scientists to test large collections of compounds 500% more efficiently to identify first-in-class drug leads for challenging medical indications. A novel application called ultra-HTS for Synergy (uHTSS) provides scientists with unprecedented potential to reveal synergistic drug combinations for "orphan" diseases. Our resources also provide a foundation for innovative public-private partnering initiatives in pharmaceutical R&D.
LCGC Technologies and Research Services
Overview
Rare Chemical Collection—Proprietary library of 104,000 unique compounds filtered for drug-likeness is now available on assay-ready plates in the OPS format.

Unprecedented efficiency—500% improved efficiency and 80% cost reduction are guaranteed, with zero overhead burden. Ideal for resource-intensive cell assays or assays using expensive reagents.
Validated Turnkey Systems—Automated compound management and data deconvolution provides structure-activity reports with fast turnaround.
Orthogonal-Pooled Screening (OPS)—Intelligent compound-pooling guarantees successful outcomes while reducing cost, time and overhead by 80%.
Provides medicinal chemists just-in-time new scaffolds for key decision making on lead drug and backup-candidate development.
Screens five targets for the equivalent cost and effort of a single screen.
Ultra-HTS for Synergy—New paradigm in combinatorial drug discovery.
Elegant method to identify unexpected (i.e., patentable) synergistic drug combinations.
Applicable to branded, generic and OTC drugs. Suitable for pharmaceutical repositioning, ChemAg applications and nutraceutical R&D.
"Drug combination boxes" are now available representing the pharmacological compendium of FDA-approved drugs and nutraceuticals.
15:1 compression = 1500% improved efficiency

Special combination boxes for "conditioned HTS" (e.g., synthetic-lethal).
Unprecedented potential for identifying binary and ternary combinations.
Automated Compound Repository—State-of-the-art, automated storage and retrieval system preserves quality of chemical assets and supports focused drug discovery and pharmacophore modeling.
Innovative robotic repository (issued two U.S. patents) stores and distributes chemical assets—with no freeze-thaw cycling.

Preserves sample quality indefinitely; optimal for compound management or DNA storage and other biorepository applications.
Storage and retrieval capacity for 10 million samples with high-throughput pick rates of up to 10,000/day.
Available at no additional cost to our OPS users, providing access to our unique compound collections and services.
Compound Libraries—The Core FMC Collection of 104,000 drug-like small molecules was the proprietary R&D asset of a top-tier Chem-Ag company.
First-ever proprietary ChemAg library made available to scientists for pharmaceutical R&D.
Contains thousands of unique scaffolds not available anywhere else.

Analysis by HPLC/MS demonstrates the collection meets a high QC/QA benchmark.
Computationally filtered library considered "drug-like" by "Lipinski Rules" and many other drug-filtering algorithms. An example of the cheminformatic profiling is shown.
LCGC HTS libraries also include these other sets:
ChemBridge—100,000 compounds assembled from the 50,000-member DIVERSet™-EXP library, plus the 50,000-compound DIVERSet™-CL library
Life Chemicals Inc—50,000 compounds selected to complement overall diversity.
MicroSource Pharmakon—1,760 combines the 1,360 drugs in its U.S. drug collection with the 400 drugs from the international drug collection.
MicroSource Spectrum— ~1,000 bioactive compounds and natural product analogs.
NCI-Approved Oncology Set—166 of the most current FDA-approved anticancer drugs.
Nutraceuticals— ~150 individual neat powders acquired from Sigma, Cayman and other vendors.
Misc.— ~8,000 compounds acquired from other commercial vendors, primarily ChemDiv and TimTec.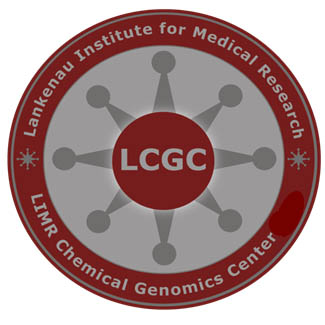 Contact
Dr. Mel Reichman | 484.476.8230 | [email protected]
LIMR Chemical Genomics Center
100 East Lancaster Avenue
Wynnewood, PA 19096