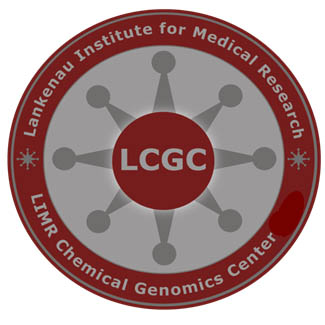 The LIMR Chemical Genomics Center (LCGC) provides specialized research services and resources to drug discovery scientists. Our mission is to accelerate translational research in cell signaling and new medicine discovery. We provide access to a large chemical library of over 250,000 small-molecules suitable for high throughput screening (HTS) campaigns to discover new drug leads for the most challenging medical indications, including drug-resistant infections, metastatic cancer, and orphan diseases.
The LCGC compound repositories include the following sets:
Our FMC Collection is comprised of 104,000, diverse drug-filtered compounds. The collection was the proprietary R&D asset of FMC Corp. and is comprised of rare small-molecule structures that are unavailable commercially.
ChemBridge: 100,000 compounds were assembled from the 50,000-member DIVERSet™-EXP library, plus the 50,000-compound DIVERSet™-CL library.
Life Chemicals Inc.: 50,000 compounds selected to complement the diversity in LCGC plus ChemBridge collections.
MicroSource Pharmakon-1,760 combines the 1,360 drugs in its U.S. drug collection with the 400 drugs from the international drug collection.
MicroSource Spectrum drug collection has about 1,000 bioactive compounds and natural product analogs.
NCI-Approved Oncology drug set contains 166 of the most current FDA-approved anticancer drugs.
Nutraceuticals includes about 150 individual neat powders acquired from Sigma, Cayman and other vendors.
Misc: About 8,000 compounds acquired from other commercial vendors, mainly ChemDiv and TimTec.
All of our compounds are available as assay-ready drug screening plates in the OPS format, which guarantees 500% more efficient drug screening. We are the world's leader in this powerful approach that can detect hidden mechanisms of synergistic drug action, including triple-drug combinations for infectious diseases and oncology indications (US20130231264A1).
LCGC's compound stock solutions are maintained frozen in a Nanotube Automated Retrieval System (NARS), a patented (US20100161119), state-of-the-art, low-temperature robotic repository system. The system's no freeze-thaw cycling capability preserves the compounds' quality indefinitely.
This unique and powerful repository system allows us to offer scientists custom drug screening sets 'on the fly,' in order to build structure-activity relationship models far more rapidly and cost-effectively than any other approach.
For companies scouting projects in academia for new target engagement opportunities, we offer double-blinded drug discovery (DBD2)®. This dynamic partnering framework was designed with the feedback from many technology transfer office professionals at both universities and pharmaceutical companies. DBD2 helps de-risk immature drug targets with compound libraries provided by companies, without encumbering lean internal resources. University investigators working on approved targets may access a pharma's chemical library for target validation and new leads discovery. Our DBD2 approach vastly enhances efficiency for expanding an enterprises' external translational research network globally in chemical genomics and pharmaceutical R&D.
HTS assay development and validation
Our chemical resources and laboratory automation infrastructure provide scientists with unparalleled speed and power to validate and execute successful new drug discovery campaigns at affordable costs.
Who we are
Melvin Reichman, PhD
LIMR Senior Investigator and LCGC Director
Dr. Reichman has a PhD in Neuroscience from the University of Rochester Medical School - Center for Brain Research. His areas of specialty include biochemical and behavioral psychopharmacology and pharmaceutical R&D.
Dr. Reichman led drug discovery at several prominent pharmaceutical companies over the course of his 20-year industrial career, measurably improving the efficiency and effectiveness of new leads discovery.
---
Preston Scott Donover
Operations Manager, Research Laboratory Associate
Mr. Donover holds a Bachelor of Arts degree from Oberlin College. He joined LCGC from the Prendergast laboratory at LIMR, and previously at DuPont Pharmaceuticals and the Wistar Institute, respectively.
He held diversified research positions earlier in his career, including cell biologist at the ATCC, research lab assistant at CWRU Ireland Cancer Center, and research laboratory mechanic in the University of Chicago's Chemistry Department.
---
Contact us
Melvin Reichman 484.476.8230 or reichmanm@mlhs.org.
LIMR Chemical Genomics Center, 100 East Lancaster Avenue, Wynnewood, PA 19096