The Lankenau Hospital Research Institute, known today as the Lankenau Institute for Medical Research (LIMR), opened in 1927. It was the first research center in the nation dedicated primarily to the study of cancer and the first to discover a genetic defect that contributed to human cancer, thus launching the modern era of molecular genetics in cancer research.
First to study cancer as a problem in cell growth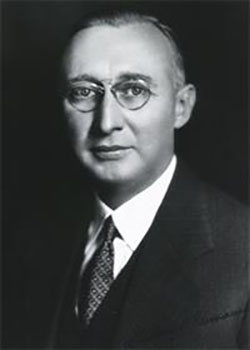 LIMR's roots can be traced back to 1917 when Stanley P. Reimann joined the Lankenau Hospital as chief pathologist, but only under the condition that he could build a research effort at the hospital. His vision, along with that of Frederick S. Hammett, a biologist and biochemist, instilled a basic research philosophy with the novel insight to use wound healing as a model to study cell division in cancer. Due to the role of inflammation in cancer, we now know this was a prescient insight. Because of these innovative ideas, LIMR became the first research center in the United States to study cancer as a problem of inflammation-associated growth.
Through the assistance of Dr. Harvey Shoemaker, chief of medicine, and Dr. John B. Deaver, chief of surgery, both at Lankenau Hospital, they roused the interest of a friend and patient, Rodman Wanamaker. Mr. Wanamaker, LIMR's original benefactor and son of John Wanamaker, Philadelphia businessman and father of the department store, donated funds to build a research center on the Lankenau Hospital campus, which was located then at Girard and Corinthian in Philadelphia. The new research building was dedicated in 1925, unveiling the brass seal "FOR HUMANITY," highlighting the hospital's fundamental commitment to research. This seal, which is still located in LIMR's current lobby, remains a symbol of our institute. The new center was named the Lankenau Hospital Research Institute (LHRI) and began its formal research program in 1927. However, from 1917 to 1927 when LHRI opened, Dr. Reimann and his colleagues had already published over 40 research papers.
Early history
During the next 10 years the support of the Pew family, known for the creation of the Pew Charitable Trusts in honor of their parents, Mary Anderson Pew and Joseph N. Pew, founder of Sun Oil Co., were central to the growth of research at the LHRI. J. Howard Pew joined the LHRI Committee in 1935, and his sisters, Ethel Pew and Mabel Pew Myrin, also supported the institute for many years. In 1941, Philip T. Sharples, a Philadelphia industrialist and philanthropist, joined the LHRI committee and together with Mr. Pew were the driving force behind the creation of the Institute for Cancer Research (ICR), an entity within LHRI that was focused exclusively on cancer research. ICR was originally created to enable access to new funding opportunities from the federal government. In addition to cancer research at LHRI, the institute became a center of excellence in nutrition and biochemistry in the 1930s and 1940s, including key studies by Dr. Mary Bennett that contributed to the discovery of vitamin B12.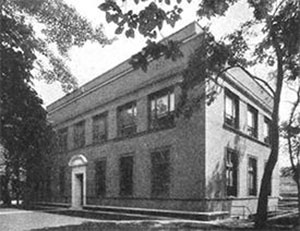 In 1947 construction of a new facility for ICR began in Fox Chase and was completed in November 1949. In that same year, Lankenau Hospital committed to building new facilities in Overbrook that included a new building dedicated to research. In 1950, ICR and LHRI merged their cancer research and began to share the new ICR facility, which was spun off as a separate entity in 1974 as Fox Chase Cancer Center. In 1953, Lankenau Hospital moved to its current site in Wynnewood, Pennsylvania, on land donated by Mabel Pew Myrin. LHRI moved from Fox Chase to the first three floors of the Medical Science Building, which was built for the sole purpose of medical research in 1958. It was at this time that LHRI became a separate entity known as the Research Department of Lankenau Hospital.
For 30 years, Dr. Reimann served as director of LHRI until 1957 when Dr. Kaare Rodahl became director of research at Lankenau Hospital. During Dr. Rodahl's time as director (1957–1965), research included work on cardiovascular disease, cancer, arthritis, aging, alcoholism, and work physiology, including occupational medicine, rehabilitation and environmental stress. In 1959, there were 40 scientists and technicians working in the labs. By 1964, that number had more than doubled to 85. Beginning in the 1970s, extensive cancer research resumed within the department.
In 1981, the Lankenau Medical Research Center (LMRC) was created, and the Hospital Research Division was transferred to this new center. The LMRC was an independent institution established under the Lankenau Hospital Foundation. A few years later, Main Line Health formed and became the parent of and holding company for Lankenau Hospital and the Lankenau Hospital Foundation. During this time, research began to reflect the wider community of opportunities presented by clinical investigators from a four-hospital network on the Main Line, a suburban region west of Philadelphia. Over the next two decades, the institute greatly expanded research into the genetics and cell biology of cancer, cardiovascular disease, aging, and transgenic mouse models of disease.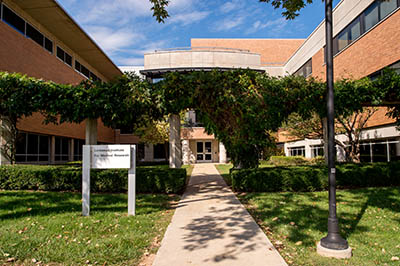 By 1992, under the guidance of Dr. George Reichard, president of the Research Center, LMRC constructed a new state-of-the-art laboratory facility on the Lankenau Hospital campus. This 53,000-square-foot, three-story building consisting of 16 laboratories, shared equipment rooms, and several additional core laboratories, remains the current home of LIMR researchers. In 1998, Dr. Vincent J. Cristofalo, a leading researcher on aging, was recruited as president of LMRC and brought a number of new researchers to the institute. Following his arrival, the name of the center was changed in 1999 to the Lankenau Institute for Medical Research (LIMR).
Modern growth and path forward
Today, under the leadership of Dr. George C. Prendergast, LIMR scientists are focusing their research on cancer, as well as cardiovascular, autoimmune and gastrointestinal diseases, regenerative medicine, and population health. LIMR is expanding studies of disease-modifier genes, pioneering nanotechnology-based gene therapies, as well as new pharmacological agents to treat cancer; exploring cardiovascular disease focused on hypertension and cardiac arrhythmias; and using basic and preclinical findings to create new prognostic and therapeutic tools for clinical use.
In addition to our research, LIMR also sponsors several educational initiatives that encourage students and physicians to engage in research activities within our laboratories.
As we look ahead to the next decades our researchers are actively working to take LIMR's discoveries from bench to bedside through the creation of an exceptional environment where translational research has greater impact in both commercial and clinical settings.
Recent grants awarded to LIMR researchers
LIMR researchers receive funding from public and private agencies. Following is a brief sampling of recent major research funding:
Ellen Heber-Katz, PhD (National Institutes of Health [NIH]): A new model of regenerative healing via inflammation-modulating biomaterials
Heber-Katz (Department of Defense): Drug-induced regeneration and reinnervation in a mouse digit amputation model
Marie Webster, PhD (NIH): Changes in signaling that promote epigenetic changes that drive cellular plasticity
Charles Antzelevitch, PhD (NIH): Development of a whole heart model of the J wave syndromes and novel approaches to pharmacologic management of associated life-threatening arrhythmias
Patrick Viatour, PharmD, PhD (NIH): Mechanisms of liver cancer initiation by the E2f oncogene
George Prendergast, PhD, and Melvin Reichman, PhD (NIH): Probing an unexplored intracellular pathway in the development of diabetes