From its very inception, Riddle Hospital has been guided by the extraordinary vision, personal commitment and determination of its physicians.
Our story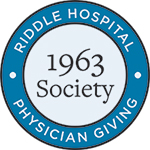 Riddle Hospital opened in 1963 as the direct result of a bequest from Samuel D. Riddle, a native of Delaware County, local businessman and breeder of famous racehorses — Man O'War and War Admiral, to name two.
Mr. Riddle's will stipulated that his estate of $2.2 million and 72 acres of land be utilized to "…establish, construct, equip, maintain and operate a hospital, staff and personnel, for the relief of suffering humanity and for the care of the sick, injured and afflicted…to be established in the Borough of Media or the vicinity thereof."
The physicians and staff of Riddle Hospital proudly carry on Mr. Riddle's legacy in our commitment to providing superior patient care for the communities we serve.
Today, leaders among Riddle's physicians affirm their commitment to the institution they call home through membership in The 1963 Society.
The 1963 Society is a giving society created to honor and show our gratitude for the many physicians who care for patients at Riddle Hospital and support the hospital philanthropically.
The society is named The 1963 Society for the year the hospital was renamed after Samuel D. Riddle's bequest.
Established in 2021, The 1963 Society honors the philanthropic investment of those physicians who share in the same altruistic vision of Riddle's founders.
The Society consists of current and emeritus physicians who have pledged $25,000 or more to support Riddle Hospital programs and services. Riddle's current highest priority funding need is supporting our Campus Transformation Project.
In just a matter of months after its inception, The 1963 Society grew to 27+ members whose commitments now total more than $790,000, and growing. We extend a special thank you to Dr. John Munshower for being the founding member of The 1963 Society and for engaging physician support throughout Riddle Hospital.
To honor Society members, a permanent plaque listing their names will be displayed at Riddle Hospital.
Pledges may be paid over a five-year period.
Main Line Health employed physicians may choose to contribute via payroll deduction. Contact Melissa Chirinos for more information.
For more information on The 1963 Society, please contact Melissa Chirinos, 484.227.3509, [email protected].
Give online now and become a 1963 Society member today
Riddle Hospital President Shelly Buck hosted an inaugural dinner recognizing founding members of the 1963 Physician Giving Society on September 20, 2022 at the Inn at Swarthmore.
1963 Society Members
Alliance Cancer Specialists: Lee H. Bogart, MD, Ben E. Jacobs, MD, Rashmi Sanjay, MD, Brian Wojciechowski, MD
Gift from a Friend
Main Line Emergency Medicine Associates: Steven Moonblatt, MD, Rebecca Pasdon, DO, Erin Kelly, DO, Halfdan Bau-Madsen, DO, Elliot Wong, MD, Jason Kitchen, MD, Mark Reutter, DO
MidLantic Urology: David Cahn, DO, Stephen Walker, MD, Robert Gary, MD, Carlo Nicolis, MD, George Dakwar, MD, Lynn Paik, DO, Cara O'Brien, MD, Arjun Khosla, MD, Craig Landow, MD, Steven Salva, MD, Christopher Brooks, MD
Pulmonary, Critical Care & Sleep Physicians of the Main Line: Joshua E. Danley, DO, George Lieb, MD 
Riddle Radiologists: Ashima Lall, MD, Garen Boghosian, MD, William M. Merenich, MD, Peter R. Wahba, MD
*List as of August 23, 2023