Tips for a heart-healthy holiday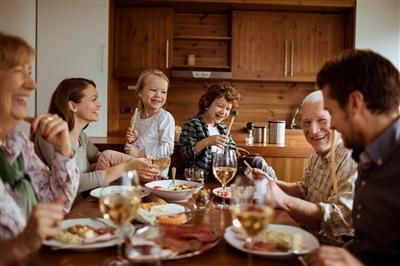 The holidays are a time to celebrate and enjoy the company of family and friends, but they're also a time when a commitment to health and wellness goes by the wayside.
While it's okay to enjoy yourself during the holidays, there are a few things you can do this season to make your health a priority.
---
Using your traditional IRA to make charitable gifts this year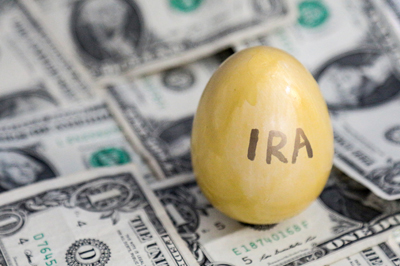 The IRA Charitable Rollover provision is a tax planning strategy for donors age 70 ½ and older giving anywhere from $100 to $100,000. With recent changes to tax laws that will encourage millions of Americans to take the increased standard deduction, this vehicle has become even more relevant to donors.
The IRA charitable rollover counts as part of your required minimum distribution but isn't taxable income to you. That's a significant benefit, particularly if you don't itemize deductions on your individual tax returns. If you take advantage of this provision, you can exclude the amount distributed to Riddle Hospital from your taxable income.
Even if you itemize, it can save you more on taxes than taking the IRA distribution and then donating it. For example, by lowering your income, the charitable rollover may keep other income from being subject to the 3.8 percent net investment income tax. Another benefit is that it might save you from high-income premium surcharges for Medicare.
To qualify for this opportunity:
You must be 70 ½ or older when you make the gift.
The gift must be made from an IRA – no other retirement plans (such as 401k, 403b or SEP accounts) qualify.
Your gift must come to Riddle Hospital outright—it cannot be used to establish a life-income arrangement or support a donor-advised fund.
Transfers must be made directly from a traditional IRA account by your IRA administrator to Riddle Hospital.
If you do not need all of the money that you're required to take through your minimum required distribution for this year, please consider contributing part of it to Riddle Hospital using the IRA Charitable Rollover.
This sample letter from donor to plan provider (PDF) can be used to request that your IRA plan provider initiate an IRA Charitable Rollover contribution from you to Riddle Hospital.
Please contact the Riddle HealthCare Foundation at 484.227.4701 or [email protected] for more details on this and other tax-advantageous methods of charitable giving, or please visit our planned giving website.
---
First Run for Riddle 5K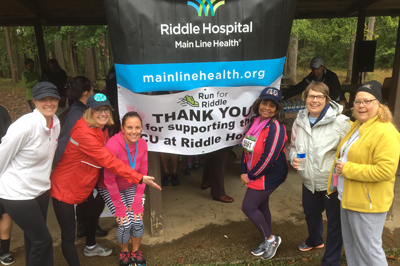 With 87 runners, 40 walkers and 11 tots crossing the finish line, the Run for Riddle 5K took place on Saturday, October 13 at beautiful Ridley Creek State Park. More than 42 volunteers contributed before, during and after to make this a fun and successful inaugural event (despite the rain!).
The event garnered 30 major sponsors and 110 donors, raising more than $16,000 to benefit the NICU at Riddle. Thank you to the many employees, technicians, physicians, nurses, administrators and more who participated in so many ways (including donating, sponsoring, rallying teams, promoting, working and of course running and walking). This team effort promoted health and wellness across Main Line Health and the community.
Special appreciation goes to Run for Riddle Chair Amy Smith (wife of Riddle Foundation Board Member Chris Smith) and Riddle Hospital Marketing Manager Jamie Rogers for her guidance and support.
---
Riddle's 36th Annual Pro-Am Golf Classic raises more than $70,000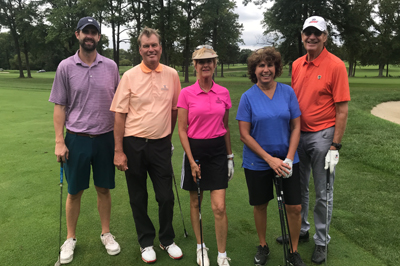 More than 120 golfers enjoyed DuPont Country Club's championship course at Riddle Hospital's 36th Annual Pro-Am Golf Classic 2018 on September 13, 2018 raising $70,000 to benefit Riddle's emergency medical services (EMS).
Thank you to members of the 2018 Golf Committee: Co-Chairs Bill O'Shea and Chris Smith; Tom Bruder, Mary Louise Ciciretti, Brian Coyle, Bob Donato, Shaun Essex, Donna Evangelist, Dan Kennedy, Eileen McAnally, Dr. Robert Meisner, Dr. John J. Munshower, Gary Perecko, Don Saleski, Pat Vassell, Janet Webb and Rich Wood.
More than 30 years ago, Riddle Hospital launched its EMS unit with a five-member crew answering 600 calls annually. Today, the Riddle EMS team of 62 professionals, all with specialized training, certification and degrees in allied health, responds to more than 9,800 emergency calls each year. In addition to providing 24 hour emergency coverage, the Riddle EMS team is very active in the local community providing CPR/AED training to schools, fire companies, businesses, and community organizations; instructional seminars to skilled nursing facilities; education sessions for school children; and they serve as standby EMS coverage of sporting events and other large gatherings.
---
New board member update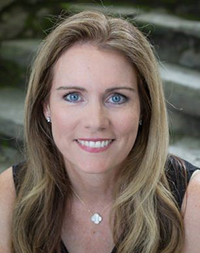 Maria Doyle grew up in Delaware County and has strong ties to the Main Line, Delaware and Chester counties. She attended Cardinal O'Hara High School and graduated from UCLA as a film major. She started her career as a professional actress, working in film, TV and stage and has done over 60 commercials and voiceovers. She also worked on QVC as a guest host. For years, she assisted her father, a real estate developer, with various projects and in 2010 she was hired by Prudential Fox & Roach, now Berkshire Hathaway. A multi-million-dollar producer, Maria has extensive experience in new construction and real estate investments. Her commitment to clients has led to many professional successes, including the highest sale on the Main Line this year.
Maria's husband of 25 years, Dan, is a litigation attorney in Media. They are recent empty-nesters—the youngest of their three children graduated from Episcopal Academy in the spring of 2018.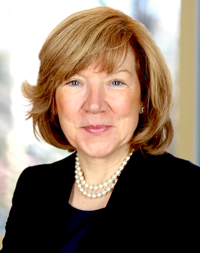 Lisa Detwiler is the senior vice president, general counsel and chief compliance officer of FS Investment Solutions, FS Investments' wholly owned broker-dealer subsidiary, responsible for both legal and compliance functions. Prior to joining FS Investment Solutions, Ms. Detwiler served as senior managing counsel of BNY Mellon's managed account business and general counsel of Lockwood Advisors, a BNY Mellon subsidiary, and a member of its investment committee. Her prior experience includes serving as a partner at Schnader Harrison Segal & Lewis, LLP, as chief counsel of the Pennsylvania Department of Banking and as an attorney at the Office of the Comptroller of the Currency. She has more than 25 years of experience representing a variety of financial institutions in regulatory, transactional and governance matters. Ms. Detwiler received her JD from the University of Pittsburgh School of Law, where she was an executive editor of the Law Review, and her BA cum laude from Mount Holyoke College.
Ms. Detwiler has been active in federal, state and local bar associations, including serving as chair of the Pennsylvania Bar Association's Business Law section and co-chair of the Women in the Profession Committee. In 2016, she was recognized with the Philadelphia Business Journal's Women of Distinction Award. She is also active in her community, serving on numerous civic and charitable boards, currently including the executive leadership team for the American Heart Association's Go Red for Women campaign; the Board of Directors of The Forum of Executive Women, Philadelphia VIP, and the Committee of Seventy; and as a Trustee of Westover School.
---
Save the date
Man O'War – An Evening at the Races
Saturday, April 6, 2019